As votes continue to be cast in the Conservative London Mayor candidate election, the favourite, Susan Hall, has vowed she "would remove TfL managed LTNs" should she find herself in charge at City Hall next May. It is a pledge she would not be able to keep.
Hall has been invited by, among others, former Enfield councillor Ian Barnes to provide a list of LTNs – Low Traffic Neighbourhoods – that are managed by Transport for London. She won't be able to because there aren't any.
LTNs filter traffic through residential streets. They are installed, removed and "managed" in all respects by London's 33 local authorities – its 32 boroughs and the City of London Corporation – not by the Mayor of London, whoever that Mayor may be.
The Mayor's influence over LTNs and all other road transport initiatives run at local authority level begins and ends with the allocation of money for some of them through TfL's local implementation plan programme, known as LIP funding. After that, such schemes are none of the Mayor's business. Does Hall, who claims to know City Hall inside out, really not know that?
A characteristic of the pandemic-period string of TfL-national government funding "settlements" as those stop-go exercises in centralised micro-management of the capital's theoretically devolved transport authority have been termed, was the requirement to make money available to boroughs to bring in new LTNs.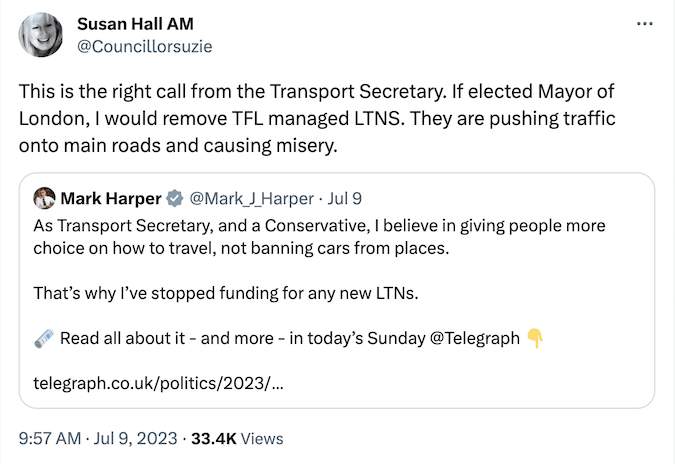 During that period, the Prime Minister was Boris Johnson, to whom Hall demonstrated conspicuous loyalty throughout the "partygate" scandal and even after Tory MPs removed him from Number 10 because of it.
The Johnson government's enthusiasm for LTNs reflected that of Johnson himself and of his transport adviser and former media supporter Andrew Gilligan for riding bicycles, a lifestyle preference they – and, as it happens, TfL – believed LTNs would nurture in others.
In opposing LTNs, Hall is consistent in opposing road space-management programmes "Boris" backed just as much as TfL and Sadiq Khan did (it was about the only thing those political antagonists were able to agree about). She is also consistent with the Tories' previous mayoral candidate, Shaun Bailey, in claiming she would be able to get rid of them when she wouldn't.
The power it looks as if she might really have as Mayor would be to curtail any further TfL LIP funding for LTNs. Hall made her un-honourable pledge to "remove TfL managed LTNs" on Twitter yesterday in response to transport secretary Mark Harper announcing that he has "stopped funding for any new LTNs" in the name of "choice".
The current TfL "settlement" with national government will expire on 31 March 2024, five weeks before the mayoral election. Past form suggests we shouldn't bank on a new deal being negotiated before the present one runs out. But even if it isn't done until after 2 May – mayoral election day – it seems as if a would-be Mayor Hall would be spared even the trouble of having to say no more LTNs on my watch. And those already in place will stay there for as long as boroughs want them to, whether Hall likes it or not.
Given the latest bout of London Tory disinformation about this issue, it's worth pointing out again that LTNs have existed in London for a very long time, going back decades before a bunch of new ones were brought in without prior consultation during Covid. They are and always have been planned, built and "managed" by local authorities, not TfL. No honest mayoral candidate should go round saying otherwise.
Update, 12 July 2023, 13:48. Friends are suggesting that the nearest thing there is to a "TfL managed LTN" is the TfL Streetspace scheme introduced to Bishopsgate in August 2020 under pandemic conditions. This restricted motor vehicle access to the street and installed wider pavements and bicycle lanes. TfL has announced that these initially temporary arrangements will now be made permanent. Susan Hall's campaign has been contacted by On London to find out of she would reverse those change should she become Mayor.
Twitter: Dave Hill and On London. If you value On London's output, become a supporter or a paid subscriber to Dave's Substack. Photograph from Susan Hall's campaign website.