It was almost like before; an actual Tube trip east, a short walk from a relatively bustling Liverpool Street, the brand-new Eataly, via Middlesex Street and Wentworth Street, cafes and even some shops opening up, to a preview at the Whitechapel Gallery.
While the temperature check, the signing in and the one-way system for visitors were all reminders of our new reality, it felt both familiar and like a beginning: the historic space with its airy, contemporary galleries, a bookshop, a café – to sit in! – and a new show full of energy, colour and confidence.
The Whitechapel has been bringing "great art to the people of East London" – and beyond – since its philanthropic origins in 1901, but the pandemic's prolonged lockdowns could well have been fatal. The gallery was kept afloat with some £740,000 from the government's Culture Recovery Fund.
Now it's back, and with an appropriate show. Eileen Agar: Angel of Anarchy, originally scheduled to open in February, is a major retrospective, the largest exhibition of Agar's work to date, featuring more than a hundred works from a career which stretched from the 1920s until the artist's death in 1991. 
Agar exhibited in the 1936 International Surrealist Exhibition in Mayfair, the show which brought surrealism to Britain for the first time – its opening day crowds apparently blocked the traffic in Piccadilly – yet resisted categorisation. "One day I was an artist exploring personal combinations of form and content, and the next I was calmly informed I was a Surrealist!" Agar said.
The exhibition highlights that determination not to be pigeon-holed. It's a fertile kaleidoscope of colour, collage, abstract, found objects from the seashore and forest, serious but consistently playful.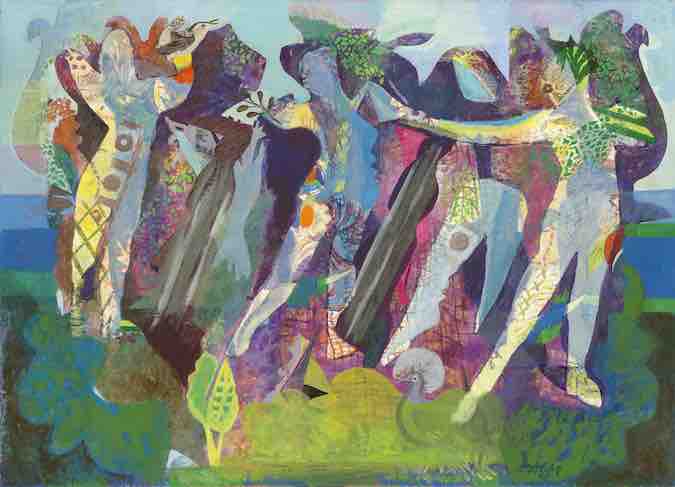 That playfulness seems central to Agar's work. To play, she wrote, is to "yield oneself to a kind of magic, and to give the lie to the …hideous edifice of unrelieved utility…to enter a world where different laws apply, to be free."
It's an instinct that has added relevance in current circumstances: not so much as an escape or a comfort perhaps, though it is that, but as an opening out. As the gallery put it: "Seeing and being with works of art that speak to you can be stimulating, challenging, healing and uniting. Our hope is that Whitechapel Gallery can once again provide a much-needed space for reflection and inspiration for many different people."
Part of this is about the gallery's location on the fringe of the Square Mile, looking towards that global City but rooted in the East End, which has always been as much a part of the global city as the Stock Exchange or, more recently, the Gherkin down the road.
But also, as the late critic Tom Lubbock noted back in 2009, about it is about its "distinctive mix of international and local, of art and idealism – a place to promote a new belief in the good of art". True to that mix, the opening programme also features A Glittering City, two films on "gentrification, power and resistance", by Ayo Akingbade, a previous participant in the Whitechapel's youth programme.
Back to Agar, for whom the Second World War – during which she served as a Fire Watcher in the Blitz and hosted refugees from Europe in her London home – brought an enforced break in her creativity. 
Returning to painting after the war, she said, was "as if renewing a belief in life itself". In a tentatively reopening East End it didn't seem too fanciful to feel that same sense of renewal at the Whitechapel, new life emerging in an uncertain spring. 
"It feels wonderful to be open again after so long," the gallery spokesperson said. "We truly really believe that art and culture play a vital role in our emotional and intellectual wellbeing as well as our sense of community and – at a time when this is ever more important – the empowerment of communities."
Eataly was doing a decent trade as I headed back to the Tube. That's good, a vote of confidence. But it's places like the Whitechapel that really make the city.
Eileen Agar: Angel of Anarchy runs until 29 August. Full details here. Image: Eileen Agar's Dance of Peace 1945. Copyright Estate of Eileen Agar/Bridgeman Images.
On London is a small but influential website which strives to provide more of the kind of  journalism the capital city needs. It depends on financial help from readers and is able to offer them something in return. Please consider becoming a supporter. Details here.