Saturday, mid-morning, outside Warren Street Tube, a tableau of tat and sadness. The paucity of people is itself a commentary on the damage being done to the heart of the capital. Their sudden, shocking absence throws old failings into sharper relief.
Round the corner, in front of buildings lining Euston Road, a row of rough sleepers' tents has been known to pop up. There isn't one today, but a heap of bedding on a bench on the central reservation shows that the problem hasn't gone away. A man steers a shopping trolley across Tottenham Court Road, only its wheels and handle visible beneath a groaning load of plastic bags and junk. Battered metal stands for the Evening Standard and City AM are chained to a peeling lamp post thick with stickers: FCK Boris, and so on. The news is that it's starting to rain.
Walk south, and there's a bunch of guys eating takeouts off a junction box table top outside Carphone Warehouse, waiting, maybe, to be picked up for work. There are one-way arrows on the pavements to aid social distancing, but those guys weren't getting the message. Soon, Centre Point heaves into view, once a symbol of another kind of London consternation – the high rise, empty office block – but long since listed Grade II. Can Central London recover its vitality, just as Centre Point's reputation was transformed?
It feels like a long way back. "This is like the 1980s," my wise companion remarks as we turn into a thinly-peopled Oxford Street. Eighteen months ago, the West End was making plans for its shopping pavements to be fuller than ever, with Crossrail's Elizabeth Line due to open just in time for Christmas 2018. Many more visitors were due to be disgorged. Now it's almost spooky at the once-teeming junction with Charing Cross Road, where the cool and capacious new Tottenham Court Road station entrance stands.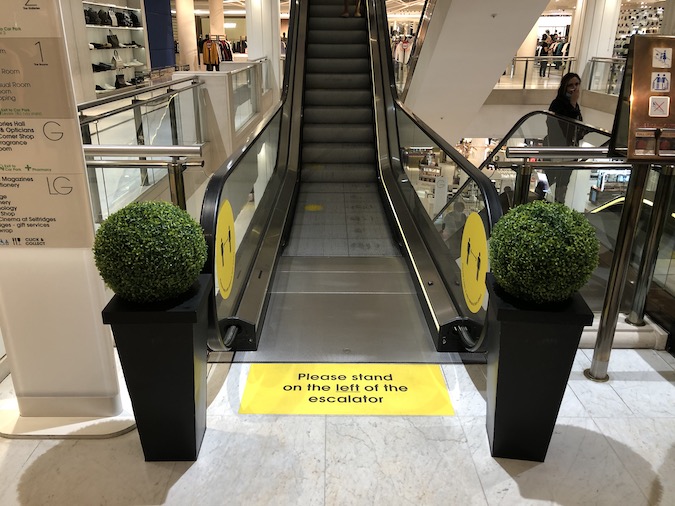 We stroll on to the Circus, me taking snapshots for posterity. In popular culture, masked men are figures of shadowed glamour and maverick virtue: Batman; the Lone Ranger; Zorro. In Selfridges, we are pandemic herd creatures trying to work out how best to conform. A lot of effort is being made on our behalf. Two cheery masked young women at the entrance check that we are correctly attired. A masked man in formal attire ushers us in with a large, ironic sweeping movement. We're all in this mannered new abnormal together, grinning and bearing it, getting used to the idea that it's not going away and even that things might never be the same again.
Covering your face before consuming might not be the end of the world, but the glamour of going in to a big department store, that feeling of stepping on to some kind of vintage film set – a vibe perhaps alluded to by the man at the door – is dulled by it. Big store shopping has always been a little soporific – which floor are we on again? where's the way out? – but the effect of the mask is to heighten the stuffiness, made worse by humid weather. We wander round a bit in search of food, but end up eating al fresco outside a pub. The West End might not be dead, but it is desperate for more life support.
John Vane writes word sketches of London. Sometimes he makes things up. Twitter.
OnLondon.co.uk exists to provide fair, thorough and resolutely anti-populist news, comment and analysis about the UK's capital city. It depends heavily on donations from readers. Give £5 a month or £50 a year and you will receive the On London Extra Thursday email, which rounds up news, views and information about London from a wide range of sources. Click here to donate via Donorbox or contact davehillonlondon@gmail.com. Thanks.