Westminster licensing regulations meant it took London vlogger Paul Brown until just after 10.00 on Saturday morning to slake his thirst in the West End, despite cruising the streets since 6.00. Drinkers in the suburbs were luckier: Wetherspoon's Crystal Palace free house The Postal Order was one of a number to open at 8.00. A man in a standard issue blue surgical mask on the door politely told us to sanitise our hands, encouraged us to fill in an NHS track and trace form to be left on departure and showed us the one-way route into the pub indicated by stickers on the carpet. Management was strict about the all-seated set up – one of us was ticked off for chatting to other customers while standing and then again for walking the wrong way around the pub. It was possible to order at the bar, but punters were always directed to the Wetherspoons App. 
A single-poured Guinness looked like a frappe latte, but food orders and fill-it-yourself coffee mugs arrived astonishingly quickly. Being served a bacon butty felt an excitingly illicit pleasure. There was a pleasant buzz as drinkers, mostly 50+, reunited with friends or just relished being out. Locals Chris and Julie tucked into a Wetherspoon's "Freedom Breakfast". Chris, who works in hospitality at Wembley and Arsenal and at racetracks, is on furlough. Julie has been keeping busy doing people's gardens. Their neighbours have been great buying food for each other. They have been "cautious but not too cautious" during lockdown. They think masks are fine for public transport but OTT for the high street. Julie refers to her paediatrician sister who says "if you cough, two metres isn't enough. If you don't cough, you're not going to infect anybody unless you pick your nose and leave it somewhere".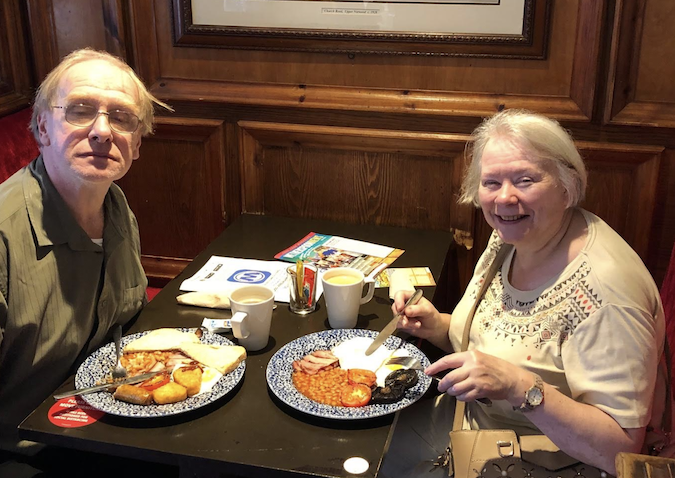 Carol admits she feels "a bit edgy" to be back, but it is her local – "I know all these people", she says. She asks about our accents and says "have a few of these, you'll be talking like us". In the gents, a punter tells one of us sagely: "This thing has taken 50,000 lives, it's an evil, evil thing. You've got to take the cautious approach, or otherwise it can go the other way quite quickly". Evan is with friends George and Tom from Gillingham. He lives three doors down but stresses his actual local is The Westow nearby, where he's booked to go later. He's just had his hair cut. George had had his cut, rather handsomely, by his aunt.
There was controversy when Wetherspoons' boss Tim Martin originally said he wouldn't pay staff until the government's furlough scheme was in place, advising them to get a job at Tesco. The Postal Order made national news when its windows were daubed with red writing saying "Pay Your Staff". The bar staff we spoke to sounded mainly relieved: "It's great to be honest, I'm so happy to be back at work" one told us. "I was bored, I needed work in my life," said another. Pub staff elsewhere who we spoke to on social media had very varying experiences of reopening day. A sociologist doing an immersive ethnographic study of a London pub told us at 11:30: "Very stressful in the last hour! One barmaid was called a slut and when the publican went to remove them, they threaten[ed] to kill him. Just cleaned the gent's and there were loads of coke wrappers in there. We are just getting [set] up for a celebrity's private party… something I can't Tweet but what the pubs need to do to survive."
Some 22,400 of England's 37,500 pubs either reopened on Saturday or will do in the coming weeks, the British Beer and Pub Association estimates. The picture is less grim than earlier in the crisis, before the government furlough scheme was announced and there was no date for reopening. Nonetheless there's a split, says Christine Cryne of London CAMRA, between larger pubs and chains well set up for mitigating measures, and smaller pubs that can't ensure one metre-plus social distancing. The 45-page guidelines are a headache for small businesses.  And there are the pubs that were struggling before lockdown. The crunch will come as the government's furlough scheme tapers off, leaving bar staff, typically in their 20s and younger, vulnerable.
*****
Restaurants have been preparing for reopening by moving tables around, drastically reducing covers, adding screens and other hygiene measures. In Crystal Palace, Will Ellner, owner of local favourite Joanna's, has used lockdown to do a refurb, while selling takeaway burgers. He will reopen with half the number of tables on 17 July, confident about the steps he's taking as he's always been in close touch with health and safety industry associations.
Restaurateurs Christopher Corbin and Jeremy King have reopened two-thirds of their London venues. King spoke to the Times about last month about his unease with measures to "fill the restaurant with Perspex dividers" or "have the person serving you all but hazmat-suited" that risk spoiling the magic of the restaurant experience. While happy to increase distances between tables, he is sceptical about the effectiveness of this when there are greater transmission risks.
At Fischer's in Marylebone, there's a snazzy temperature scan at the entrance that takes an accurate reading from a metre away. On Saturday evening, enchanted customers take selfies next to it. Our waiter confirms, with a sad and sympathetic expression, that if you fail it you will be asked to leave. There's a new wipe-clean menu, an option to see it online for people who don't even want to touch that, and a smart blister pack of hand gel at every seat. Other than this, the changes to the rich wooden and tiled interior are imperceptible. Only one customer arrived or left wearing a mask during the time we were there.
King, who before 7.00 pm had visited Fischer's three times to check everything was running perfectly, tells On London: "It was a strangely positive weekend. Staff apprehensive and yet a palpable sense of excitement pervaded – especially amongst the guests. "'Thank you' was the recurring refrain and one customer even stood up mid-evening at Brasserie Zédel [Corbin and King's Theatreland hub] and made a speech thanking the staff, to great applause. If the government can reassure the population that travelling on public transport is not reckless – certainly no more so than going out at all – and the offices can be re-populated then hopefully the industry will not suffer too many casualties." He is deeply unhappy about the recent temporary congestion charge increase and extension of its operating hours. "They should be reversed immediately, he says."
In the suburbs there are different challenges and set-ups. Beam, a smart coffee shop in Crouch End, has reduced seating from 170 to 80-90 and all waiting staff wear black or navy masks. You can scan a QR code to give your contact details for track and trace. To speed the traffic, you need to order all pick-up food on the phone or online. At nearby patisserie Le Sable d'Or, meanwhile, takeaway custom has boomed, but staff don't know yet when the café will be reopening. Up the road, restaurant and cocktail bar Melange has removed everything from the tabletops for quick sanitation, while the Miranda Vegan Veg Café is throwing open its streetfront windows.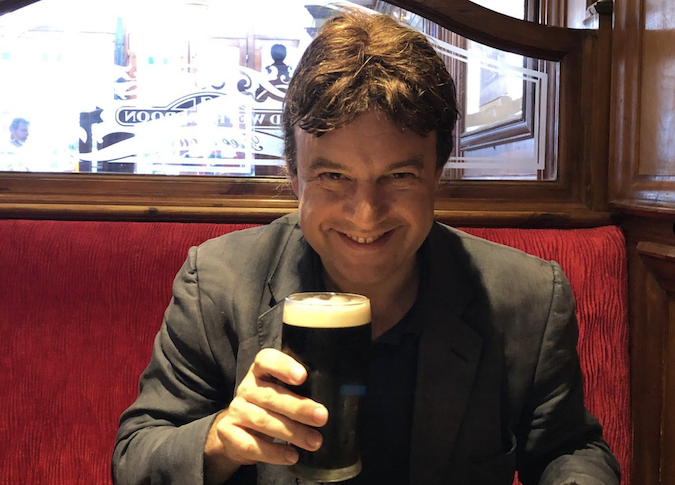 In West Green, Tottenham, John at Portuguese-African café Bom Pecado thinks business is down, not just because of the restrictions but because "people don't have money". He's hopeful that "if everyone behaves the way they should, it should get better very soon" but stresses that with social distancing rules, "you have to be very patient how you explain to people". At the big Turkish restaurants on Green Lanes, some of the staff on the doors wearing masks or visors say Saturday was quieter than expected, others reckon it was much better. Paul, the maître d' at Devran Kitchen, who worked for Marco Pierre White in Chelsea for 14 years, isn't wearing a mask: he finds them claustrophobic. He's optimistic that "we'll get there, slowly, slowly". It will need a lot of recruitment and training, however, since around half his colleagues, who came from all over the world, quit during lockdown.
Salman Shaheen, chair of the Hounslow Council Labour Group, says that without rent relief, hospitality businesses will go bust and the extra funding package the government has provided local authorities so far – £16 million in Hounslow's case – is a drop in the ocean that will push even councils with strong finances into cutting services and raising charges. He quips that it's "our patriotic duty to go out and eat and drink responsibly". There's no contradiction of Labour's caution on school re-openings, he says, because both are about trusting those who know best about the safety of their premises. On Saturday, Shaheen and friends went to Gordon Ramsay's Union Street Café in Southwark – "very well controlled in social distancing and a far more enjoyable dining experience than previously" – where they found the chef sitting behind them, on a tour of his eateries. At a pub afterwards, the group had to stand a metre from the bar and pints were served in plastic glasses. Overall Shaheen was left with a "very rosy picture" of "Super Saturday", saying he was "surprised how empty and controlled it was".
Oliver Cooper, Conservative group leader on Camden Council, visited almost every pub in his ward on Saturday "The ones I saw were taking it very seriously," he says. He suggests that encouraging people to visit local pubs and restaurants at times they normally wouldn't while work patterns are more flexible can help give venues the good summer they need to survive. The council (officers as well as ward councillors) has supported the creation of a Belsize Village "streatery", helping provide the funding for outside tables and chairs in a small public square for nine restaurants. It opened on Saturday and will run for three months. Cooper hopes councils across London will take note. "It really is all about having those spaces available" he says. "If you are serious about maintaining the vitality of smaller town centres, that may cost money: far less than what councils will lose if these businesses disappear". 
*****
So far on Super Saturday, so sensible, bearing out Matt Hancock's view that "very, very largely people have acted responsibly". But the crowds in Old Compton Street and surrounding areas of Soho, which one of us encountered on a late evening cycle ride, elicited a very different reaction when shown on TV and social media. "It's too much" said one man squeezing through revellers, many of them celebrating Pride which had been due to take place on 27 June – as another group posed for a photo. No more than one in 50 or one in 100 people who were out for the night was wearing a mask.
"No-one really cares about social distancing" said Hakan, closing up at Bistro 1 on Frith Street. They'd been mainly serving drinks and it was too early to say how healthy regular business looked, he said. Police on the ground suggested the numbers congregating were due to venues closing at 11.00, but photos show a packed street earlier too. Len, eating dinner from a box in Wardour Street, was philosophical: "I think it's a good thing, you can't stop what's going to be. People are fed up, they've been locked down for three months. All you can do [personally] is keep a distance and be sensible," he said. Others were less kind. "It's heartening to see the Brits celebrate 4th July by not social distancing, not wearing masks, ignoring health experts and otherwise behaving like idiot Americans. The special relationship thrives" says British-American writer and Soho enthusiast Ian Winn, drily.
*****
So much rides on getting "unlocking" right. Hospitality is the fourth largest industry in the UK, and huge in the capital: London boroughs and the City make up five of the top 20 local authorities for employment in the sector, and 10 of the top 20 for Gross Value Added. Recently, the London pub scene has been more robust than the rest of the country's, with a small net year-on-year increase in the number of pubs in Inner London in 2017-8, and unusually for English regions, more large pubs and more employment in pubs than in 2001. London's hospitals and health workers need our unqualified and ceaseless support – and so also now do our bar staff, baristas, landlords, sous chefs and washer-uppers. Can we achieve this balance?
All photographs by Joshua Neicho. Top to bottom: Paul of Devran Kitchen; Chris and Julie, Fischer's; Pádraig and Guinness; Old Compton Street.
OnLondon.co.uk exists to provide fair, thorough, and resolutely anti-populist London news, comment and analysis. It now depends more than ever on donations from readers. Give £5 a month or £50 a year and you will receive the On London Extra Thursday email, which rounds up London news, views and information from a wide range of sources. Click here to donate via Donorbox or contact davehillonlondon@gmail.com. Thanks.