The Cundy Street flats stand in a triangle of land in south Belgravia, close to Victoria station and round the corner from Sloane Square. Built in the early 1950s, the four seven-storey blocks rose from the ruins left by a World War II bomb and now contemplate each other across a large car parking space, walled and gated off from Ebury Street, Pimlico Road and Cundy Street itself, which form the triangle's three sides.
A glamorous telling of the flats' history talks up a swank "Cundy Street set" of residents, including the former Camilla Shand. But contemporary instalments are less revering: the buildings are judged humdrum, their layout introverted, the space between them poorly used. And so the flats are to be knocked down and a new piece of London assembled in their place.
Construction of this new Cundy Street Quarter isn't expected to begin for two years. But the preliminary process – the preparing of the ground, so to speak – is already underway. The conduct of that process and its effectiveness could have significant implications across London as a whole.
The flats are owned by Grosvenor Britain & Ireland, forming one of the less vaunted pieces of its celebrated Mayfair and Belgravia estate. Grosvenor has produced a 20-year plan to improve those famous West End, largely residential neighbourhoods – making them "more active, more open and more integrated", they say – and has also declared a goal of enhancing public trust in the planning system and London property sector activity at a time when the need to build more homes is pressing, and resistance to the disruption and loss it can entail, sometimes fierce.
In February, Grosvenor chief executive Craig McWilliam wrote:
"The truth is, at Grosvenor, like many property companies, we have failed to tell our story in clear enough ways. We have historically failed to describe development that is valuable in terms of the environment and society. And we have also failed to open ourselves up enough to public opinion."
McWilliam called on London's "civic leaders" – essentially, its borough politicians and its Mayor – to join him in providing "placemaking leadership", producing a "compelling vision for growth" along with "an honest depiction of the trade-offs required to deliver it". Grosvenor sees the Cundy Street project as an early example of an improved approach. On London is going to document its progress.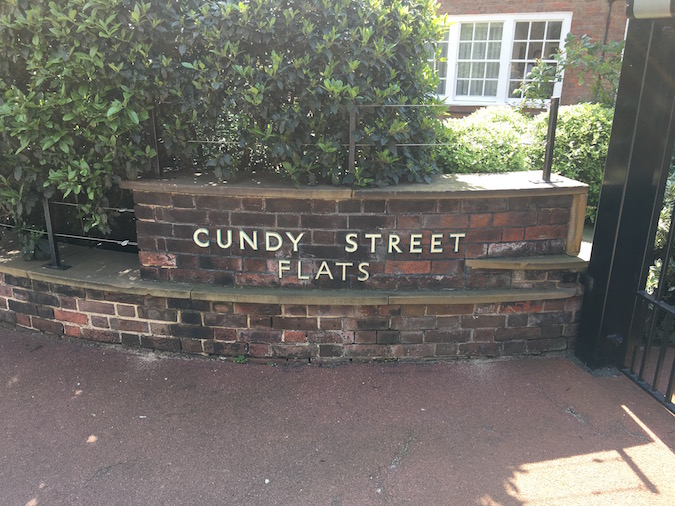 First, some context and key facts. Grosvenor, whose group empire is rooted in 500 acres of what was thought in the 17th century to be pretty worthless pasture land on the capital's outskirts, is widely thought of as a custodian of Central London's built environment as well as a business entity. Its London estate, comprising some of the most valuable real estate on the planet, is also home to vigilant local amenity groups who are not backward about coming forward if changes not to their liking are proposed. The redevelopment of the Cundy Street flats has been termed by the Evening Standard "one of the exclusive area's biggest redevelopments in decades". It's not a project Grosvenor wants to get wrong.
The four blocks of flats themselves, called Lochmore, Laxford, Kylestrome and Stack, comprise 111 units, whose leases expire in 2021. The site also contains, at one of its triangle points, an angled boundary with Pimlico Road and Ebury Square, the five-storey Walden House, comprising 40 flats for social rent. Currently leased to Westminster City Council, Walden house too is intended to be razed. The lease on Walden house is due to run out in 2021, the same as the private blocks. But Grosvenor has agreed a two-year extension to June 2023 to leave more time for Westminster to rehouse its 38 secure tenant households living there, all of whom have been moved up the waiting list.
Another part of the development site forms another strand of this part of London's housing history. Forming the most western of the triangle points, two handsome Peabody mansion blocks called the Coleshill flats, will not be levelled, although their basement dwellings and separate car parking space might be included in Grosvenor's plans. Walking around the area, George Peabody's legacy is often apparent, mostly in vintage signage on housing he built and also nearby in the form of a blue plaque in the magisterial Eaton Square.
Grosvenor's plans will also encompass a row of shops that runs along the Ebury Road side and, opposite the point formed by of the Peabody blocks, the bijou Orange Square, distinguished by a statue of Wolgang Amadeus Mozart. The great Austrian composer lived at 180 Ebury Street when he wrote his first symphony in 1764. Orange Square hosts a farmers market every Saturday. The compact Ebury Square, elegant and heavily shaded with trees, as at the opposite end.
Grosvenor's plans have yet to be submitted to Westminster Council, but a model of the prospective Cundy Street Quarter has been put on display for public consultation and some broad principles have been explained. One of these, in keeping with the open-active-integrated theme, is to make the new development a place people can walk through as well as one where people live. Pre-bomb maps of the space show building there at higher densities than at present and streets passing through it. The idea is to restore this lost "permeability" and create a new "village centre" with a vibe to match. Deborah Saunt, director of DSDHA, is its architect.
Who will this "village" be for? Grosvenor characterises it as "residential-led", "mixed use" and "inclusive". The housing types will include a substantial section for "senior living" – housing specifically deigned for older people – and anything less than the quantum of new affordable housing Sadiq Khan requires will attracted his disapproving interest.
Grosvenor is also at pains to reassure local people that the style and size of the Quarter will be in keeping with surrounding streets and squares, many of them falling into a handsome conservation area. Sensitivity to concerns about height seems to be a priority. A consultation display board pointed out that some buildings in the immediate vicinity rise to eleven storeys. One building in the model of the development was marked as reaching twelve. All of these factors need to be taken into careful account by Grosvenor as the project proceeds.
First consultation drop-ins were held in April and a second bunch in June, but the plan has been in the pipeline since about 2009 and was, as one Grosvenor person put it, "pulled out of the cupboard" two or three years ago. With Historic England concluding the flats not worth listing, one possible obstacle was removed. The private residents, most of whom are of the demographic you might expect, have had plenty of notice that their leases won't be renewed and seem unlikely to end up sleeping in doorways. The vital thing for Grosvenor, along with satisfying Westminster and Mayor of course, is to nurture wider local community support.
Along with the pretty standard consultation drop-ins, the first of which drew over 300 visitors, they've sought opinion through a platform hosted by Built ID, which has attracted over 6,500 visits and had over 650 responses submitted. The "village feel" notion, already present in the form of Orange Square and local shops, emerged as highly prized. To explore the consultation site is to get a good grasp of neighbourhood sentiment, not least for the types of events, facilities, environmental features and shops people would like more of. It may come as no surprise to learn that a yearning for a nice little Waitrose is pretty strong. DSDHA have run their own local survey, interviewing people who live in, work in and pass through the area.
For Grosvenor, accommodating local needs, tastes and desires into the whole project, along with all its planning, construction and financial hard practicalities, is part of smoothing the process to fruition. There are already many different elements to this story and plenty more yet to emerge. What final shape and size will Cundy Street Quarter take? Will there be large local objections or overwhelming support? How and where will the council tenants be rehoused? On London will address each of these questions and more in the coming weeks, months and, well, maybe even years.
OnLondon.co.uk is dedicated to providing fair and thorough coverage of London's politics, development and culture. The site depends on donations from readers and is also seeking support from suitable organisations. Read more about that here.