The Conservatives could be on course for a net loss of two seats in the capital in the general election, though the party remains on course to win a small overall national majority, according to the second and final YouGov MRP constituency poll of the 2019 campaign.
The latest findings, using a survey technique that takes local demographic factors into account, suggest a Conservative government led by Boris Johnson is likely to be elected on Thursday with a majority of 28, but that the party's lead has fallen by the equivalent of 40 seats since YouGov produced a poll using the same method two weeks ago.
YouGov says the poll's margin for error means "we absolutely cannot rule out the 2019 general election producing a hung parliament" but "nor can we rule out a larger Conservative majority".
The previous poll projected a net gain of one seat for the Tories in London compared with 2017, but in the new one Labour is found to be ahead in Putney, which the Tories won in 2017, having been slightly behind, and to have pulled ahead in Chipping Barnet, which was neck-and-neck before.
The Tories remain just about on course to deprive Labour of Dagenham & Rainham, though the margin is so tight that YouGov says the outcome is a "toss up", and they are judged "likely" to lose Richmond Park to the Liberal Democrats.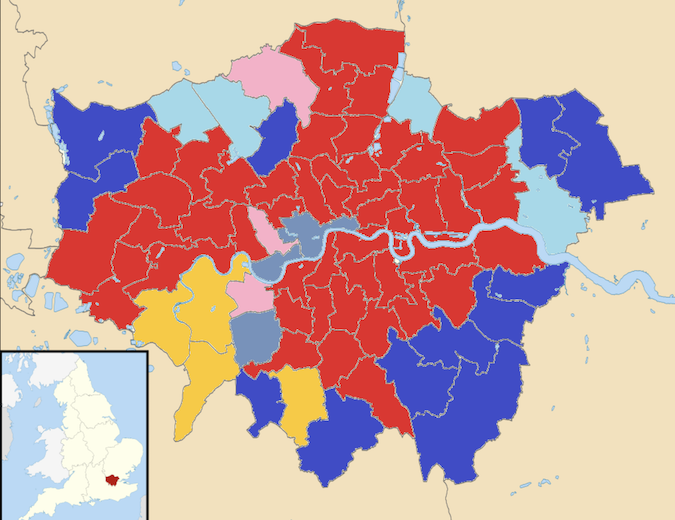 Should those four seats change hands in line with the poll's findings, both Labour and the Lib Dems would end up one seat better off in London than in 2017 and the Tories two seats worse off. The final tally of London's 73 parliamentary seats would be: Conservatives 19; Labour 50; Lib Dems four.
One other Tory-held seat, Hendon, is also categorised as a "toss up" with Labour challenging closely, as is one of Labour's seats, Kensington, which the party won by just 20 votes in 2017 and is now thought to be fractionally ahead of the Tories again, having strengthened its position in the past fortnight. YouGov's MRP model correctly anticipated Labour's shock win in Kensington in 2017, which is one reason for the high degree of interest in its 2019 surveys of this kind.
Tory-held Chingford & Woodford Green, is assessed by YouGov as leaning towards the Conservatives, though the mid-point of its estimated range of support for the parties puts Labour just two percentage points behind.
In other marginal seats, Labour appears to be much safer in Erith & Thamesmead, Enfield Southgate and Croydon Central than it was two weeks ago, while the Lib Dems seem to have pulled ahead of their Tory principal challenger in Carshalton & Wallington.
Meanwhile, Lib Dem prospects of ousting the Tories from in Wimbledon, Chelsea & Fulham and Finchley & Golders Green appear small and only slightly better in Cities of London & Westminster, according to the poll, though YouGov regards Finchley & Golders Green as one of the UK's seats where opinion is more difficult to assess due to "unusual local circumstances".
Map by Lewis Baston. The lighter shades of party colours indicate a model majority of less than 5 percentage points. Blue-grey are seats with larger Conservative majorities which arise because of split opposition.
On London is providing the fullest coverage it can of the 2019 general election campaign in the capital, along with other big issues for the city. The website depends on financial support from readers to pay its freelance writers. Just £5 a month makes an important difference. To donate to On London, click here. Thank you.