I had expected Mike Gapes, formerly the Labour MP for Ilford South, to be a rather stern and maybe angry presence across the table at Wayne's Coffee, near Ilford station. After all, it's been a tough year. In February, he left Labour after being a member for 50 years to help form the Independent Group (TIG) in parliament. TIG created Change UK, but it swiftly fell apart. Today, Gapes, formally now a member of the entity known as the Independent Group for Change, faces being removed from the parliamentary seat he has occupied since 1992 by his successor as Labour candidate.
Who wouldn't be hacked off? Yet when Gapes walks in out of a cold, damp dusk he is a beaming ray of sunshine. He's on the campaign trail, he's loving it and he's upbeat. "I think I've got a chance. I think the Labour Party could get a shock here," he says. And should this prove to be delusional, it won't be for want of knowledge of his constituency. Asked why he's defending it when defeat appears so likely in a seat that cranked out a Labour majority of 31,647 two years ago, Gapes's short answer is: "I believe in this community. I want to carry on serving them and fighting for them. This is a great place."
Ilford South and the borough of Redbridge as a whole has seen some of the most dramatic demographic change in Greater London during this century, due particularly to large increases in the percentages of Londoners of Indian, Pakistani and Bangladeshi descent (in that order), according to the 2011 census. Such shifts were already underway when Gapes, 67, won Ilford South from his Tory predecessor as MP, by just 402 votes. He's seen his majority increase ever since and, in parallel, the human composition of the territory ceaselessly shift and churn.
"Ilford has always grown by receiving people migrating out of the East End," he explains. He describes nearby Edwardian houses, built by the Glaswegian politician and property developer Archibald Cameron Corbett in response to an Ilford Station upgrade, which he helped pay for (an early example of "planning gain", perhaps). "Quite a lot of Jewish families lived there," says Gapes, adding that nearby Gants Hill was once said to have London's largest Jewish community outside Stamford Hill. He recalls an Ilford Jewish primary school that moved up from Stepney in tandem with its pupils and their families.
Now, what where once a large synagogue stood on Coventry Road there is now a Seventh Day Adventist Church. He describes the Irish presence in Seven Kings, mentions the Cardinal Heenan Centre and Irish Catholic Club on Ilford High Road, whose centenary celebration he attended at the weekend (it's also his campaign address). The town centre's first mosque appeared on Albert Road with post-war migration from Indian and Pakistani. Gapes describes it as at first very small and now "very big" and with a Hindu temple right across the road from it.
Later, during in his first year as an MP, many Tamils arrived from Sri Lanka: "I dealt with hundreds of cases of people seeking asylum, fleeing the civil war." There's a Tamil temple in Ilford too. And latterly, more internal migration: Bengalis, from Tower Hamlets. "The same pattern as the Jews," Gapes says. "Each generation moving four or five miles further out." Much of his constituency life involves attending faith group and cultural gatherings. "Some of my ward's streets are 60-70% British Asians," he says. "Lots of Sikhs and Hindus, Muslims from various places." There's a local inter faith forum and annual procession. "I'm proud to represent this area."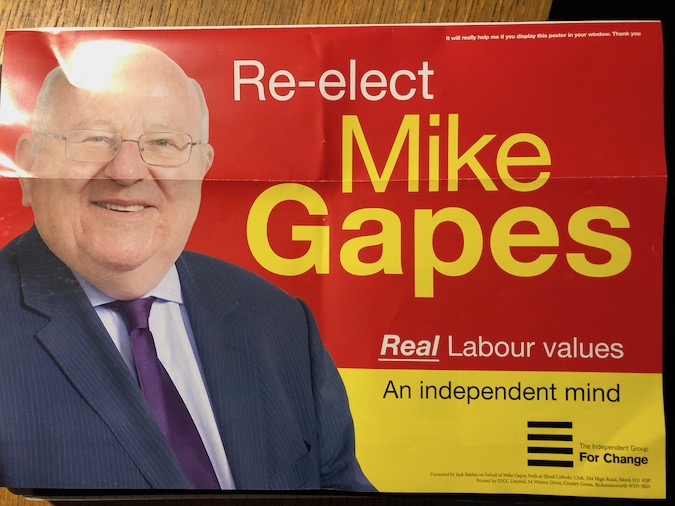 Gapes was born in the former Wanstead Hospital, the son of a postman and a shop sales assistant. He grew up in these parts too. He relates his enthusiasm for Redbridge's hyper-diversity to an interest in foreign policy he traces back to childhood: he was "an avid stamp collector" and studied geography at A-level. Aged 16, he attended the famous demonstration against the war in Vietnam outside the US Embassy in Grosvenor Square. Aged 19, he did voluntary service overseas in Africa. He would go on to chair the Commons foreign affairs select committee and was part of the team that negotiated the Belfast Agreement in 1998.
As prominent student activist at Cambridge, where he achieved an MA in economics, his original position on Europe was what he now calls "the knee-jerk, traditional Bennite" one of opposing joining the Common Market. He abandoned that in the 1980s, saying he realised then that "the European Economic Community was a force for good". In 1983, he stood unsuccessfully for Labour in Ilford North, the seat later won and impressively held for Labour held by his friend Wes Streeting. That was the year Labour was obliterated in a general election under the Left leadership of Michael Foot. Gapes spent much of the rest of that decade working for Labour, re-shaping policy on defence and international relations. By the end of it, the Tories were the more Eurosceptic of the two biggest parties with Labour becoming more pro.
Given that intellectual journey, which continued into the era of Tony Blair and his three election wins, Gapes's dismay at the rise of Jeremy Corbyn and a Labour membership that elevated him to that position is unsurprising. He describes his decision to get out as "a terrible personal wrench" but also as giving him "a sense of liberation – a weight was lifted off me". Then came another difficult choice: "Do I just go away or do I carry on and fight?" He decided on the latter in August, while on holiday. And now, as winter approaches, he's out there on the doorstep, bearing red-with-yellow leaflets that urge voters to "Re-elect Mike Gapes" and bear the words "real Labour values" in much larger print than "the Independent Group for Change".
Agree with him or not, only the most grudging would question Gapes's political experience, or his resilience as a private person. He has known profound personal loss. Four years ago he was extremely ill: "I'm lucky to be alive" he says. Having recovered, he has treated "every day as important. I wasn't going to waste time".
He says he couldn't possibly have become a Lib Dem, as other TIG-gers have. That campaign leaflet spells out that he could never ask Ilford South voters to make Jeremy Corbyn Prime Minister, claiming that the Labour leader has "allowed a culture of extremism, antisemitism and intolerance to develop". It adds: "I don't believe Corbyn's Labour or Corbyn's candidate here in Ilford South will do anything but harm to this country and this constituency." He's shown no prior aversion to a dust up with Corbynites, as his history of Twitter exchanges with them shows. He says his parliamentary staff wanted to take control of his Twitter account out his hands, but he wasn't having it: "The tweets are me," he states, rather proudly. There's not much doubt about where he's coming from.
Gapes concedes that his team is "very small at the moment", and declines to give a number. But he says he thinks it will grow and that "loads" of local Labour Party members are privately egging him on. That claim is not hard to believe, given the bitter local contest to become his successor as Labour candidate. It was eventually won by firm Corbyn ally Sam Tarry, though not before his original closest rival, Redbridge Council leader Jas Athwal, was suspended by the party late on the eve of the selection ballot.
Gapes does not hesitate to join Athwal's supporters in calling the selection of Tarry, following a pause in the process from Athwal was excluded, as a "stitch up", and he becomes the latest person to rubbish reports that the complaint against Athwal which led to the suspension was of a sexual nature. "This was a long-standing grievance that comes from a former councillor. It was a complaint from a male." His explanation for what has happened? "It's what the Corbyn cult do. It's how they operate."
Up until now, he's restricted his canvassing to daylight hours, but when we met he had returned enthused from door knocking in a couple of nearby streets where he knows he has done well in the past. "I had 20 conversations – 'Mr Gapes, lovely to see you'. 'Mr Gapes, you gave me a certificate when I was at primary school' – and 18 of them were positive." The exceptions, he said, were a Brexiter who "doesn't want us to be run by the Germans" and one Labour person "who wanted to go on about Blair and Iraq".
Gapes is unrepentant about supporting Britain taking part in the overthrow of Saddam Hussein. "I took the view that the removal of the Ba-athist regime was an act of liberation," he says. No, things didn't work out as he had hoped. But he speaks of strong friendships with Iraqi socialists and communists from his student days, and with Iraqi Kurds, a people Hussein subjected to a notorious chemical weapon attack in 1988. He concludes: "I know how vile the Saddam regime was."
Gapes stops firmly short of recommending, like his erstwhile Labour colleague Ian Austin, that people should vote for Boris Johnson rather than Corbyn. His view is that "both are unfit to be Prime Minister". His strongest venom, though, is for the Labour leader, with foreign policy differences to the fore. "I can't countenance the pro-Assad, pro-Putin, soft on the Iranians position and the visceral anti-NATO, anti-Americanism," he says, describing this as "prevalent in the Stop The West coalition." – his name for the Stop the War Coalition Corbyn used to chair.
Gapes accepts that he might "get absolutely smashed" on 12 December, but says the Ilford South contest is "a straight fight between me and Corbyn's candidate". Having built up a massive majority as a Labour candidate, he says he needs to win around 20,000 of the 43,000 votes he got last time. With Joan Ryan standing down in Enfield North, Gapes is the last TIG-er in town. He won't be leaving without a fight.
On London's 2019 general election guide to the capital's 25 most interesting constituencies (and all the others) is here. 
On London intends to provide the fullest possible coverage of the 2019 general election campaign in the capital, along with other big issues for the city. The website depends on financial support from readers to pay its freelance writers. Just £5 a month makes an important difference. To donate to On London, click here. Thank you.