Calculating how many cars and vans registered to London households and businesses do not comply with the standards of the Ultra-Low Emission Zone (ULEZ), which Sadiq Khan intends to expand to cover the whole of greater London from 29 August, is quite complicated.
Even the best figures available need to be handled with some caution. They are for 2022 and not every vehicle registered to a London address in that year is necessarily based or driven within London. Moreover, the same dataset for 2021 suggests a significant downward trend in the number of non-compliant vehicles. The number seems likely to have dropped further by now, halfway through 2023.
The related but separate matters of how much opposition there is to the planned expansion and to the ULEZ altogether, and the possible implications of that opposition for next year's mayoral election, is also hard to get a clear fix on.
London's Conservatives don't hide their belief that the ULEZ expansion is very unpopular with large numbers of Londoners or their hope that it will significantly weaken Labour Mayor Khan's chances of winning a historic third term at City Hall next May.
That is why all three on the shortlist to become the Tories' mayoral candidate have vowed to do away with the latest expansion, should it go ahead – the outcome of a legal challenge is set to be known on 4 July – and the Tory candidate in the Uxbridge & South Ruislip parliamentary by-election, to be held on 20 July, is characterising the contest as "a referendum" on the plan.
You can see why the Conservatives are seizing on the issue. A very rough adding-up of the number of outer Londoners who might be newly-affected by having to pay a daily charge of £12.50 or else finding the cash to buy a cleaner car, plus other Londoners who might still be fed up with Khan about the previous expansion – from central London to the North and South circular roads in October 2021 – and others who just think it's a bad idea can produce a figure of half a million or more.
They might also point to the recent Redfield & Wilton poll which, at the same time as showing Sadiq Khan to be comfortably ahead of his as yet unknown Tory challenger, found that 10 per cent of those who voted for him in 2021 are undecided about doing so again and that seven per cent currently say they will be voting Conservative instead.
Can that switch of loyalties be attributed to the ULEZ? Maybe, or maybe some of it. Then again, actual recent elections in which Conservatives have campaigned against the expansion haven't clearly demonstrated a huge backlash against it.
Neither the outcomes of last month's local elections in areas just outside Greater London, where some residents will be affected, nor those of outer London borough by-elections this year have produced clear evidence of any major anti-ULEZ factor eroding support for Labour candidates – though, of course, none of those candidates were Sadiq Khan, with whom the policy is specifically identified.
Then there are the opinion polls about the issue to consider. Redfield & Wilton asked two questions about the ULEZ expansion in their wide-ranging recent survey, to which On London contributed ideas for questions on various topics. The picture formed by the responses is paradoxical.
Asked if they supported or opposed the planned expansion from 29 August, a total of 47 per cent said they supported it (including 18 per cent who said they supported it "strongly") and only 32 per cent said they opposed it (20 per cent "strongly"). Another 19 per cent said they neither supported not opposed it.
But when offered a choice between the ULEZ being "expanded to include the entirety of London", being completely scrapped, or being "kept to its current inner London boundaries", the largest number, 37 per cent, said they preferred the latter option – that is, sticking with the status quo.
Add to them the 22 per cent who said they want the ULEZ "scrapped entirely" and you can argue that 59 per cent in all are opposed to Khan's planned further expansion compared with the 32 per cent who answered this second ULEZ question by saying they are in in favour of it.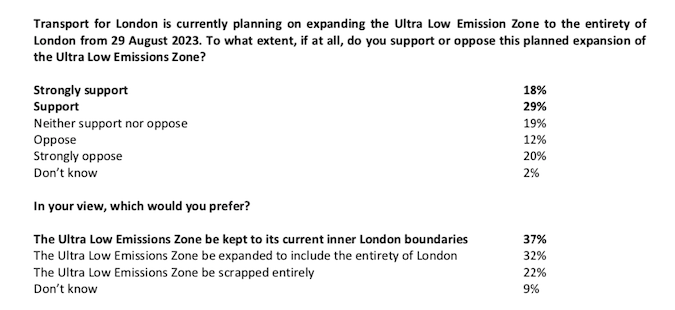 Which is the more accurate measure, the 32 per cent opposed to the expansion suggested by responses to the first question or the 59 per cent against suggested by those to the second one?
There have been other polls about this issue. Last October, a YouGov survey commissioned by City Hall and conducted last July, found that 51 per cent of Londoners backed the planned expansion compared to 27 per cent who opposed it – a pretty similar response to the first question in the much more recent Redfield & Wilton poll. And of the 51 per cent in favour, 22 per cent said the expansion should be implemented sooner than August this year compared with eight per cent who thought it should be delayed.
As if in retaliation, the Conservative London Assembly group commissioning its own YouGov poll, which, in line with its own convictions, framed the ULEZ as a scheme for raising money for Transport for London rather than for improving air quality. Published last November, this, perhaps unsurprisingly, produced a 51 per cent "against" majority.
But the more recent Redfield & Wilton survey also asked Londoners what they think the purpose of Ultra-Low Emission Zones is. A 58 per cent majority said it is "to reduce air pollution" compared with 26 per cent who said they believe its purpose is to raise revenue, suggesting the Conservatives might be losing that part of the ULEZ argument.
Going back to the number of vehicles – specifically cars and vans registered in London that aren't ULEZ- compliant, it's worth remembering that they are a shrinking minority: TfL's analysis of Society of Motor Manufacturers and Traders figures for London in 2022, which were largely derived from government data, concludes that 86 per cent of cars and 53 per cent of vans registered in the capital were ULEZ-compliant last year – up from their 2021 figures of 77 per cent and 44 per cent respectively.
As discussed above, those numbers do not directly equate to opposition or support for the planned expansion or to any electoral implications of Mayor Khan's policy, but they do help with keeping a sense of proportion about an issue which, though undoubtedly significant for many Londoners and raising quite a row, might not be quite as huge as it appears. But we shall see.
Twitter: Dave Hill and On London.
On London and its writers need your backing. Give £5 a month or £50 a year and receive in return the weekly newsletter On London Extra and (at no additional charge) invitations to events featuring eminent Londoners. Pay using any of the "donate" buttons on the site, by becoming a paid subscriber to my Substack, or directly into the company bank account. Email davehillonlondon@gmail.com for details. Thanks, Dave Hill.