We all want to breathe clean air. We all think pollution is bad. It is right that Sadiq Khan acts to improve air quality in London, as both of his predecessors have done. But there is no case for the expansion of the Ultra-Low Emission Zone (ULEZ) he has planned for next year.
The current ULEZ, which covers the Central London congestion charge zone, was originally a Boris Johnson policy, announced in 2015, but Mayor Khan brought its implementation forward by 18 months, to April 2019. Before that, from October 2017, he imposed the preliminary Toxicity Charge (T-charge) affecting older petrol and diesel vehicles.
The problem now is that he wants to greatly enlarge the size of the Zone on the strength of evidence that does not justify the policy and despite the adverse financial impacts it will have on those whose vehicles do not comply with its emission requirements.
Khan's intention is to expand the ULEZ out to the A406 and A205 roads, better known as the North and South Circulars. It will affect all motorcycles, cars, vans and minibuses which are not Euro IV compliant for petrol vehicles and Euro VI compliant for diesel models. Very roughly, this equates to petrol vehicles manufactured in 2004/05 and diesel models dating from 2015/16.
Khan claims this is justified because of "London's Toxic Air". Such hyperbolic language is commonly used by those whose true motive seems to be to remove all motor vehicles from our streets. The truth is that London's air is not toxic. It is getting better and has been getting better for two decades.
The ULEZ policy is being instigated under the Mayor's environment strategy. Accompanying that document is an Evidence Base. Anybody reading it and other air quality documents on the GLA website, will probably be surprised to learn from them that London's air quality has improved significantly and is predicted to keep improving, even without the expansion of the ULEZ.
Some pretty remarkable things have been happening as a consequence of already implemented policies, probably the most significant being ever-tightening vehicle standards mandated by the European Union and the creation of the London-wide Low Emission Zone (LEZ) in 2008.
When Khan consulted on the revised ULEZ, much was made of the image below, showing nitrogen oxide (NOx) concentrations in 2013. The areas affected by poor air quality at that time are clear to see. They are mostly in Central London, with major routes and Heathrow also standing out. But that was seven years ago. People and businesses change their vehicles all the time. Also, the number of journeys to work by car into London has continued to fall from a figure of over 140 million a year in 2000 to just over 70 million a year in 2018. So the graphic is now significantly out of date.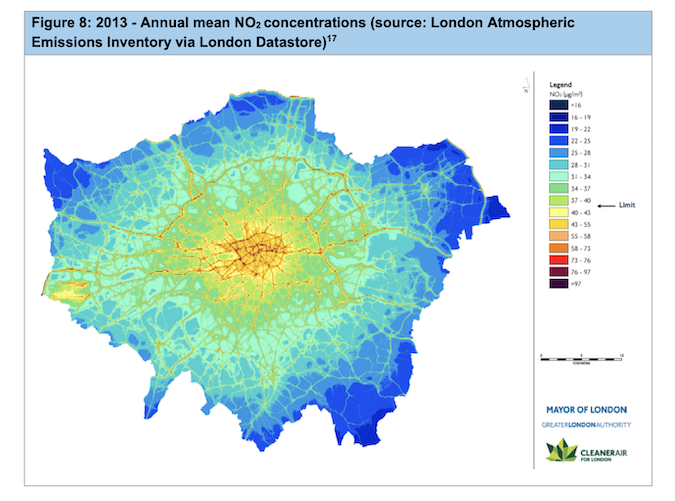 Moreover, the Evidence Base – which does not assume anything beyond the implementation of the Central London ULEZ – predicts overall NOx emissions would fall by 57 per cent by 2030 and that less than 25 per cent of them would be from road transport. And the assumption is that almost all those vehicles will be ULEZ compliant by then, as businesses change them and older vehicles are removed from the pool of vehicles being driven in London.
An updated analysis of air pollution exposure in London was provided for the GLA in 2017 by consultants Aether. It includes the remarkable chart below, which shows air quality which does not meet the EU's Air Quality Objective – a situation usually referred to by Khan as "illegal", even though it is only an aspirational target. It shows a statistically almost irrelevant number of people in London affected by poor air quality now, and none in five years' time.
The story for particulate emissions is similar. Particulates are generally classified as PM10 and PM2.5, (the numbers refer to the size of the particles in microns. The smaller they are, the worse they are for you).
Again, compared with 2013, PM10 emissions are expected to have fallen by 22 per cent by 2030. However, the share from road transport is predicted to stay at around 50 per cent. That is not surprising, as almost all particulate matter from road transport is produced by tyre wear and brake dust. You could be driving a 100 per cent electric vehicle and still need to stop it and steer it. The PM2.5 figures show a greater projected reduction overall, down by 35 per cent by 2030, but the share from road transport again remains steady.
So once again, the ULEZ is aiming at the wrong target. Even without the expansion to the A406/205 boundary, the data shows that exhaust emissions from road transport are not the major source of them. The next chart (below) is for the UK as whole, but it shows how exhaust emissions from road transport are a tiny proportion of total emissions. Non-exhaust emissions – brake dust and tyre wear – remain far higher and both are vastly exceeded by non-road transport sources.
So, this policy is going to make almost no difference to air quality, which is already good and improving. And its imposition will cost a nurse working five shifts in a week who drives to a hospital inside the ULEZ in a vehicle that's not exempt £62.50 a week. Carers working six days a week who don't have exempt vehicle could lose £75 a week, and they are some of the lowest-paid workers in London.   And older, retired people, perhaps with a small pension who bought – on government advice of the time – a good diesel car ten years ago thinking it might see them out, but who now need to go to hospital on a regular basis, will have to pay £12.50 every time.
To add insult to this injury, if you live just outside the A406/205 boundary, your air quality will be made worse as more vehicles skirt the ULEZ to avoid paying a charge. And there are no exemptions for people with Blue Badges or for residents living inside the expanded zone. Only adapted vehicles have any exemption. Even the emergency services will have to pay.
There are other policies that would do more to help improve air quality and it would be better to spend the estimated £200 million that will be spent on a ring of cameras to enforce the expanded zone to pay for them. Air-cleaning planting, smarter bus routing, cleaner buses and smoother flowing traffic are all relatively easy and quick to implement. All are better options than Mayor Khan's unjustified and iniquitous new tax on Londoners.
John Moss a Conservative councillor in Waltham Forest. He runs the Stop ULEZ campaign. Follow John on Twitter.
OnLondon.co.uk exists to provide fair, thorough and resolutely anti-populist news, comment and analysis about the UK's capital city. It depends heavily on donations from readers. Give £5 a month or £50 a year and you will receive the On London Extra Thursday email, which rounds up news, views and information about London from a wide range of sources. Click here to donate via Donorbox or contact davehillonlondon@gmail.com. Thanks.