Fifty years ago next month, in the small hours of the morning after a night on the town, a young man went back to the south London flat of a young woman. She was a confident 25, he, apparently, a rather shy 23, and whatever took place between them – only two people know for sure – it was part of the start of something that's still going on today.
You will have seen the pair on television – even, perhaps, in real life – having a chat and shaking hands with people outside Buckingham Palace the other day. The monarch formerly known as Prince Charles, now 73, and the Queen Consort known at the time of that nocturnal encounter as Camilla Shand, now 75, had been getting up to whatever was going down at Annabel's, a private members' nightclub in Mayfair.
Located then at 44 Berkeley Square – it moved to Number 46 four years ago – Annabel's was founded in 1963 by Mark Birley – full name Marcus Oswald Hornby Lecky Birley, since you ask – the son of royal portrait painter Sir Oswald Birley and brother of fashion model Maxime de la Falaise. Birley named the club after his wife Lady Annabel Vane-Tempest-Stewart (no relation), who would later give birth to Zac Goldsmith. If there were people in that world called Kevin or Sid, history has not recorded them.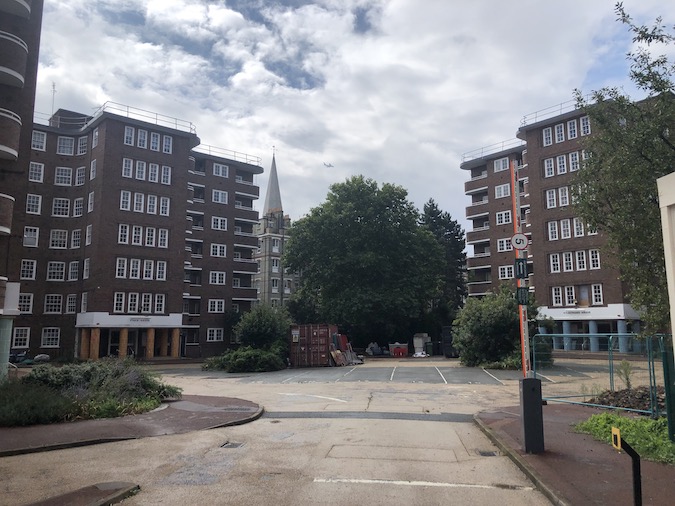 It has, though, recorded what has gone on between Charles and Camilla, including all manner of extra-marital carry-on before they tied the knot in 2005. Now that Charles has become King Charles III and Camilla looks set to remain his "non-negotiable" bride, it seems apt to take a look at the housing block to which they repaired back in 1972 before it is reduced to rubble.
Stack House is one of a quartet of seven-storey towers built in the early 1950s on a bomb site in Belgravia. They are clustered around a residents' car park on a triangular site bounded by Ebury Street, Pimlico Road and Cundy Street, which also contains homes owned by Peabody and, within the Walden House block forming one of the triangle's corners, Westminster City Council. The four towers are known collectively as the Cundy Street Flats, but won't be there for much longer, as the builders' boardings round them indicate.
The dwellings were nicknamed "aristo-flats" because they were full of toffs. Camilla Shand was one of them. According to the Daily Mail she rented her apartment from Lady Moyra Campbell, who had been a maid of honour at Elizabeth II's coronation, and shared it with her friend Virginia Carrington, daughter of the then future Foreign Secretary Lord Peter Carrington.
Charles's visit to Stack House that night apparently wasn't his first – he'd previously popped by to see another resident, Lucia Santa Cruz, daughter of the Chilean ambassador and a pal of Camilla. Neither was that night the first time he'd met Camilla, to whom it seems he'd already taken a shine. Even so, the forthcoming levelling of Stack House will erase one of London's less official royal family landmarks.
Should the Cundy Street flats, which form part of the Duke of Westminster's mighty estate, be knocked down at all? For some, the four blocks, with their curving balconies and other late art deco features, are heritage beauties which should be saved.
It isn't going to happen. They, along with Walden House, are heading for the juicy footnotes of the royal history books and will be replaced by the all-new Cundy Street Quarter, featuring more homes, including more that are "affordable" and many specially designed for older people. Charles and Camilla are now of an age to qualify for such accommodation. That's a nice romantic thought, but their housing needs are already met.
John Vane writes word sketches of London and bits about its post-war past. Sometimes he makes things up. Follow John on Twitter.
On London strives to provide more of the kind of  journalism the capital city needs. Become a supporter for just £5 a month. You will even get things for your money. Details here.