How did Ziggy Stardust get there? By bus? It seems unlikely. By Tube? That would have been more space age, but entailed flying below ground rather than down from the firmament. By minivan, then? That would have been more rock 'n' roll in those days, meaning January 1972.
But at a guess – that's all it is – his manifestation outside 23 Heddon Street, tucked between Regent Street and Savile Row, was more prosaic: a man called David Bowie, born David Jones, arrived there after dark, entered the studio of photographer Brian Ward with a change of clothes and re-emerged as Ziggy. He posed with a guitar and one foot on a step beneath a sign for the furrier K. West and the rest is glam rock history.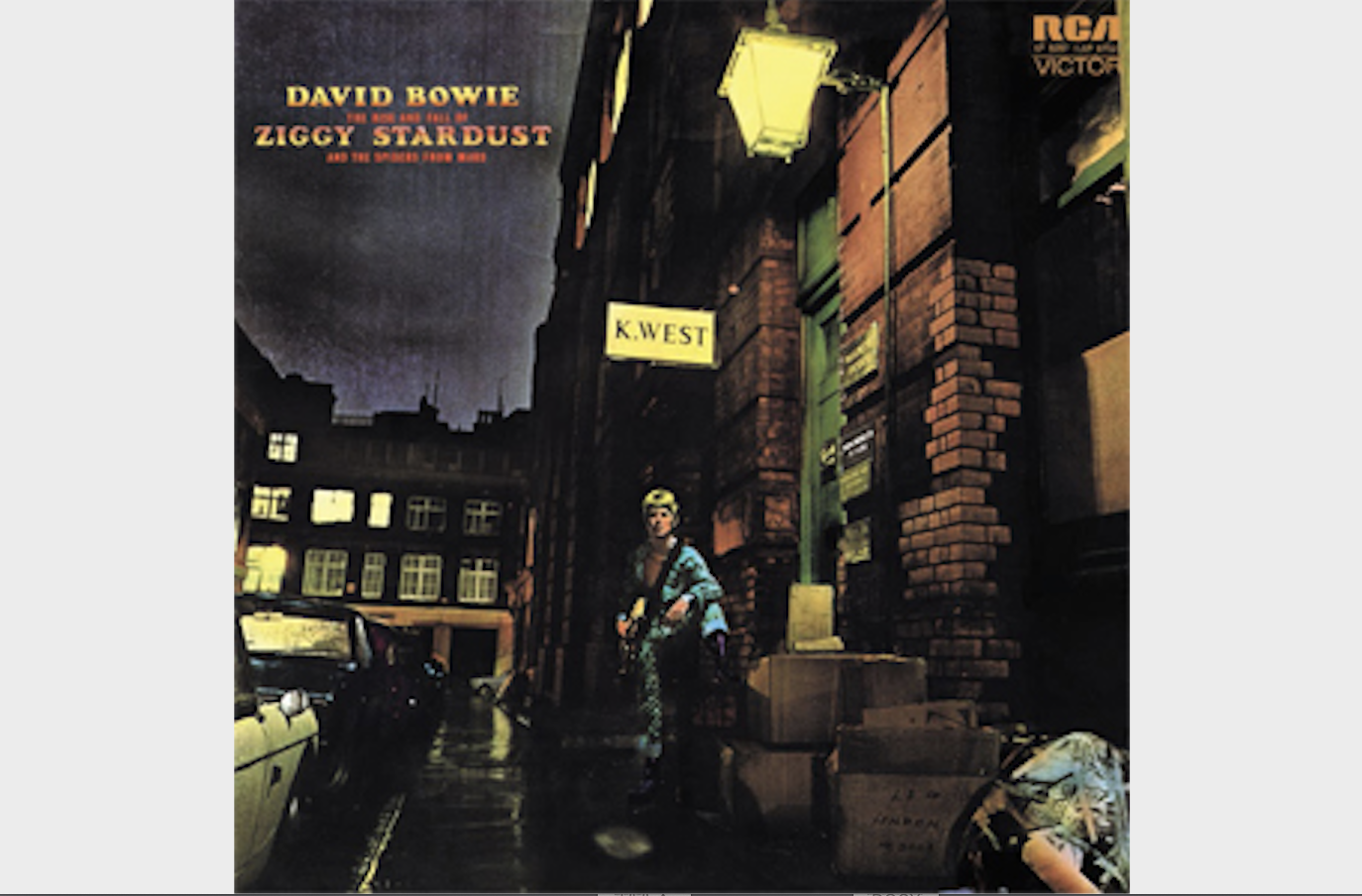 The backstory to the cover of The Rise and Fall of Ziggy Stardust and the Spiders from Mars has been well documented, including by Bob Egan, who took a photo of the exact Heddon Street spot 15 years after the event. By then, the K. West sign had been replaced by another, but the pale bricks in the near corner of that part of the structure were still there, as was a kerb lined with parked cars.
Today, Heddon Street is a pedestrian space, that brickwork has been painted grey, and the premises house a Mediterranean restaurant, among other things. There is, though, a plaque to mark the spot where the Starman posed for Ward, who took the photograph in black and white. The image was then coloured and the album sleeve designed by Terry Pastor at his studio beneath the Royal Opera House in Covent Garden. He did the sexy phone box shot on the reverse too.
There are traces of David Bowie all over London. Born in Brixton and brought up mostly in Bromley, he recorded Ziggy Stardust at the Trident Studios in Soho. We could be tracing his footsteps all day, but a personal favourite when walking down Denmark Street is imagining him hanging out at La Giaconda café at Number 9 (the old name is retained as a subtitle of the Flat Iron restaurant based at that address now).
As for Ziggy, he was born in the West End and its backstreets were a fitting habitat for this alien being, but his first public performance came before the record bearing his name was released. Soon after the Heddon Street photo shoot, on 10 February 1972, Bowie made his live debut in his new incarnation at a pub in Tolworth called The Toby Jug – a prosaic setting for the start of a UK tour that would launch him to the most exotic heights of the pop stratosphere.
John Vane writes words sketches of London. Sometimes he makes things up. Follow John on Twitter. Main photo from Google.
On London strives to provide more of the kind of  journalism the capital city needs. Become a supporter for just £5 a month. You will even get things for your money. Details here.