Economic growth in London has been increasing more rapidly than in any other part of the United Kingdom, according to new estimates from the Office for National Statistics.
Between October and December of last year the capital's gross domestic product rose by 3.1% compared with the previous quarter, nearly double the next largest increases which were of 1.6% in Wales and Scotland.
All four UK countries saw positive growth for the period measured, including all nine English regions, with the one exception of Yorkshire and the Humber. The second largest growth in England was in the North West region, where it reached 1.5% according to the ONS figures.
The ONS recommends "some caution" when interpreting the figures which have been compiled using a new method "still in development", and advises assessing the latest statistics alongside the previous set in order to identify any longer-term trend.
But London's growth also showed the largest quarter-on-quarter increase for the third quarter of 2021 (July-September), with a rise of 2.1%, ahead of the north west of England (1.8%).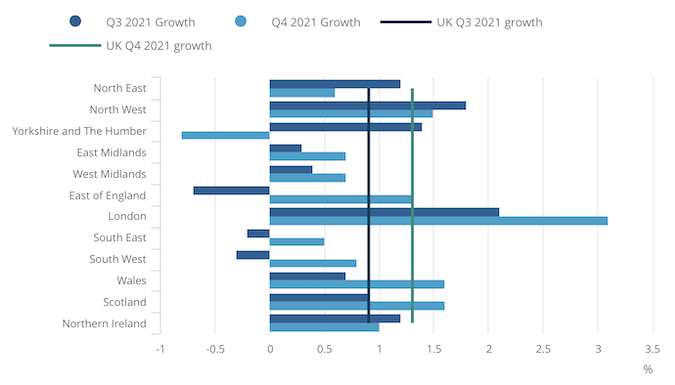 London's more vigorous economic recovery has taken place despite the huge damage done to its hospitality, retail and cultural sectors by the Covid-19 pandemic and the loss of many of their workers due to the UK's departure from the European Union.
Recovery has also been made more difficult by the refusal since spring 2020 of national government to provide Transport for London with the long-term and satisfactory funding support it has requested – a situation it took until last week to partially address.
Foreign Secretary Liz Truss, who is expected to be named the new leader of Conservative Party – and hence the new Prime Minister – on Monday said at hustings in Wembley on Wednesday that "in order to 'level up' the United Kingdom we need a successful London" and promised to create what she called "low tax investment zones to drive jobs and growth across our city" following the 1980s Docklands Development Corporation model that helped create Canary Wharf.
Business group BusinessLDN, formerly known as London First, has called on the next PM to provide immediate financial support for households and businesses to get them through the energy bill crisis, improved access to childcare, below-inflation rail fares increases, TfL funding that avoids service cuts, re-skilling "at scale" and measures to speed up affordable homebuilding.
Photograph: London crowd by Farringdon station.
On London strives to provide more of the kind of  journalism the capital city needs. Become a supporter for just £5 a month. You will even get things for your money. Details here.