Long queues have been forming outside shops across Greater London as lockdown regulations affecting those previously deemed non-essential are eased.
Outlets from Primark in Bromley to Kingston are seeing consumers returning under social distancing rules and the stores of the West End, so crucial to the UK economy, are also re-opening their doors for business.
Westminster Council leader Rachael Robathan has proclaimed a "great day" and said the council is "doing all it can to get people out spending and visiting in safety", while the New West End Company (NWEC) business improvement district, which represents many of the area's large retailers, has hailed "a milestone" day.
Visiting Stratford's Westfield shopping city yesterday, Prime Minister Boris Johnson said people across England "should shop, and shop with confidence".
Today also sees the introduction of new rules requiring people to wear face-coverings when travelling by public transport. Operators of services, including Transport for London, will be able to prevent passengers who breach the rules from travelling.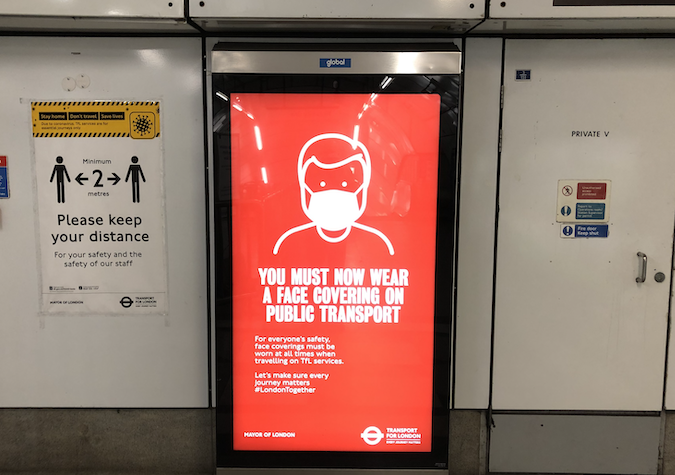 British Transport Police have previously said they have no powers to enforce the new "conditions of carriage" or travel, and a Tube union representative expressed concerns about enforcement.
However, the government announced on Friday that the face-covering regulations will also be "made under the Public Health Act 1984" and that police and TfL "authorised personnel" will be able to issue transgressors with on-the-spot fines of £100 (or £50 if paid within 14 days).
Preparations for a return to trading were evident across the West End yesterday, notably in the form of a flag display running the length of the prestigious New Bond Street comprising union flags and others saying "thank you #ourheroes".
At Piccadilly Circus and along Regent Street, sections of road space had been fenced off to augment pavement widths with a view to making social distancing easier for pedestrians. The council and NWEC had also installed hand sanitiser dispensers at some street junctions in readiness for today.
Dispensers were already in use in Underground stations, including Holborn and Marble Arch, and new signage telling passengers about the face-covering rules and urging them to follow one-way systems within stations and to maintain safe distances from each other when on board Tube trains and on escalators were conspicuous.
The government has commissioned a review into the current two-metre social distancing rule amid arguments that it could be safely relaxed and that doing so would aid business recovery, though minister for London Paul Scully said this morning this will "take a matter of weeks".
In a recent article for Property Week, Soho Estates chairman Steve Norris, a former transport minister and Conservative London Mayor candidate, backed the "temporary closure of traffic" to some of Soho's most famous streets and spaces, "starting with Soho Square and including Greek Street, Old Compton Street, Frith Street and a few others".
Norris says that the idea, proposed by Soho Estates managing director John James, would mean pavements along Soho's often narrow streets could be made use of by the area's restaurants, bares and cafés to "set tables at distances that might just make the operations financially viable.
All photographs by Dave Hill.
OnLondon.co.uk is committed to providing the best possible coverage of London's politics, development, social issues and culture. It depends on donations from readers. Individual sums or regular monthly contributions are very welcome indeed. Click here to donate via PayPal or contact davehillonlondon@gmail.com. Thank you.