The borough of the East End has an extraordinary past, a complicated present and a huge part to play in London's future. Its personality has been formed by big events and large forces – successive waves of immigration, the physical and social importance of the River Thames docks and their demise, massive destruction during the Blitz and the redevelopment of the former docklands into the gleaming towers of Canary Wharf in an era when the capital's financial sector has become ever more dominant. Tower Hamlets is the most vivid example of a borough of two halves, containing the highest poverty rate of  them all, much of it concentrated right next to that other crucible of financial power, the City of London.
Some of the most important chapters of the capital's history have unfolded here in neighbourhoods that have also generated some of its most enduring legends. London is a city made and endlessly remade by migrants from overseas. The area now encompassed by Tower Hamlets has long provided many with their first English home. French Protestants, Russian and Polish Jews, Irish Roman Catholics and Muslims from Bengal have all found sanctuary here, fleeing persecution, conflict or famine and seeking new lives. The Brick Lane Mosque, famously, was built as a Huguenot meeting place and was later converted into a synagogue before becoming an Islamic place of worship. The East End has also spawned that London working-class archetype the cockney, traditionally synonymous with uncomplaining chirpy Britishness as well as a famous accent and rhyming slang.
The churn, change and internationalism so characteristic of the wider London have long been at their most vivid here, along with some of its most striking inequalities, emblematic conflicts and extraordinary triumphs over adversity. Remarkable social reformers, such as Salvation Army found William Booth and poverty cartographer Charles Booth were based here. The area has also generated political radicals and is celebrated by the Left for George Lansbury's Poplar rates rebellion in 1921 and for the 1936 Battle of Cable Street, in which an alliance of Irish and Jewish East Enders blocked a march through their area planned by Oswald Mosley's British Union of Fascists, though rather less so for the 1,000 dockers who marched on Parliament in 1968 in support of Enoch Powell. Alf Garnett, the bigoted lead character of the BBC domestic sitcom of that era, Till Death Us Do Part, portrayed a less cosy kind of cockney character.
Tower Hamlets was formed from the former metropolitan boroughs of Poplar, Bethnal Green and Stepney. The initials of the latter's council, SBC, are referred to in one version of a very old joke as Sullivan Brothers and Cousins – a comment on the local government body's domination by Irish families. A more recent period of East End history, documenting the community politics that evolved among the area's Bengali Londoners was powerfully portrayed in Farrukh Dhondy's 1986 TV drama King of the Ghetto.
By that time the dying East End docklands had begun undergoing their extraordinary redevelopment into Canary Wharf, now London's second central business district, at the old West India Docks on the Isle of Dogs. Its trio of towers are now an established skyline feature, albeit that the area itself can still feel like a place apart from its immediate surrounding neighbourhoods.
Tower Hamlets has seen huge population growth in recent years. In June 2018 there were 37 per cent more people living in it than ten years earlier, representing by far the highest increase of any borough during that period. It is also an astonishingly young borough with a median age of just 29 and only one resident in 20 aged over 65. There are huge pressures on housing, and high grade Canary Wharf jobs can still feel out of reach for the poorer residents of Tower Hamlets, parts of which are feeling the varied impacts of gentrification experienced in several other boroughs. As London's centre of gravity moves east, the East End is, as ever, changing fast.
TOWER HAMLETS PEOPLE
The borough's population is approaching 320,000 and the median annual gross pay is £37,603. Its child poverty rate is a distressing 43 per cent.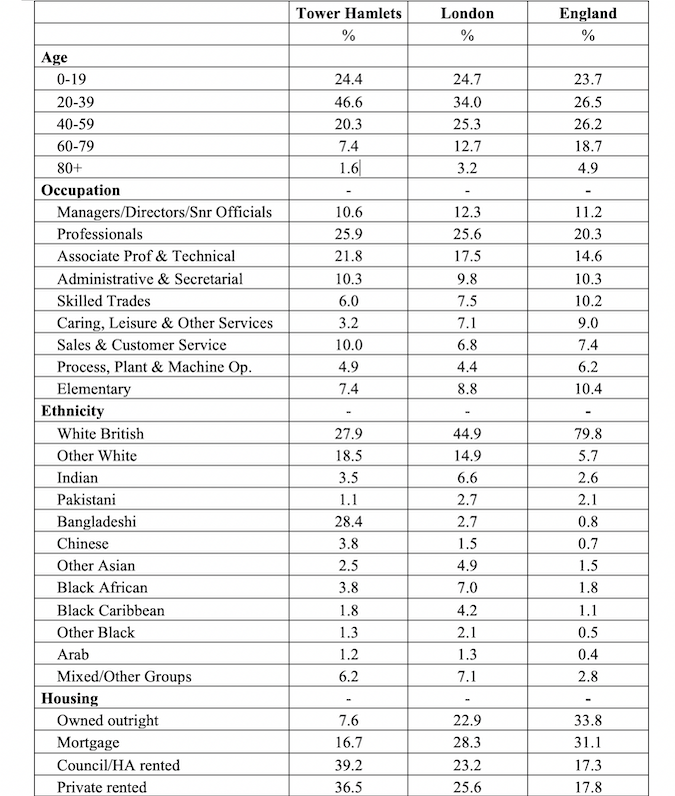 TOWER HAMLETS POLITICS
Though Labour-dominated at council and parliamentary levels for most of its political history, Tower Hamlets has seen periods of political conflict, controversy and turmoil in recent decades, including the election of Britain's first ever British National Party councillor in 1993, George Galloway's general election victory in Bethnal Green & Bow for the Respect Party in 2005, and the rise and fall of borough Mayor Lutfur Rahman between 2010 and his removal by an election court five years later.
Note that the judgement, though damning, did not demonstrate (and did not need to) that voting irregularities were widespread or decisive in carrying Rahman to a now void second victory in 2015, underlining that the potential for a candidate able to mobilise Muslim Bangladeshi East Enders against an established political party might still exist. It's worth stating here that populist Right claims that Tower Hamlets is some kind of sharia law no-go zone are complete and utter rubbish.
Current composition of Tower Hamlets Council
The borough has long had its own very distinctive and often bewildering political configurations, and the forces driving these survive beneath Labour's recent reassertion of its control of the council and the two parliamentary seats. The 2018 borough elections involved much competition between Labour and various pop-up parties stemming from the Rahman period, whose positions were generally either to the left of Labour or adhered to varying degrees of political Islam, or both. They also largely emerged from Labour – Rahman was a Labour figure until 2010 and so were most of his supporters. Backing for local micro parties and candidates has also been affected by personal and clientist relationships to a greater degree than in most boroughs.
Tower Hamlets has had a directly-elected Mayor since 2010 – one of four boroughs to adopt this system – and the current holder of the post is Labour's John Biggs, who was a leader of the council under the previous local government system and later became the London Assembly Member for the area. He is experienced, resilient and able. Every current councillor is Labour, except for two Isle of Dogs Tories, a former member of Rahman's cabinet who's become a Lib Dem and a single representative from a Rahman loyalist grouping called Aspire.
The borough's two MPs are the experienced Rushanara Ali (Bethnal Green & Bow) and the newcomer Aspana Begum (Poplar & Limehouse). The London Assembly Member for the borough, along with Newham, Barking & Dagenham and the City) is Unmesh Desai.
TOWER HAMLETS PLACES
Compressed into the borough's 7.6 square miles are some of London's most famous and resonant place names – and, of course, the places themselves.
Bethnal Green
Bethnal Green forms the north west part of the borough, covering the space between the edge of the city and Victoria Park. Close by its Underground station stands the office of Bethnal Green & Bow Labour Party, the York Hall, historically famous for its basement Turkish baths and as a boxing venue, and a sculpture called Stairway to Heaven, commemorating the 1943 Bethnal Green tube disaster.
Bow
The name refers to a bowed bridge built in the 12th century, but historically Bow, in the east of Tower Hamlets, is better known for the 18th century manufacture of porcelain and for a strike by female workers at the Bryant and May match factory in 1888, regarded as a milestone for the trade union and suffragette movements. The factory is now a private apartment complex called Bow Quarter and the area is undergoing rapid redevelopment, spurred by its proximity to the Olympic Park.
Canary Wharf
The young upstart of London's two big financial centres towers futuristically on the tongue of land the Thames takes a detour round, known since the 16th century as the Isle of Dogs. Canary Wharf grew out of the ground as part of the massive redevelopment of former dock areas from the 1980s, driven by the London Docklands Development Corporation and served by the Docklands Light Railway. Despite initial setbacks, its success as a business hub is now undisputed, though the stark contrast between its wealth and the poverty of communities nearby, including Poplar (setting for Call The Midwife) to its north, remains a challenge for local politicians.
Spitalfields and Banglatown
This warren of mostly narrow streets around Commercial Street north of Aldgate heaves with London history and contemporary forms of change. For centuries a rag trade centre, initially due to French Huguenot silk makers taking refuge there, it contains several markets, including Petticoat Lane and Old Spitalfields, and Brick Lane, legendary for its curry houses. Many people living in this bit of Tower Hamlets are Bengali Londoners, which is how it acquired the second half of its name. The area has also become a hive of hipster consumption and nightlife intensity, spilling over from Shoreditch.
Stepney
Stepney Green lies at the heart of this district stretching south from Mile End Road into the "v" it forms with Commercial Road. In the 19th century this former marshland filled up with low rent housing and in the middle of the 20th German bombs destroyed a third of it. Stepney's housing is now a mix of post-war tower blocks and modern estates, with some Georgian and Victorian survivors. It is the birthplace of actors Steven Berkoff and Terence Stamp and of entertainer Des O'Connor.
Whitechapel
Primarily lies south of Whitechapel Road and High Street, whose north side merges into Spitalfields and Banglatown, and west of Stepney. In the Victorian era this was heartland social reformer territory and famous also as the hunting ground of Jack the Ripper and the home of Joseph Merrick, the "Elephant Man", who was based at the Royal London Hospital. The hospital site is to house the new Tower Hamlets Town Hall. South of Whitechapel, below Cable Street and The Highway, are the waterfront areas of Shadwell and Wapping, the Tower of London and Tower Bridge.
OnLondon.co.uk is dedicated to improving the standard of coverage of London's politics, development and culture. It depends on donations from readers. Can you spare £5 (or more) a month? Follow this link if you would like to help. Thank you.