Stretching from meeting points with Hackney and Newham along the River Lea to Greater London's boundary with Essex, Waltham Forest is very much one of the boroughs of two different halves. The split feels psychologically as well as spatially defined by the sweep of the A406 North Circular road: the part to the north has long been associated with the values as well as the physical landscapes of suburbia, while much of southern Waltham Forest has an increasingly Inner London flavour, as demographic change and gentrification make their marks.
Waltham Forest was designated an Olympic borough – subsequently a "growth borough" – and has an outlying section of the 2012 Olympic Park, Eton Manor, within its territory. Its council's leader, Clare Coghill, has sought to harness the forces of change flowing her borough's way rather than try to resist them – changes which, for the most part, have helped strengthen the position of Labour in all kinds of recent elections. Even Tory strongholds in the geographically smaller "Essex" parts of the borough have become susceptible to Labour's advance.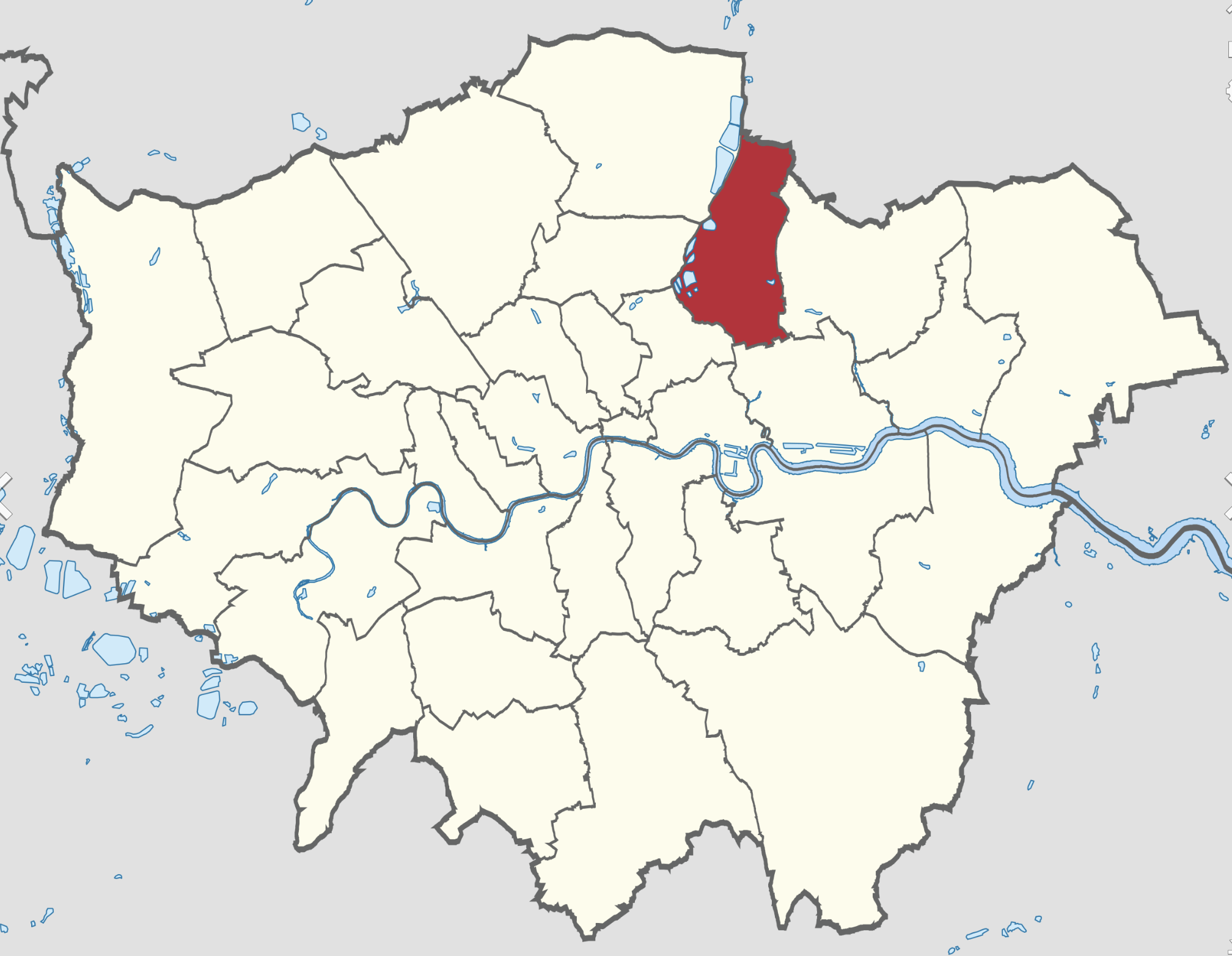 The London borough was formed from the old municipal boroughs of Chingford, Walthamstow and Leyton. During the 1920s, the London County Council's chief architect, George Topham Forrest, described the latter two areas, along with Leytonstone, as part of a "suburban dormitory for clerks and workmen" with many long, terraced streets as well as quite a lot of industry. By contrast, Chingford, its subdivisions and immediate neighbours, which spread comfortably to the north of the North Circular, developed at far lower densities during the interwar decades, and contains plenty of detached houses.
During Margaret Thatcher's years as Prime Minister, the Chingford parliamentary constituency was famously held by Norman Tebbit, one of her most astute and combative ministers. Tebbit's successor was and continues to be arch Eurosceptic Iain Duncan Smith. It is, perhaps, a further measure of Waltham Forest's split personality that the borough as a whole voted 59 per cent to Remain in the European Union in the 2016 referendum, almost exactly as London as a whole did. The Liberal Democrats have had no electoral success in the borough since 2010, but will hope to revive their fortunes in some wards.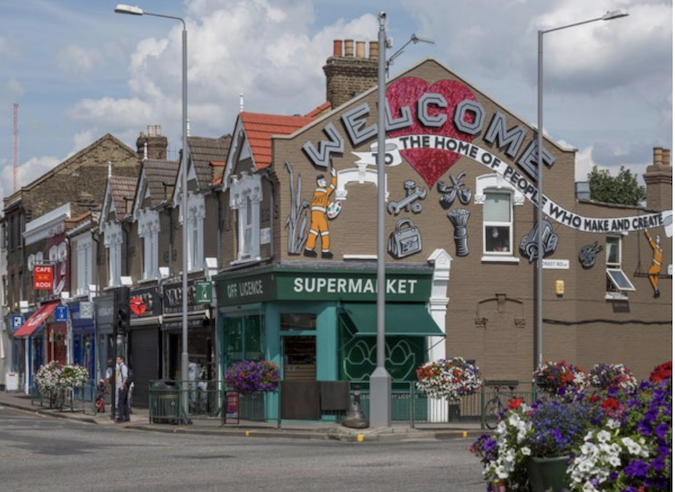 Other major roads through the borough include the A104 Lea Bridge Road, which spears through it from Hackney to the North Circular, and the A106 and A12, which run in parallel towards the M11. Walthamstow Central is the northernmost station of the Victoria Line and also a stop on the London Overground line linking Chingford with Liverpool Street. Walthamstow bus station is across the road from it.
The Central Line serves Waltham Forest too, with stops at Leyton and Leytonstone. In 2016, the Lea Bridge station was reopened, easing journeys to Stratford shopping city to the east and the Tottenham Hale rail interchange to the west, and providing a further spur to residential and other development at the eastern entry point to the borough.
The positive embrace of change by Clare Coghill's administration has not come without its regeneration tensions. Neighbourhood activists, including some from the Corbynite and extra-parliamentary Left, have protested against redevelopment plans for Walthamstow Town Square and its shopping mall because they include tall buildings and some public land being sold to developers.
A different kind of resistance was mounted, prior to Coghill becoming leader, to one of Boris Johnson's Transport for London-funded local cycling infrastructure schemes. Some welcomed it as a victory for sustainable active travel and a more salubrious "liveable" environment, but others saw it as catering at their expense to the lifestyles of gentrifying middle-class incomers, of whom there are increasing numbers. Not for nothing have estate agents declared the Blackhorse neighbourhood a "village".
The council's policies actively encourage cultural activity, including the provision of workspaces for artists and the nurturing of the local night time economy. Waltham Forest was named London Borough of Culture for 2019 by Sadiq Khan, making it the first borough to have that honour bestowed. The River Lee Valley Regional Park occupies much of the borough's western and southern boundary areas and includes Walthamstow Marshes.
The borough's eastern edge is covered almost entirely by Epping Forest. But for many, its crowning cultural glory is its stunning Grade II-listed Portland stone Town Hall in Forest Road (pictured above), designed and built by Philip Dalton Hepworth between 1937 and 1941. It and its adjacent public buildings stand in handsome landscaped grounds, complete with fountain. Waltham forest is worth visiting for this glory of London civic architecture alone.
WALTHAM FOREST PEOPLE
The population of Waltham Forest is an estimated 283,500. Average pay is just over £25,859 a year and the poverty rate is 28 per cent, according to the most recent Trust for London Poverty Profile.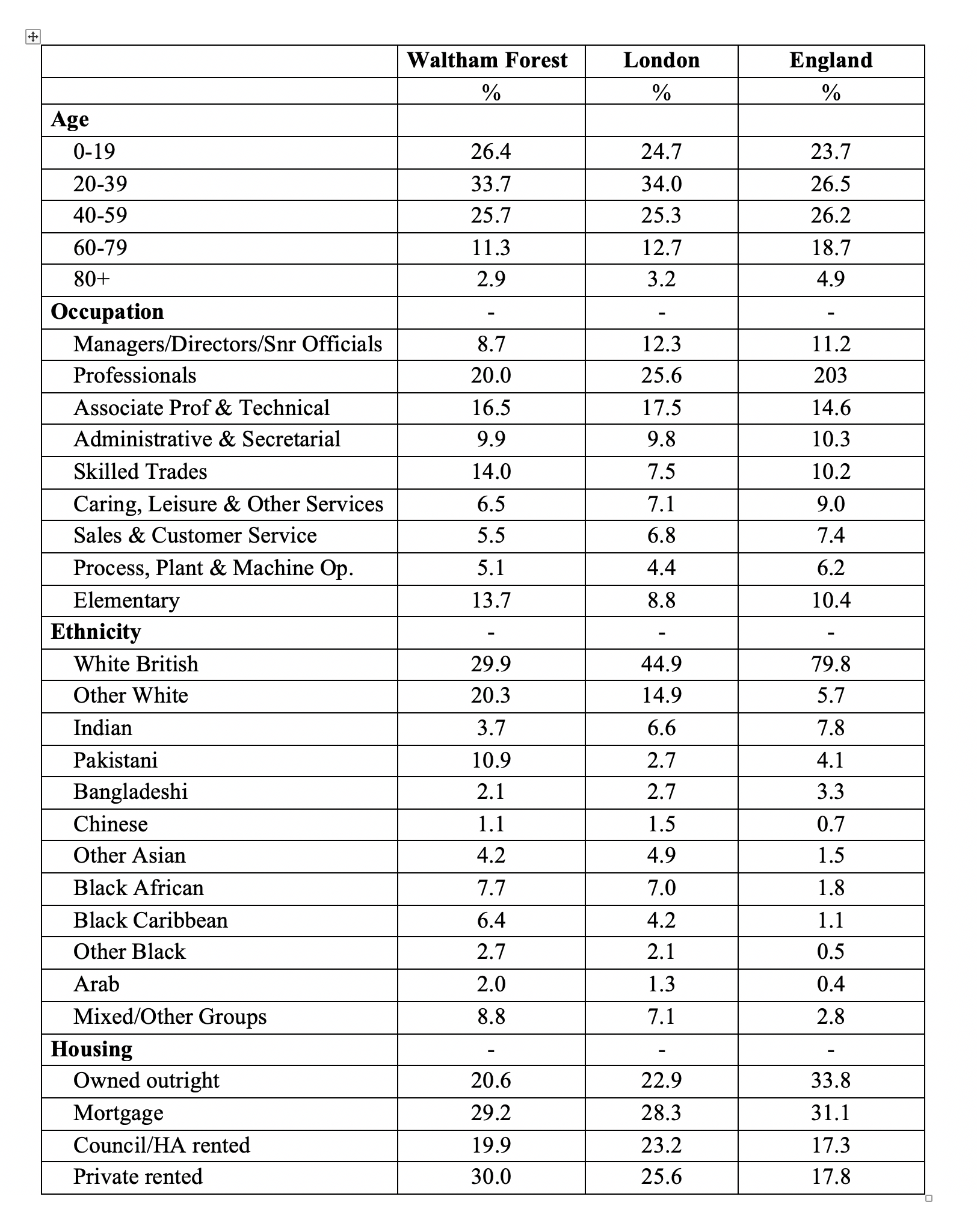 All figures from GLA area profiles and/or Office for National Statistics.
WALTHAM FOREST POLITICS
From 1994 until 2010, Waltham Forest Council was mostly under no overall control, but Labour has strengthened its position since then and now dominates that handsome Town Hall with a majority of 32 and its largest ever number of seats. The question for the immediate future is how far and how fast the party can extend its incursions into the Conservative-leaning north of the borough, powered by demographic and social change.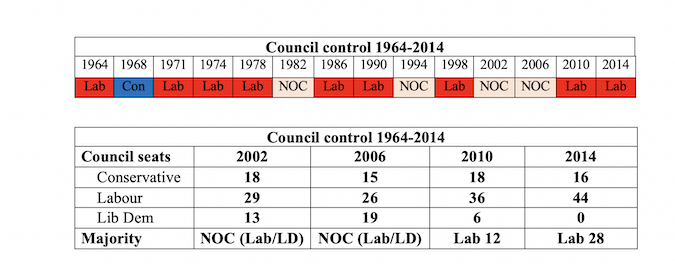 There is only one entire parliamentary constituency within Waltham Forest although it also contains the bulk of two others. The energetic Stella Creasy represents the Walthamstow seat, which is the one that falls completely within Waltham Forest. It covers the centre and south west of the borough. Creasy has campaigned successfully for tighter regulation of payday loan companies, fought online battles with poisonous misogynists and, for a time, appeared to be a target of local Corbynites, but held her seat in 2017 with a massively increased 81 per cent of the vote. Meanwhile, in the north, Iain Duncan Smith was run pretty close by Labour in what had previously been the impregnably Tory Chingford & Woodford Green in both 2017 and 2019, but has held on. Labour's John Cryer is the very safe incumbent of the Leyton & Wanstead seat. Both of these seats are primarily in Waltham Forest, but each has two wards in next-door Redbridge.
Waltham Forest forms part of the North East London Assembly constituency, along with Islington and Hackney. It has been represented by Labour's Jennette Arnold since 2004. She will stand down in 2020.
WALTHAM FOREST PLACES
With the large exception of the North Circular's dividing effect, Waltham Forest doesn't readily fall into specific sub-divisions, and several of its residential neighbourhoods merge into each other seamlessly. But some of its better-known place names are helpful places to start.
Chingford
The "Essex Man" archetype has spiritual homes in Greater London's eastern outer fringes and Chingford is one of them. Leafy, leisurely, home-owning and demographically primarily White British, its name is stamped on the bulk of the north of the borough and it contains some of Waltham Forest's most resolutely Conservative electoral wards, including its northernmost, Chingford Green. There is a River Ching, a tributary of the River Lea, which flows through Chingford and from which it took its name, rather than the other way round. The Ching flows along the edge of golf course. There are also neighbourhoods called Chingford Mount (pictured below), Chingford Hatch and Chingford South.
Highams Park
This area takes its name from a manor house built nearby while the park itself is looked after by the City of London Corporation (as is Epping Forest to which it is joined). But the residential Highams Park and the adjacent Hale End are today leading edge indicators of how Waltham Forest's character is evolving. These districts lie just to the north of the North Circular, though a section of the electoral ward of Hale End & Highams Park is south of it. In the 2014 borough elections, two of its three seats were won by Conservatives and one by a Labour candidate. In 2018, all three were won by Labour.
Leyton and Leytonstone
The name of Leyton is nationally known among football fans for Leyton Orient, one of London's oldest professional football clubs, founded in the 1880s. The club's historian has written that it acquired its curious name because one of its players worked for the Orient Steam Navigation Company. Leyton itself sits in the right angle formed by Lea Bridge Road and Hackney Marsh and the River Lea, stretching down towards the Waltham Forest section of the Olympic Park. It, and neighbouring Wanstead and Leytonstone, fall to the east of a bundle of Essex-bound A-roads and are characterised by long residential streets. Leytonstone bumps up against the green space Wanstead Flats, part of which lies in next door Redbridge. Leytonstone's Underground station is distinguished by a series of mosaics honouring Alfred Hitchcock, who was born there.
Walthamstow
Classified as a major town centre in the London plan, Walthamstow can also claim to have a village heart that is more than a marketing concept. Centred on the 12th century St Mary's Church, the tranquil Walthamstow Village has been a conservation area since 1967. Wider Walthamstow's main commercial avenue is Wood Street, which is served by an Overground station of the same name and has a popular eponymous indoor market. Wood Street also boasts a horse chestnut tree thought to be at least 175 years old and listed as one of the 61 Great Trees of London. On Forest Road, you can find the William Morris Gallery, opened by Prime Minister Clement Attlee in 1950. The magnificent Town Hall is along there too. West of Hoe Street, Walthamstow High Street hosts the cosmopolitan Walthamstow market, said to be the longest in Europe. The Town Square lies off it.
OnLondon.co.uk is committed to providing fair and thorough coverage of the capital's politics, development and culture. The site is small but influential and it depends on donations from readers. Individual sums or regular monthly contributions are very welcome indeed. Click here to donate via PayPal or contact davehillonlondon@gmail.com. Thank you.