When I was growing up, I unquestionably thought of myself as English. That was despite the fact one half of my family most clearly was not. They lived in Tooting and spoke a different language. They looked different, they ate different food and they had a way of being, a culture, that was profoundly different in a thousand indefinable ways.
Over the past two years, with every day and news cycle that passes, I've felt increasingly aware of this part of my background. It's the part that doesn't belong, the part that isn't English and never will be. It's the part that too many people would resent if my surname was not so plain and my skin not as white as theirs. Growing up, I never thought of myself as the child of an immigrant, a refugee's son: now, it's increasingly how I define myself and my relationship with a country that seems to fear so much of what I represent.
First, some family history. My father's side is easy. My grandad migrated from Barrow to Birmingham and then my dad moved to London when he was about 20. There may have been some Irish in there on my grandmother's side – there usually is – but it was culturally 100% English and stolidly Protestant with it.
When my dad arrived in London, he lodged in Tooting at a house owned by a member of my mother's extended family. This must have been an eyeopening experience. The family had arrived en masse in England in 1957. They were Mediterranean romantics, demonstrative Catholics who spoke Italian mixed with French, German, Greek, Arabic and even a bit of English and because they liked to eat properly, went to the chemist to buy olive oil, which the English only used to treat ear wax.
They were not English, yet they all had British passports. How so?
This is where it gets complicated. My mum's family were originally Maltese, although they had lived in Egypt for at least three generations (my mum's maternal grandparents were born in Egypt). Because of this somewhat vague Maltese heritage, the family were able to claim British citizenship even though they were culturally to all intents and purposes Italian. Italian was the first language, the food was Italian and they all supported Italy in the World Cup.
This led to some interesting collisions. My grandfather – my nonno – had the splendid Italian name of Salvatore Camenzuli, but he called his kids Daisy and Wilfred – which are as English as you could hope to get, even though neither of them spoke English. It's why I have uncles with names like Herbert and Norbert. All were born around the time of the Second World War, so presumably were given such astoundingly English names to emphasise their official nationality.
It also meant that at the time of the Suez Crisis, they were thrown out of their homes. When Britain, France and Israel went to war with Egypt, everybody with a British passport was told to leave or become Egyptian nationals. Most chose to leave.
My family left Alexandria, the family home for at least 80 years, and got on boats that took them around the world. Some went to Australia, some went to Italy, but most went to England, the motherland, where they were interned in an old WWII camp in Horsforth, Yorkshire. They left Alexandria in January and when they arrived in England it was snowing. This is the passport on which they travelled.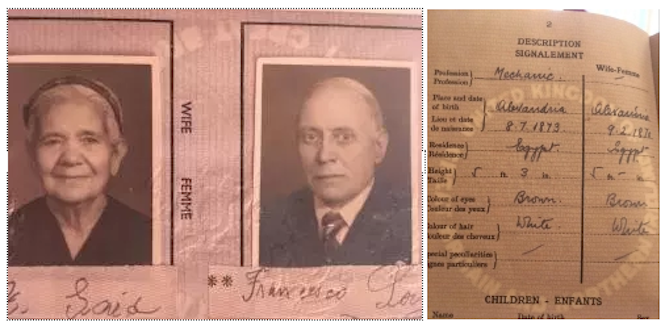 For the kids, it was great fun. They didn't have to go to school! Here's my uncle Wilfred and his cousins at the camp, playing cowboys.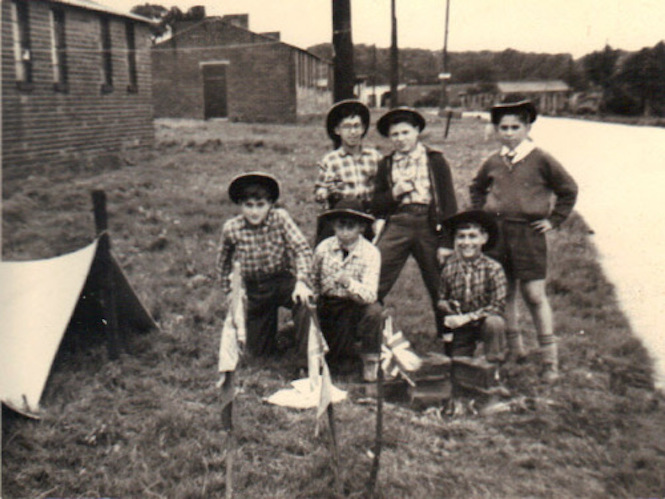 When my mum arrived in England she possessed a British passport but didn't speak English and had a funny name. When the family moved to London and she started school, she was singled out as different because she was. Did she live in pyramid? Did she go to school on a camel? The English kids imagined she grew up in an oasis and ate papyrus – they had no concept that Alexandria was a city every bit as modern as London, because that isn't what they were taught. They could never have grasped that my mother had enjoyed in Alexandria a better standard of living that most kids growing up in Tooting. Even today, people struggle with this sort of basic understanding that other cities around the world are much like our own, and that immigrants and refugees aren't always poor.
That was all tough, but more than 50 years later, she's still here, an amazing woman married to an amazing Englishman but still in touch with her family. A few years ago, some of them got together to commemorate 50 years of exile. This country would be a poorer place without them.
But recently, as the rhetoric against foreigners, against immigration, against refugees, has toxified, I've become increasingly aware of my roots. I've been made to feel that I am English only by default, one small step away from being – like half my family, the people who raised me as English and who I love – foreign, unwanted, alien, an infestation.
The thing is, nobody who looks at me would ever know. But if I had different coloured skin or a strange surname, how would that change things? If my mother's family arrived in England tomorrow, would they be welcome? Would the government even allow them entry? Would they be encourage to settle, make their home, open businesses, have children and generally enrich the culture of the country so that English children can now grow up with olive oil on their plates rather than in their ears.
Across the world, the prevailing politics revels in the hatred of other. Some people – many millions more than I ever could have imagined – despise anybody who is, essentially, exactly like my mother. As a result, I have become more aware of my background as the child of an immigrant and what that really means. I am more conscious of the rhetoric of race and division, of them and us, of who belongs and who would be allowed to stay if the fantasies of white nationalists should ever come to pass. But I am a refugee's son, and nothing makes me prouder.
This fine article was originally published by Peter Watts on his London blog, The Great Wen. Many thanks to him for his permission to re-publish it here. Peter's excellent book about the Battersea Power Station, Up In Smoke, can be purchased via here.