The most recent edition of Centre for London's The London Intelligence showed that London's previously stratospheric house price growth had slowed to a crawl, with average prices rising by less than one per cent in the year to October 2018.
The housing market is quieter than it has been for years. Depending which data you use, transaction levels are down to their 2012 or even 2008 levels. Brexit uncertainty is the obvious culprit, but is this actually bad news? When so many people have been frozen out of buying in London, isn't it a good thing to be turning our back on double digit annual growth and flats that are "flipped" before they have even been built – traded off-plan like options?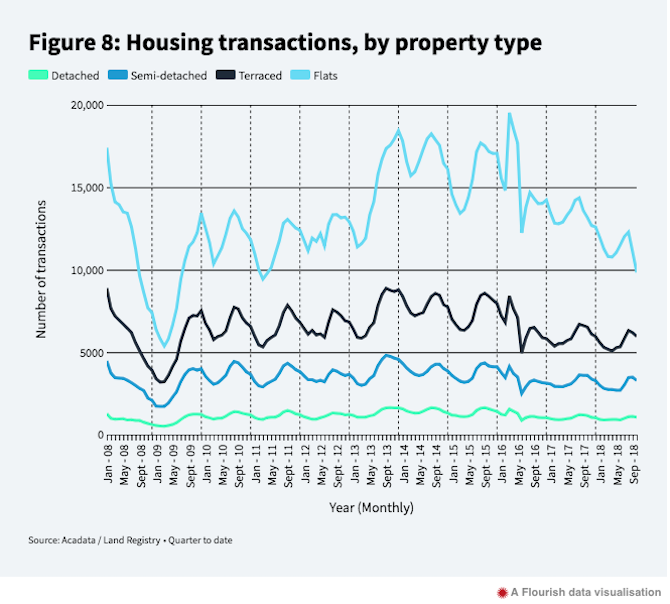 There are some positive indicators. Home ownership levels, which have been falling in London for more than 20 years, have levelled out or even started to creep back up. Resolution Foundation analysis of survey data shows 37.2 per cent of families owning their own home (either outright or with a mortgage) in autumn last year, compared to 35.1 per cent in the same period in 2017, with a falling proportion of house-sharers making up some of the reduction.
So, amidst the gloom of the tabloid press, does house price stagnation represent an opportunity? Did record levels of new housing supply in 2016/17 combine with low prices, cheap mortgages and help to buy, to help a new generation of Londoners to get their foot on the property ladder which has helped their elders accumulate so much capital in the past two decades?
Many people would welcome such a turnaround, but there's a sting in the tail. Falling transactions and stagnating house prices also send a signal to housebuilders, many of whom can stop building new homes as fast as they can start, waiting out wintry conditions before the market picks up again. And with minimal grant funding, no new homes for sale also means far fewer homes for social or affordable rent. In the current system, stagnant house prices are as likely to deepen the housing affordability crisis as to alleviate it.
What is to be done? We need to fix the system, to find ways of building affordable and market housing that are not yoked to the bucking bronco of the housing market, to bring in new models of financing and building homes, using a wider range of developers from private, public and third sectors. In short, London needs a new deal for housing. Over the coming months, Centre for London will be working with housing experts from across the capital and beyond to define its shape and build a coalition for change.
Richard Brown is Centre for London's research director, on whose website this piece originally appeared. Follow Richard on Twitter.