Just under three weeks ago, when we were still getting used to giving up shaking hands and enjoying the jokey novelty of bumping elbows instead, I joined an outreach worker with the street homelessness charity Thames Reach on his Saturday night shift. My aim was to produce a straight, descriptive report of what I saw, heard and was told, conferring anonymity on people I encountered as seemed appropriate, but not screening out anything about them or their circumstances that might complicate otherwise sympathetic feelings towards them among readers. It is a source of annoyance for some who work to help London's rough sleepers that many media portrayals of them are sentimental, simplistic and driven by political agendas that obscure realities of street homelessness rather than shedding light on them.
What follows is, I believe, little affected by the spread of the coronavirus COVID-19 since I made that excursion or by the measures introduced to slow it down. But it would be remiss not to stress that the article describes events that occurred before those changes. It is also necessary to record that particular provision has since been made to control transmission of the virus among this exceptionally vulnerable group of Londoners, who will otherwise find it harder than most to take the steps required to protect themselves and others against it.
The more significant interventions include Sadiq Khan block-booking around 300 rooms from the Intercontinental Hotels Group to house rough sleepers and the government announcing emergency support to help rough sleepers (this is a national scheme but of great relevance to London given the high numbers of rough sleepers here). Charities say they have been re-modelling and re-doubling their efforts to assist the street homeless, with some success. The situation in which London's rough sleepers now find themselves has clearly changed in recent days. Even so, I don't think my report has gone out of date.
*****
I got to New Cross station shortly before Gerry arrived in his Zipcar. A young man was begging for change at the exit and, just round the corner, a bespectacled small woman with a sticking plaster loosely covering the point of her chin was asking passers-by if they could give her any help with travelling. She did not say where she thought she'd be going. Across the way, a brightly lit, standalone old pub seemed to be doing a steady trade. Patrons were huddling freely. In there, corona consciousness had yet to be raised.
Gerry is Italian and has seen a thing or two, including a spell sleeping on London's streets himself. He was glad to be in the city though, as tricky circumstances had caused him to flee his life back home. Now he is married, has three children and is a long-time stalwart of Thames Reach. He coughed and told me not to worry, it came from smoking, nothing more. He had a bottle of hand sanitiser in the glove compartment. Together, we freely indulged.
Gerry's iPad was showing him the CHAIN database (Combined Homeless and Information Network). There were many lines of data, each detailing the case of someone found sleeping out the night before. Gerry's mission was to locate and assist those in Lewisham or Southwark. Top of his list was a man we'll call Delroy. He wasn't literally sleeping on the street, but he had resorted to sleeping in his car. The colleague's notes said Delroy had no "support needs" related to alcohol, drugs or his mental health. In these respects, he was a straightforward case, but not in all.
There was a phone number for Delroy. Gerry called it. Delroy's voice, reaching me faintly as I sat in the passenger seat, was middle- aged and very London. Gerry spoke to him plainly, knowledgeably and directly. Delroy would need to attend a No Second Night Out centre – run by St Mungo's, another leading street homelessness charity – to be assessed. On this night that would mean travelling to Shepherd's Bush. Delroy hesitated: that was a long way away.
There was discussion about how Delroy would get there. Parking his car at the assessment hub would not be practical, Gerry explained. Sometimes, clients with no drink, drug or mental health problems can be ubered to a hub, but that could not be arranged this time. Gerry would have to drive Delroy there himself. The prospect did not please him. It would not be an efficient use of his time.
We met Delroy outside the Sydenham branch of Superdrug. As we arrived I felt like an AA man and Delroy gave us an emergency service welcome. But his car was working fine. It was his life that need fixing. He followed us to a nearby spot where his car would not get clamped, locked it up and climbed into our back seat. We then began our long drive west.
Gerry encouraged Delroy to talk. That wasn't hard: Delroy was affable, chatty, no doubt relieved and seemed glad of some company. He is in his mid-fifties, a self-employed painter and decorator, at least he is when he's working. Business has been a bit patchy recently, though that wasn't the reason he'd been sleeping in his car for several days.
It had all begun with a row with his step-daughter. "I clumped her," Delroy said.
That led to criminal charges and an order to keep out of the family home, where Delroy's wife also resides. He said that for a year he had lived at a friend's house, but then the house had had to be sold and Delroy had nowhere else to go. He confided that his wife has let him in to his old home to clean up now and then, presumably when the step-daughter is out. The last bit of work he got was helping a friend load up some skips. For that day's labour he was paid £55. "You're not gonna turn that kind of money down," he said.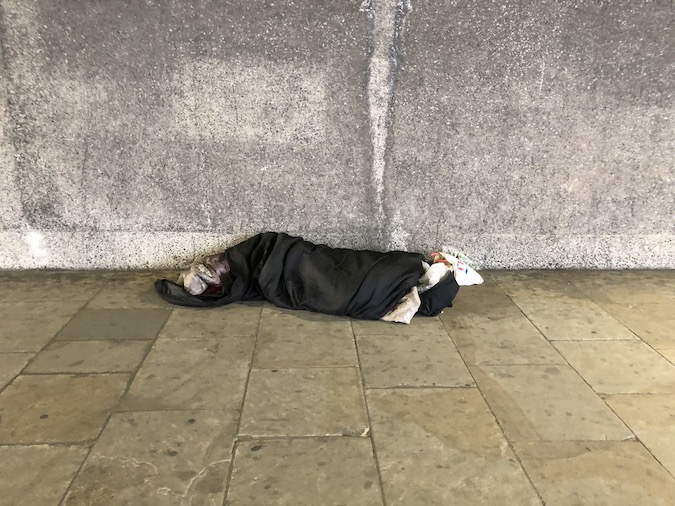 It was a long, slow slog across London on that Saturday night, the traffic heavy from the city's night time economy in what would turn out to be its final weekend before the coronavirus shutdown. Delroy had worked in many parts of the capital, covering all four compass points. Sometimes, he laboured on flats and houses, sometimes on office blocks. He spoke with wonder at the pace of change he'd seen in the capital, the grandeur of new buildings from Battersea to Camden: "It is incredible what they are doing!" He came across like a spectator at a development show spectacular. He spoke ill only of Hackney, a place he considers wild.
The West London assessment centre is hidden away down a tiny entrance road off a main street. Its exact whereabouts are not publicised, for which I've assumed there is a good reason (and there was certainly no room there for Delroy's car). Gerry led Delroy and I into a small reception area where a few men sat waiting. It gave access to an outdoor space where other men talked and smoked. Gerry checked Delroy in and we left him there.
Beyond reception, the wooden floor of a larger room was a dormitory of wipe-clean bed rolls laid out in ranks and rows. Men lay on most of them, sleeping, gazing at the ceiling, one or two reading, one wearing headphones. We walked quickly down an aisle through the centre of the dorm towards an office on the other side. It would have felt wrong to stop and stare.
There were three people in the office, two of whom Gerry knew. There was a bit of banter. There was a lot of professionalism. I cannot paint a fuller picture, because to do so would abuse the privilege of being let inside. Let's just say there was a lot of experience in that room, a lot of compassion, a lot of grounded know-how. I learned a lot in the space of ten minutes, not because things were disclosed to me by the people there, but simply by listening and observing. This is late night work in a difficult field where virtue is not always its own reward.
As Gerry and I left, Delroy, talking with the other guys outside, spotted us. He thanked us and insisted on shaking our hands. Back in the car, we re-sanitised and got back on the road.
*****
The second case of the night concerned two people – a couple whom the database categorised as Romanian and Black African. We will call them Bogdan and Louise. Gerry tracked them to a doorway at the rear of Lewisham Shopping Centre. They climbed into the back of the Zipcar with a couple of bags. Bogdan's accent was as you would expect from his CHAIN description. Louise's was the full south London.
As with Delroy, Gerry drew from them a fuller picture than the CHAIN format allows. Both are aged around 40 and, it seems, had lived in Southwark Council accommodation from 1996 until 2014. Their tangled description of the ensuing six years encompassed rent arrears, a suspected gas leak, a different flat where the gas meter made them nervous, a legal dispute, a kidney problem, a period spent in Croydon, six months on the streets, and a forthcoming appointment to view a property for private rent in Crawley, which they said they couldn't keep because they didn't have money for getting there. They said they hoped Lewisham Council could help them, but if so, it wouldn't be until Monday.
Gerry listened and then said: "Some of that doesn't sound right." But we pressed on. Eventually, it emerged that Bogdan and Louise actually had a place to stay that night and the next. A room to cover that period had previously been found for them at a local Travelodge. Why were they not there? So far as could be discerned, they had made the calculation that their best hope of being helped in the longer term was to move out of the Travelodge and put in a call to StreetLink, the hotline for rough sleepers in need. Gerry ascertained that their caseworker is someone he holds in high regard. The best thing for Bogdan and Louise, he advised, was for them to go back to the Travelodge and pick up all the threads on Monday morning.
Meekly, they agreed. We dropped them off at the kerb and they pottered towards the entrance door, perhaps looking to the casual observer like a couple of late-arriving tourists. Appearances can deceive.
*****
It was after midnight as we headed for the final location of the night's itinerary – the car park of a local Aldi supermarket. Other outreach workers had identified it as a "begging spot". Just as not all rough sleepers beg, not all people who beg are rough sleepers. Gerry's job would be to sort out which ones were, to find out what he could about their circumstances and needs, and to proceed accordingly.
There was no one outside the store. The car park looked empty of people too. Gerry made a slow circuit of it, searching the shrubbery at the borders using the car's headlights on full beam. No tents, no bedding, no visible sign of anyone spending nights there. The shift was coming to an end. For Gerry, it had been frustrating. The satisfaction of the job comes from getting people off the streets and into a system that can help them make their way into better ways of life. Thames Reach and other street homeless charities employ workers who have completed such transitions. Gerry is an example. His motivation is to help others achieve the same.
I summoned a cab to take me home. As I awaited its arrival I thanked Gerry for letting me tag along. By that point, his bottle of sanitiser was significantly less full than when we'd met. We decided it was OK to shake hands.
*****
Though Gerry had found his night's work unsatisfactory, for me it had been rewarding, providing first hand insights into the endeavours of charities like Thames Reach, the workings of No Second Night Out, and some glimpses of the types and variety of people they exist to help. It also cleared away any last layers of illusion that London's rough sleepers can be collectively sentimentalised as never anything other than the helpless, blameless victims of the heartlessness of others and of society as a whole. They merit something better than glib recruitment to the service of pat moral narratives. They are, after all, human beings.
Photographs by Dave Hill. Neither of them were taken while on Gerry's outreach shift. 
OnLondon.co.uk is doing all it can to keep providing the best possible coverage of important London issues during the coronavirus crisis. It now depends more than ever on donations from readers. Individual sums or regular monthly contributions are very welcome indeed. Click here to donate via Donorbox or contact davehillonlondon@gmail.com. Thank you.