Sadiq Khan has claimed vindication for his approach to industrial relations on the London Unground after Transport for London produced figures showing that many fewer days per year have been lost to strike action since he became Mayor than in most years under his predecessor, Boris Johnson.
The figures, supplied by TfL to BBC London News, show that 3,824 working days by individual employees have been lost to strikes during the whole of the first three financial years of Mayor Khan's time at City Hall, compared with 19,681 during the final three years of Mayor Johnson's time in office.
The average number of days per year lost under Johnson's full eight years as Mayor was 4,026, compared with 1,275 so far under Mayor Khan. John enjoyed one year in which only eight days were lost and another in which only 44 were lost, but there were four years when around 6,000 days were lost and one when the total was 7,228 days.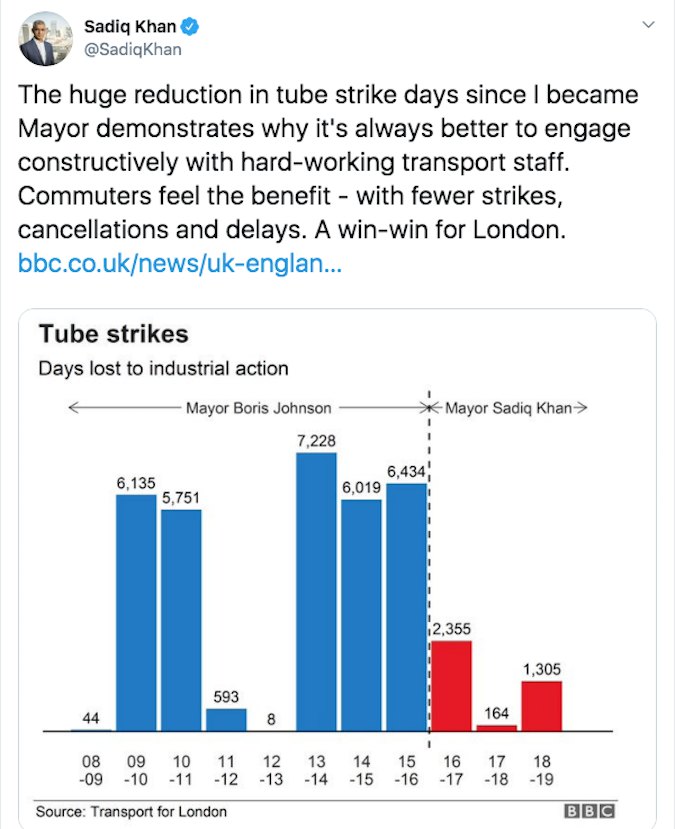 TfL defines the days lost as shifts not worked by individual employees because of industrial action. In term of the number of days on which strike action has taken place, Mayor Khan saw 25 during his first three years as Mayor, compared with 33 during the eight years of Mayor Johnson. However, the strike days under Mayor Khan have involved smaller numbers of workers, which partly explains why the number of lost shifts during his mayoralty so far is much smaller.
During the 2016 mayoral election campaign, Khan claimed there would "zero days" of public transport strikes if he won, but his manifesto said only that he would "reduce the number of days lost to strike action". In his 2008 manifesto, Johnson had pledged to negotiate a voluntary no strike agreement with the various unions representing London Underground staff, but failed to do so.
Responding to the figures on Twitter, the current Mayor wrote that "the huge reduction in tube strike days since I became Mayor demonstrates why it's always better to engage constructively with hard-working transport staff". Johnson was criticised by some for failing to meet Bob Crow, the late leader of the RMT union, in person until both were guests, along with Khan, then an MP and shadow justice secretary, on an edition of the BBC Radio 4 Any Questions programme in 2011.
OnLondon.co.uk is dedicated to providing fair and thorough coverage of London's politics, development and culture. It depends on donations from readers. Follow this link. Thank you.