Millennium Mills is an imposing former flour factory that has stood for more than 100 years on the south side of the Royal Victoria Dock and been unused for most of them. Completed in its original form in 1905, it was named after Millennium Flour, a variety manufactured by the building's original creators, William Vernon & Sons of Birkenhead.
After being damaged by the deadly Silvertown munitions factory explosion of 1917, it was rebuilt in its current art deco style by the Spillers company in 1933, and rebuilt again 20 years later after being substantially destroyed during World War II. But when the docks closed in 1981, so did the factory and a plan to found a public aquarium on the site one of the mills never materialised. Mixed use proposals for redeveloping the wider site while preserving the palatial pile have been around since the start of this century. None have got far until now.
Part of Sadiq Khan's rationale for moving the Greater London Authority into a new City Hall, the former Crystal building beside the Royal Victoria Dock, is that its presence would accelerate the area's rather patchy regeneration progress. But perhaps a major impetus behind yesterday's launch of a project the Mayor has hailed as respecting Silvertown's past while embracing its evolving future has been a combination of public money and political commitment.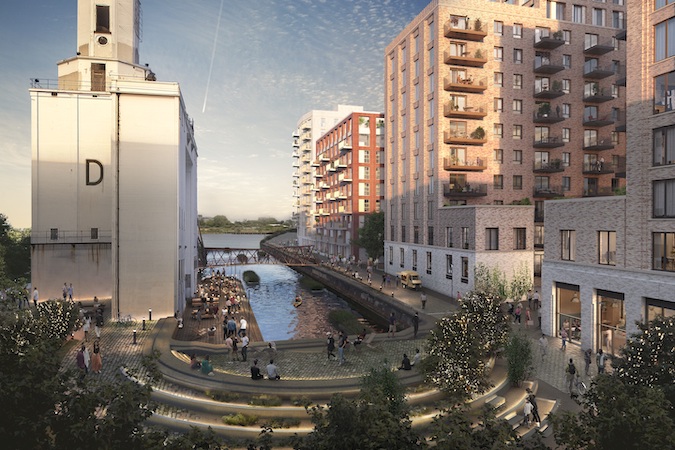 The project, described by City Hall as a "£3.5 billion town centre for the Royal Docks", will be led by The Silvertown Partnership, a joint venture between developer Lendlease and Florida-headquartered investment firm Starwood Capital. Planning permission was granted by Newham Council in 2019, and the plans have since been tailored so that their first phase is acceptable to the Mayor.
The tattered old building, which has starred in film and TV productions over the years, will be preserved and refurbished to provide space for businesses and events, and the first phase of the scheme will see 1,500 homes built on the wider site, of which just under half will meet Khan's definition of being "genuinely affordable".
The Mayor has allocated £80 million to the Guinness Partnership to go towards the 742 affordable dwellings and Homes England, national government's affordable housing funding body, has provided a £233 million loan for infrastructure, including a pedestrian and cycle bridge spanning the dock, restoration of Millennium Mills and repair of the dock walls. There will eventually be 6,000 homes in the development which is expected to be completed in the 2030s.
Photographs provided by the GLA.
On London strives to provide more of the kind of  journalism the capital city needs. Become a supporter for £5 a month or £50 a year and receive an action-packed weekly newsletter and free entry to online events. Details here.