In Baldwin's Gardens, just off Gray's Inn Road and set back from the street, there is an apartment block called Equiano Court. It takes its name – displayed on the grey tile panel in the photo above – from Olaudah Equiano, a former slave who, for a brief but important part of his 18th century life, lived in this this part of Hatton Garden. He was soon to become a best selling author and leading light of the anti-slavery campaign.
Equiano resided in a variety of places in London, from Westminster to Fitzrovia, but it was at 53 Baldwin's Gardens, where he lived during 1787 and 1788, that he began writing letters to newspapers and is believed to have embarked on his best-selling book The Interesting Narrative of the Life of Olaudah Equiano, or Gustavus Vassa, the African, published in 1789. Gustavus Vassa was a name given to him by one of his slave masters.
The word "interesting" is an understatement for a book this reader found difficult to put down. In it, Equiano writes: "I was born, in the year 1745, in a charming fruitful vale, named Essaka," which was part of today's Nigeria. And he reveals: "My father, besides many slaves, had a numerous family, of which seven lived to grow up, including myself and a sister." He describes how his father usually ate alone, with his wives and slaves having separate tables.
It will be surprising to some that Equiano was brought up in a family that kept slaves, albeit he stressed that those in his home were treated like other members of the community. Equiano became a slave himself after he and his beloved sister were kidnapped from their home by an African gang of two men and a woman when he was 11 years-old and sold to English traders. He somehow survived years of horrendous experiences on slave ships in the West Indies and elsewhere before, in 1766, using his trading skills to earn enough money to buy his freedom from his final owner, an American Quaker called Robert King.
Equiano came to England in the late 1760s. He was surprised when he reached London that there was no obvious trade in people, something he had become used to in his original home. Although operating an abominable trade in slaves abroad, Britain was more liberal towards black people living here, even before the celebrated judgment of Lord Mansfield in 1772, which granted escaped slave James Somerset his freedom. It enshrined into law the principle that "no master ever was allowed here (England) to take a slave by force to be sold abroad because he deserted from his service, therefore the man must be discharged". The judgment had a profound effect on slavery's eventual abolition.
Equiano is honoured with several plaques in London, including St Margaret's Church, Westminster, where he was baptised, and Tottenham Street and Riding House Street in Fitzrovia, where he also lived and worked. But it is particularly fitting that a whole block has been dedicated to him in the place where his public life got underway.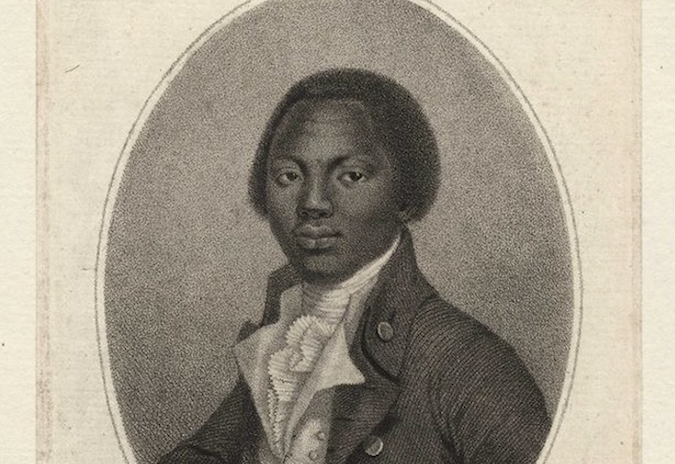 By the 1780s , having lived in London on and off for a decade, Equiano was a seasoned speaker at anti-slavery rallies. He wrote letters to the Public Advertiser from Baldwin's Gardens, drawing attention to the "millions of my African countrymen who groan under the lash of tyranny in the West Indies". Another letter, written in 1788, accompanied a petition of signatures that was sent to Queen Charlotte, wife of George III, although to no avail.
His book was an instant success, attracting over 300 subscribers including the Prince of Wales, abolitionists Josiah Wedgwood, and Granville Sharp, and the Duke of Montagu. Others were William Sancho, the son of another best-selling former slave Ignatius Sancho, and Ottobah Cugoano, an active abolitionist who wrote his own successful story of his experiences as a slave. It is quite extraordinary that at a time of mass white illiteracy in late Georgian London, Equiano, Sancho and Cugoano, three self-educated black men from backgrounds of slavery wrote successful books in enviably good English that were subscribed to by leading men of letters and aristocrats.
In 1792, Equiano married an English woman, Susan Cullen, from Soham in Cambridgeshire, where they lived for a while. He died in 1797 aged 52. Recent research has established that he was buried in a cemetery next to the former Whitefield's Tabernacle in Tottenham Court Road, where the Whitfield Gardens children's playground is today.
PS: There is a puzzle about Equiano's origins. Vincent Carretta, a leading scholar of black Georgians in London, points out that both his baptismal certificate in St Margaret's Church next to Westminster Abbey and a 1773 muster list on a ship in which Equiano served gave his birthplace as "South Carolina". At the same time, Equiano's own story, full of detailed local knowledge, has a strong sense of authenticity.
This article is the 17th of 25 being written by Vic Keegan about locations of historical interest in Holborn, Farringdon, Clerkenwell, Bloomsbury and St Giles, kindly supported by the Central District Alliance business improvement district, which serves those areas. On London's policy on "supported content" can be read here.