This is a tale of two garages. One was in Mayfair, and modestly described itself as the world's greatest. The other was on the other side of Green Park and has an astonishing history unknown to nearly all nearby residents.
Let's start with the second. In June 1881, a panorama of the Battle of Waterloo, covering an astonishing 20,000 square feet of canvas, was unveiled at the Westminster Panorama, a venue that specialised in showing such works close by St James's Park station, which had opened 13 years earlier. The panorama was claimed to be the largest in the country, and seeing it must have been an impressive experience in the days before cinema and television. Seven or so years later, by then renamed the National Panorama, the same venue exhibited a new "wonderfully realistic" panorama of the Niagara Falls. This was over 130 yards long and seen by 667,000 visitors in the year to March 1889. The building became known as Niagara Hall.
But that was only the beginning of its many lives. It was situated next to the notorious Queen Anne's Mansions at the end of today's Ministry of Justice building in Petty France, then called York Street. In 1895 it was converted into an ice rink, complete with a new version of the Niagara Falls work. It soon became a hip venue for fashionable Londoners, hosting carnivals, competitions and exhibitions, reaching a peak in 1902 when it staged the World Figure Skating Championships. The first indoor ice hockey tournament in England took place there too. Yes, all right next to St James's Park Tube.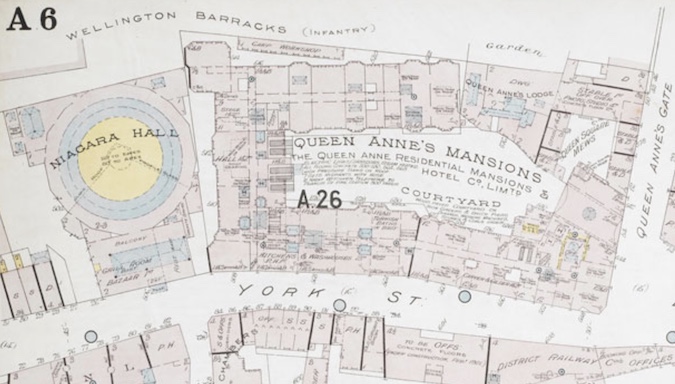 But soon afterwards this "skaters' paradise" came to an abrupt end. The pioneering Niagara Falls canvas was flogged off cheaply when the Niagara Hall building was purchased by the City and Suburban Electric Carriage Company to become one of the biggest garages in London, and almost certainly the most architecturally inspiring, as it retained the original circular theatre-like interior (see top photo).
The Niagara Garage, as it was named, was in liquidation by 1903, despite a client list that included the King and Queen. But soon after another phoenix arose from its ashes, when it became the London office and garage of Wolseley, which was, for a while, the biggest car manufacturer in the UK, housing 69 cars with another 50 in the gallery – accessed by an electric car lift – not to mention 22 in lock-up cubicles.
The other garage in this story is the Electromobile Garage, now masquerading as an NCP car park among the opulent buildings of Mayfair's Carrington Street. It has a secure place in motoring history. You don't have to believe its boast of being "the world's greatest garage" to acknowledge its important innovations. Electric-powered vehicles – which were rented out to town travellers – were its principal business. Customers could pop in, leave their batteries with the garage for recharging, and install another one for immediate use (Elon Musk, please note!).
The garage was on three levels and had its exit and entrance on the same approach road. Cars could be edged sideways onto a platform running on rails. According to
Buildingourpast.com
, these "transversers or trolley ways", were used for parking vehicles on the ground and first floors. It adds: "This could be seen as a semi-mechanised parking system. Cars were moved between floors by three hydraulic lifts. One of these went up to the flat roof, where cars could be washed."
The Electromobile was undoubtedly the more innovative and efficient of the two garages, but I know where I would have preferred to park my car. What a tragedy that the Westminster Panorama turned Niagara Garage was demolished. Today it would have been listed.
All previous instalments of Vic Keegan's Lost London can be found here.
OnLondon.co.uk is committed to providing the best possible coverage of London's politics, development, social issues and culture. It depends on donations from readers. Individual sums or regular monthly contributions are very welcome indeed. Click here to donate via Donorbox or contact davehillonlondon@gmail.com. Thank you.