Not many people outside the area know why Millwall is so called. It is because there once was a wall on the banks of the Thames which supported seven mills (see map below). They stood along the same stretch of water where the biggest ship in the world, the Great Eastern, was built in 1858 by Isambard Kingdom Brunel.
In those days, London was awash with windmills. For over 700 years they were its primary source of power and added elegance to its skylines. Along with mill powered by water, they were a major source of industrial power until the steam engine came along. Almost any place tagged "mill" probably has some association with an actual mill and, unlike coal mines and oil wells, they beautified their surroundings in an almost romantic way. Wikipedia has an exhaustive list of London mills past and present.
Millwall is only four miles from Sir Joseph Bazalgette's unusually attractive sewage treatment works at Abbey Mills – so called because it was built on the site of mills owned by the monks of Langthorne Abbey. Lambeth had five mills, including one just south of Waterloo Bridge and another south of Hungerford Bridge. A little further west along the Thames there was a mill at, surprise surprise, Millbank, run by the monks of Westminster Abbey, hence the road of that name. Constable painted a windmill that stood on Hampstead Heath on what looks like a very stormy day.
One of the most intriguing London mills can be seen on old prints of Newgate prison (such as below), where what must have been one of the earliest air-conditioning systems was employed in order to rid the prison of a pestilence which had killed many prisoners in close proximity with each other, as well as several judges. Sound familiar? When fresh air from the mill entered the prison, deaths fell dramatically.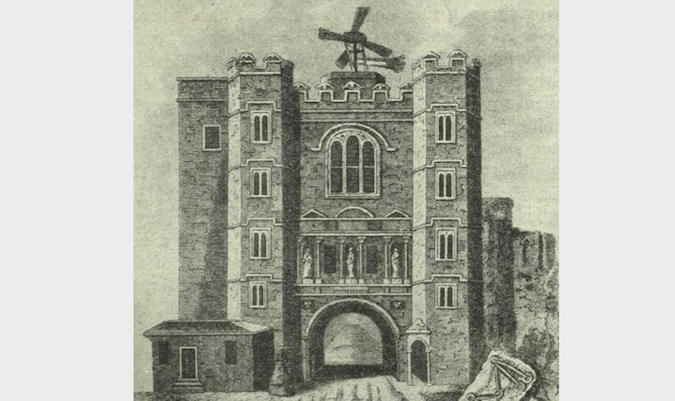 There are still a very few mills open to the public, including the spectacular Abraham's Mill in Upminster – which is open on summer weekends – and Shirley Windmill in Croydon, not forgetting the mill on Wimbledon Common, which is now a museum. Yet, sadly, there are no windmills left from bygone centuries in working order.
Except for one. A warm welcome to Brixton Windmill, a constant reminder of Lost London. Built in 1816, it is still going strong, even though these days it is powered by electricity not wind and so is technically is not a wind-mill anymore. At the time of writing, it was being used as a community testing centre for Covid-19, but its volunteers were continuing to produce flour, made from locally sourced organic wheat, which, subject to social distancing, is being delivered to over a dozen local shops and food banks.
It would be nice to think that in this new age of wind power – thanks to the surge of wind-powered turbines on and offshore – that new technologies could restore the local London windmill in some form or other. The task is made difficult by the prevalence of high-rise buildings interrupting the flow of wind, but who knows what the future has in store. Wind is once again fashionable.
Many of Vic Keegan's Lost London columns have now been compiled into a handsome self-published book. Buy a copy HERE.
OnLondon.co.uk provides in-depth coverage of the UK capital's politics, development and culture. It depends greatly on donations from readers. Give £5 a month or £50 a year and you will receive the On London Extra Thursday email, which rounds up London news, views and information from a wide range of sources, plus special offers and free access to events. Click here to donate directly or contact davehillonlondon@gmail.com for bank account details.