During excavations in the early 1990s around Hays Wharf in Tooley Street, archaeologists unearthed extensive remains of the 16th century moated Fastolf Place, including evidence of a water mill. Over 200 metal objects were recovered from the site.
They were from the London abode of a distinguished man who ducks in and out of history in Shakespeare's plays. His name was Sir John Fastolf. If you think that is a mis-spelling of Sir John Falstaff, the anti-hero of Shakespeare's Henry IV (and resurrected in the Merry Wives of Windsor), hang on a bit.
Sir John Fastolf was a real warrior who distinguished himself – barring one or two controversial events – during the Hundred Years War under Henry V. Shakespeare's imaginative depiction of the heroic claims made by his near namesake seem clearly to have been inspired by Fastolf's real life exploits.
Shakespeare conjured up the name Falstaff for the man who corrupted the young Henry V because his original choice for the character, Sir John Oldcastle, ran into trouble with the authorities. Oldcastle was a real person who had been a friend of Henry V but fell out with him when he led the rebellious Lollards religious rebellion, which resulted in him being put to death. Shakespeare must have thought he was on safe ground using the name of someone who had died nearly a hundred years earlier, but it was not to be.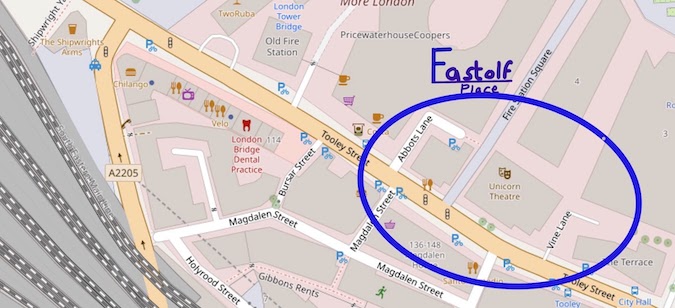 One of Oldcastle's descendants was William Brook, Lord Cobham, who in 1596 became Lord Chamberlain, which meant he was in charge of plays. He withdrew the official protection Shakespeare's troupe had enjoyed under their previous patron, Lord Hunsdon. Brooke objected to his ancestral name Oldcastle being abused and had it withdrawn. Shakespeare may have got a bit of his own back when he introduced a character called Brook in satirical mode in the Merry Wives.
Fastolf was not only a real person but, curiously, he had already appeared under his own name in Shakespeare's Henry VI, which was actually written before the Henry IV series. In early folios, the name was spelled "Falstaffe". He owned several London properties, which he left to Magdalene College, Oxford of which he was a major benefactor. They included the Boar's Head in Southwark where Shakespeare lived and worked for part of his life. It is very likely that he visited the inn, though that would have been long after Fastolf had died.
ITEM: During the Hundred Years, when Joan of Arc heard that the "Bastard of Orleans" (the illegitimate son of The Duke of Orleans) was planning to abandon his city because of the imminent arrival of Fastolf she responded: "Bastard, Bastard, in the name of God I command you that as soon as you hear of Fastolf's coming, you will let me know. For if he gets through without my knowing it, I swear to you that I will have your head cut off."
Fastolf lost that skirmish, but the episode shows that he was feared. He won other battles in France and his valour was not in doubt. Such is the power of Shakespeare's pen that his depiction of Falstaff cast a shadow over the reputation of Fastolf for centuries. The brave, bold buccaneer was everything that Falstaff was not. The remains of Fastolf Place have not been memorialised with a plaque, but their remains below ground are today an invisible reminder of how easy it is for fake news to triumph over truth.
Many of Vic Keegan's Lost London columns are available in book form. Buy a copy HERE.
OnLondon.co.uk provides in-depth coverage of the UK capital's politics, development and culture. It depends greatly on donations from readers. Give £5 a month or £50 a year and you will receive the On London Extra Thursday email, which rounds up London news, views and information from a wide range of sources, plus special offers and free access to events. Click here to donate directly or contact davehillonlondon@gmail.com for bank account details.