The Tom Cribb pub in Panton Street, Piccadilly, celebrates by its name the achievements of England's most successful bare knuckle fighter, who purchased an earlier version of this pub, the Union Arms, very close to the site, using his considerable winnings. Cribb's successful career has been justly applauded, but has a backstory which should never be forgotten.
On 18 December 1810 one of the most extraordinary bouts in boxing history took place. Tom Molineaux, a seasoned black fighter who had arrived from America the year before, fought Cribb, white and England's undisputed champion, to decide what was in effect the world title.
Molineaux's helper and manager was Bill Richmond, 47, another black American and who had himself been a bare knuckle fighter after being released from slavery thanks to military officer Hugh Percy, later the 2nd Duke of Northumberland. Percy had been so impressed by the 13-year-old Richmond after seeing him in a tavern brawl with British soldiers that he persuaded the clergyman who "owned" him to free him.
Richmond travelled to England with Percy in 1777, where he was set up with an apprenticeship as a cabinetmaker in York, but soon turned to fighting again. He has been described as England's first black sporting superstar and was lauded by people of all classes, including Lord Byron and the Prince Regent, and reached the top rank of fighters by winning 18 of his 20 fights. He was so celebrated that, along with other boxers, including Cribb, he was an usher at the coronation of George IV. Now, in 1810, his pupil Molineaux had the chance to become Britain's first black boxing champion.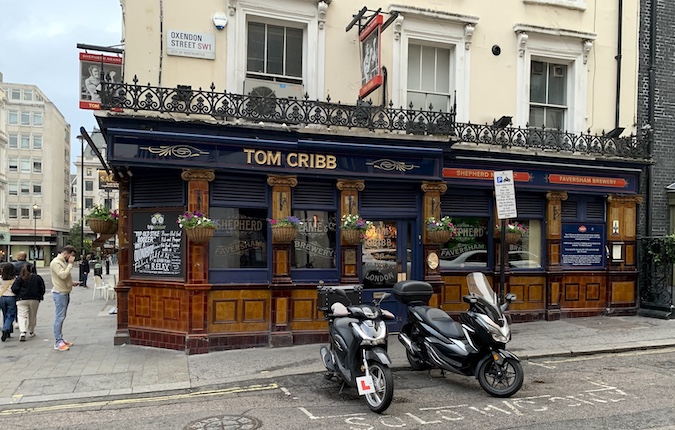 Bare knuckle fights rightly appal us today, but they were hugely popular in Georgian times. This one took place out of town at Copthall Common, near East Grinstead. In his biography Richmond Unchained Luke G Williams says of the contest between Cribb and Molineaux and the subsequent re-match: "These were arguably the two most significant sporting occasions of Georgian times, attracting huge crowds – an estimated 20,000 – and unprecedented press attention. Bill Richmond was a key figure in brokering and promoting both bouts."
The crux of the matter was that during round 28 – yes, round 28 of a fight that eventually ran to 39 – Molineaux had so battered Cribb that the latter slumped motionless in his corner and should have been counted out by the referee. Joe Ward, one of Cribb's helpers, accused Molineaux of concealing rocks or bullets within his tightly clenched fists – a ludicrous accusation which, nonetheless, bought enough time for Cribb to recover his senses and eventually win an amazingly blood-splattered fight in the pouring rain.
One aspect of this defies belief. According to Williams, the referee – yes the referee – turned out to be one of Cribb's backers and apparently said to Cribb when it looked as though he had lost: "Now, Tom, now, for God's sake, don't let the nigger beat you. Go for him, Tom, go for him; Old England forever." An exhausted Molineaux eventually lost and also lost the return match, partly because he was under prepared for it while Cribb had trained hard. That doesn't alter the fact that, although some of the  details are still disputed, he should have been declared the winner of the first bout.
Molineaux and Richmond were not the only successes by black men in Georgian England. They came not long after Ignatius Sancho and Olaudah Equiano became best selling authors with books campaigning for the abolition of slavery, which was still being practised on a large scale abroad while these freed former slaves were being feted in London.
One interesting postscript is that Cribb and Richmond became close friends in later life and often conversed together at Cribb's pub. It was there that Richmond spent his last night before he died, aged 66, in December 1829. Molineaux's end was tragic. After a stretch in a debtors' prison he became an alcoholic and, aged only 34 and penniless, passed away in August 1818 in Galway. He is buried there in St James's graveyard.
All previous instalments of Vic Keegan's Lost London can be found here and a book containing many of them can be bought here. Follow Vic on Twitter.
On London strives to provide more of the kind of  journalism the capital city needs. Become a supporter for £5 a month (or £50 for one year) and receive a weekly digest of London news, views and information and free entry to six online events a year. Details here.