On or around 1 May 1421 a public toilet built over a dock on the Thames by the mouth of the River Walbrook opened its doors. Called the Longhouse, it had an amazing 128 seats – 64 for men and 64 for women, something you might only see at big pop concerts these days. Its contents were discharged through a gully underneath and carried downstream at high tide. Homes were built above it to utilise the space created.
This "house of easement" was unusual for two reasons: one, it was the first convenience of its time to have separate facilities for men and women; two, it was built or bequeathed by someone not normally associated with that sort of thing – Dick Whittington.
You don't hear much about this side of Whittington in the pantomimes that have made him and his supposed cat so famous. As John Schofield says in his book The Building of London from the Conquest to the Great Fire, the real Dick Whittington was a man of even greater stature than his legend.
"Born not into poverty but into a well-off family, he rose to be what has been called a 'merchant Prince' by trading in the risky but profitable north and Mediterranean seas," Schofield writes. "He supported three successive English kings with loans and left a fortune equivalent to the wealth of a medium-sized kingdom."
The Longhouse, though innovative, was among the least of Whittington's benefactions. These also included the rebuilding of the Guildhall, schools, drainage systems around Billingsgate and Cripplegate – which the great Victorian engineer Joseph Bazalgette would have approved of – and a ward for unmarried mothers at St Thomas's Hospital.
That is not to mention the rebuilding and extension of his local parish church, St Michael Paternoster Royal (main photograph) where, in 1423, he was buried (the church was destroyed in the Great Fire of 1666 and later rebuilt by Christopher Wren). Whittington also built an almshouse (or "college") there, though that endeavour was relocated first to Highgate in 1808 and then, in 1966, to its present location in Felbridge, East Grinstead. He lived on College Hill, where a plaque marks the spot.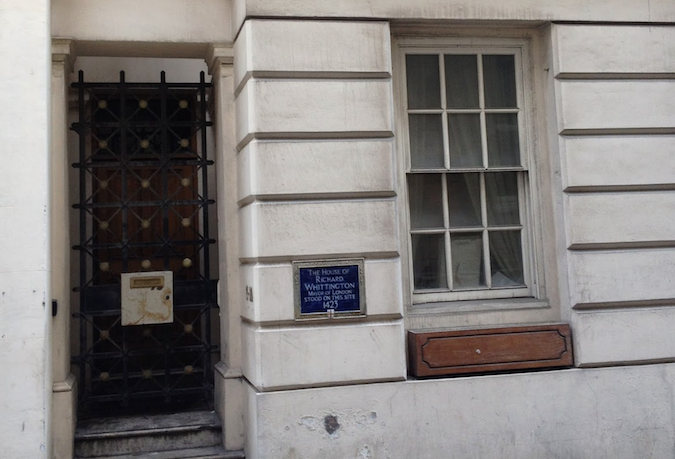 Whittington died childless but left a fortune that has been estimated at around £7 million in today's money. Some of it was used to rebuild Newgate Prison with accommodation in it for sheriffs. It can be viewed as a forerunner of the Old Bailey, which was constructed on the site of the prison after it was pulled down.
Whittington's fortune also helped build the first library in the Guildhall, which eventually led to today's Guildhall Library. The Whittington Charity still disburses money each year to the needy through the Mercers' livery company. Not bad for one man, even though how he made his fortune is not completely clear.
None of this will do anything to stop – and nor should it – all the wonderful pantomimes based on the romantic tale of a poverty-stricken Dick and his cat leaving London to return to his birthplace in Gloucestershire.
Along the route – the folklore usually says it was at Highgate – he was summoned back to London by the sound of the bells of St Mary-le-Bow in Cheapside and eventually became the City's Lord Mayor four times. Who is surprised these days when fact fails to dislodge fiction?
All previous instalments of Vic Keegan's Lost London can be found here and a book containing many of them can be bought here. Follow Vic on Twitter and also as @LondonStreetWalker.
On London strives to provide more of the kind of  journalism the capital city needs. Become a supporter for just £5 a month. You will even get things for your money. Details here.