As Chancellor Jeremy Hunt polished and delivered his budget lines at Westminster workers all over the capital were out in the spring sunshine today demonstrating their discontent by withdrawing their labour and marching to the centre of town.
Schoolteachers, London Underground station staff and drivers, a wide range of university workers, junior doctors and BBC London journalists have all been on strike over issues including pay, working conditions and pensions.
Outside Sir Thomas Abney primary school in Stoke Newington mid-morning seven classroom teachers of varying seniorities formed a cheerful picket line, receiving supportive cheers, beeps and bells from passing runners, cars and cyclists as they worked out the best way to get to a rally at Hyde Park followed by a march to Trafalgar Square in the absence of a Tube service.
This was the first of two consecutive days of action by members of the National Education Union across England in a long-running dispute with the union seeking above-inflation pay increases supplemented with funds to ensure increases don't come from existing school budgets. The government has so far offered most teachers a 3.5 per cent rise for 2023/24.
The Sir Thomas Abney staff expressed impatience with the government's attitude to the dispute, suspecting it of seeing teachers as undeserving of pay hikes above what it says can be afforded and contrasting that with the deal struck between counterparts in Scotland and local and national government there. "They are basically ignoring us," one of the teachers said. "There seems to be no movement, which is a bit gloomy."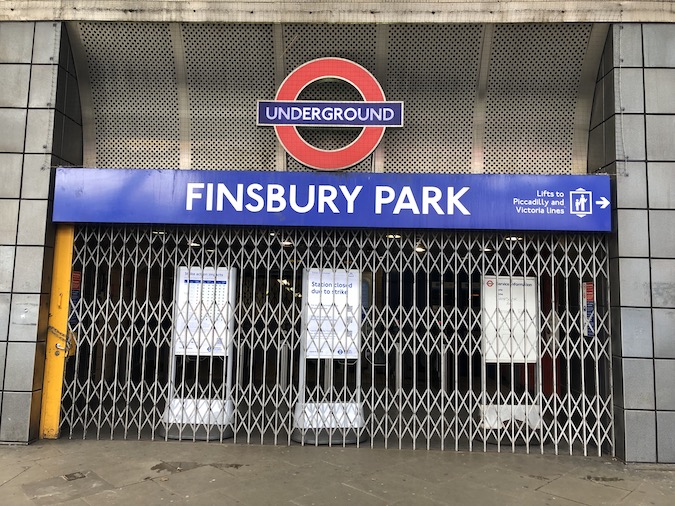 A 15-minute walk away at Finsbury Park station there was no RMT union picket line presence when On London arrived on foot at around 10:30, but plenty of signs and closed gates at both front and rear entrances to bear out claims that the strike action was solid. Groups of schoolteachers converged on the interchange to catch buses into town or to link up with the Elizabeth Line, which is running today.
ASLEF union Tube drivers, also on strike today, had organised picket lines at all 29 London Underground train depots, including Seven Seven station, the next stop on the northbound Victoria Line. Finn Brennan, ASLEF's District Organiser for the capital, told On London "the action today is 100 per cent rock solid" in defence in working conditions and pensions.
He linked the dispute to the funding deal between the government and Transport for London, saying it "simply isn't sustainable", and a related deterioration of the Tube network. "We have trains literally falling to pieces on the Jubilee Line and more than 50 years old on the Bakerloo. Staff feel caught in the middle of a political battle between the Mayor and the government".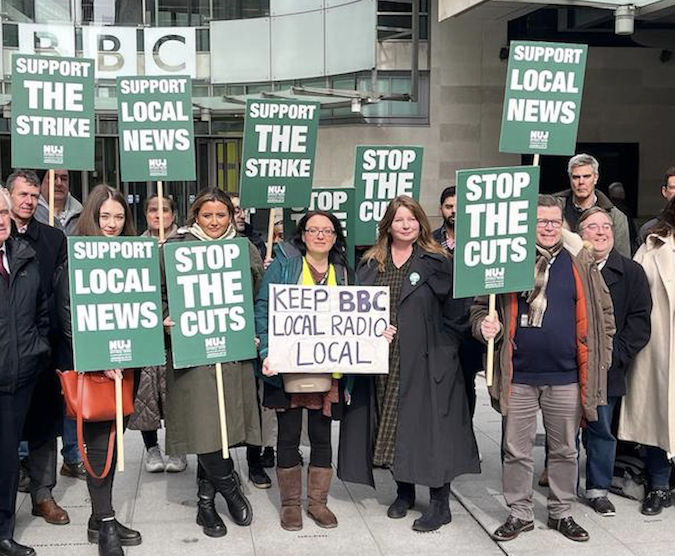 BBC London output has also been hit today, with National Union of Journalist members working for BBC Local throughout England taking 24-hour strike action from 11am. The walk out is in response to BBC management plans, announced in October, to reduce the number of local radio programmes produced.
Reporters and presenters Susana Mendonça, Alice Bhandhukravi and Karl Mercer were among familiar names who gathered outside the BBC's Broadcasting House complex off Langham Place. In a continuation of their action, BBC London NUJ staff will be working to rule from 11am tomorrow.
On London strives to provide more of the kind of  journalism the capital city needs. Become a supporter for just £5 a month. You will even get things for your money. Learn more here.