Get off the packed commuter train at Mortlake and you land in a quiet enclave of London suburbia: East Sheen. Hopefully, unlike me, you will go on a cool, non-strike day when other people's pits aren't a Rizla paper distance from your gaze.
Gone are the medium rises, in are terraces and a deluge of Union Jacks. The coronation might be over, but the leafy west London satellite has proudly declined the memo. Sheen, as it's known, is largely white and well-educated, with a healthy smattering of delis.
It hints that in income terms it isn't a million miles on the wealth charts away from its domineering neighbour, Richmond. There are, though, far fewer coach houses, the old outbuildings for horses that remain in bougier parts of Richmond-upon-Thames.
Hidden London provides the goods for the area's historical high-points: East Sheen was home to the Whig Prime Minister Earl Grey, the birthplace of Sir Tim Berners-Lee, inventor of the world wide web, and the last dwelling place of 1970s rock star Marc Bolan – his, like others here, a large Victorian house with a walled garden. There's one detached home for every two flats in Sheen.
I'm not here for the National Trust-owned Common, the high street shops or the many, many churches, but for the Valentina restaurant, a mid-priced, independent eatery founded by Bruno Zuccola in 1991.
It has weathered a lot of storms in that time. And judging by the enormous number of positive Google reviews, it has deserved to. I'm heartened that in London, if you look hard enough, you can still get a proper margarita pizza for just under a tenner. This isn't "refined" or any of the other adjectives reviewers love to use for overpriced. The restaurant offers an experience that's both heartening and unpretentious.
The first thing that catches the attention is the staff's hospitality – hopefully not just put on for your On London visitor. It's a touch of Italian warmth that feels genuine. The open patio, as in pretty much all of London, opens onto a road, but it's not rammed with traffic. You're not quite in the side streets of Verona, but there's little need for any such self-deception.
As one can hope for a restaurant that's tied to a decent local deli of the same name, the wine list stands out. The Gavi di Gavi, a fine Italian white for £33.95 is at the upper end of their price range, but it's spot on, with a delicate but fruity profile. The kindly manager pushed the cocktails, but the sweet French 75 couldn't compete with the bottle list.
I don't think the phrase "carb-free" exists in Italy, and that's fine by me. The starters are an indulgence. Crispy pesto arancini, and a mozzarella and red onion focaccia show up within a few minutes of ordering. The arancini were pitch-perfect, but the focaccia needed a bit of zing – properly caramelised onions and some balsamic flavours.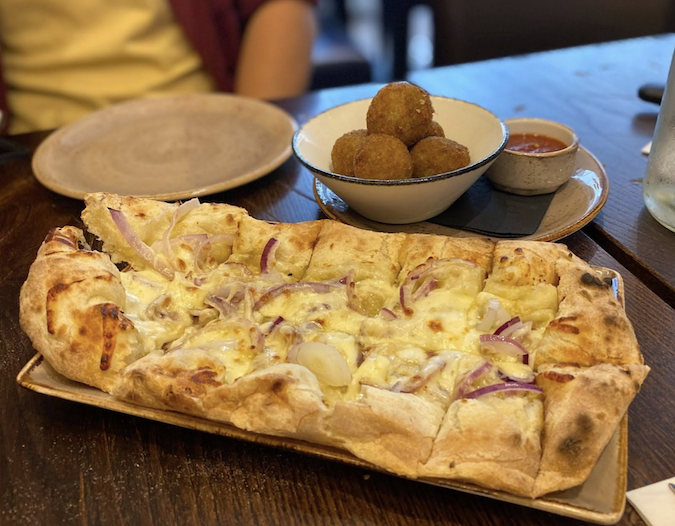 Where was everyone, though? It was a Thursday night. Either this patch of Richmond is under-populated or lounge-bound, or this restaurant isn't getting the custom its online reviews suggest.
And it does largely deserve our custom. The mains were ultra generous. A kilo of risotto was perhaps not the wisest order in mid-July, and while it was too diluted in flavour for me, the fritto misto my dining partner ordered was a seafood feast. You will, though, feel rude being unable to finish it in order to leave room for the far superior desserts.
They more than compensated for my slightly sad rice dish. The cannoli were crisp and rounded off the meal, with the tartufo al pistachio (main picture), an ice cream dessert, a sure-fire winner.
The plural of anecdotes is not data, but on a sunny summer evening we exited onto a largely empty street. People are saving their cash not for mid-week, casual dining but for experiences. And that doesn't bode well for establishments like the family-run Valentina.
What to suggest? Can trying new, enticing deals and playing around with signature dishes come to their rescue? Perhaps they should make the most of the fact that this isn't some tired chain but a lovingly-run haunt that keeps its cash in the local economy. A bit of non-cheesy Italian music and some local art might shake off the quasi-franchise vibe.
Research published in RestaurantOnline this June showed that central London saw a net decline of 540 licensed premises in the three years between March 2020 and March 2023 – equivalent to one closure every two days. But there are hints that the closures are bottoming out.
Let's hope so, because places like Valentina have great potential. It's the generosity, the excellent wine and the staff that make it. It can and should rise above London's slump and create an experience that people will want to come to East Sheen to enjoy.
Special offer: The Valentina restaurant is offering On London readers a discount on purchases from its online shop. When you get to the checkout, use the code VALENTINA10SUMMER. 
Josiah Mortimer is chief reporter for Byline Times. This is the first of his occasional food and drink reviews for On London on the side. Follow Josiah on Twitter and feel free to get in touch with him too. If you value On London and its writers, become a supporter or a paid subscriber to editor and publisher Dave Hill's Substack. Thanks.