I spent yesterday morning sheltering from the snow by browsing the London Society's archives, which are kept in a warehouse near the Regent's Canal in Islington. The society has several hundred London books, but also hundreds of boxes crammed with ephemera. These have been sorted to a certain degree into different categories, but it still doesn't mean you have a clue what you'll find until you open the lid. Amid the photographs, bus timetables, leaflets, maps, old copies of Time Out and weathered periodicals I found a box named only "odd-shaped".
I had to investigate further.
Inside this box was another box, and this was filled with index cards. These had been sorted into alphabetical order. Each one had a handwritten title – usually a place name – and then a pasted clipping from the Daily Telegraph, usually from the late 1920s and 1930s. Quite who compiled this library – or why – was unclear, but they collectively represented a series that could have been published almost in their entirety as "Strange things about London". For instance, this was the only entry for "Herne Hill".
Towards the back, under S, I discovered a fantastic series of clippings about "Street Shows, London" that was prompted by a letter regarding some of the old street entertainers seen around the city. What followed was an outpouring of extraordinary memories, all for some 30-40 years before. There were boxing cats ("the cats boxed rather lazily"). "A shabby little man" organised the pantomime execution and funeral of a canary ("the hearse drawn by a team of four canaries"). There was "a savage who glowered and grunted behind a set of bars".
There was a "burly negro" who ate coal, drank meths and then set fire to his breath. There was a drunken stilt-walker. There was another "negro", who ate lighted fuses – "he once showed me the inside of his left cheek burned black". There was "another negro" who would throw dinner plates in the air and smash them on his head – "on one occasion I was present when cut his forehead rather badly", records the correspondent in Bognor Regis, dispassionately. Best of all was the "potato smasher", who would turn up in Camden or Oxford Street and throw a raw potato in the air, smashing it with his head – he had "a permanent bruise on his forehead caused by the impact of many  potatoes".
There were reams of this stuff, all clipped, pasted, annotated and diligently filed, until they were eventually sent to The London Society, placed in a box and then left on a shelf in a warehouse, waiting to be rediscovered.
I post a selection below.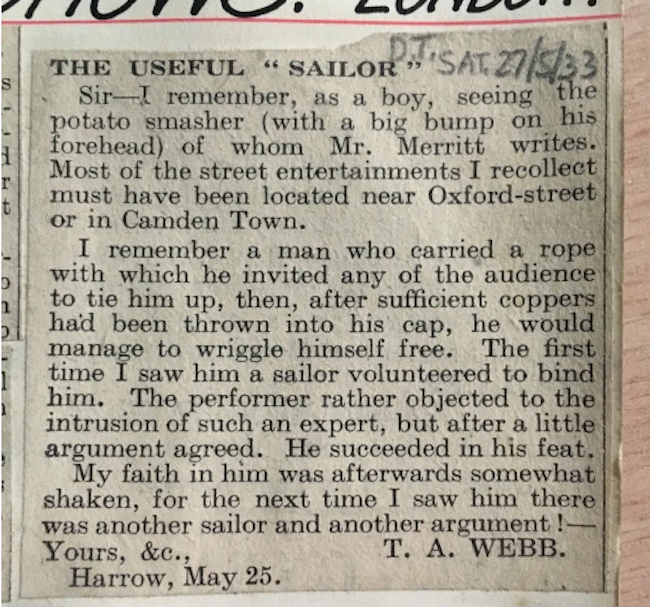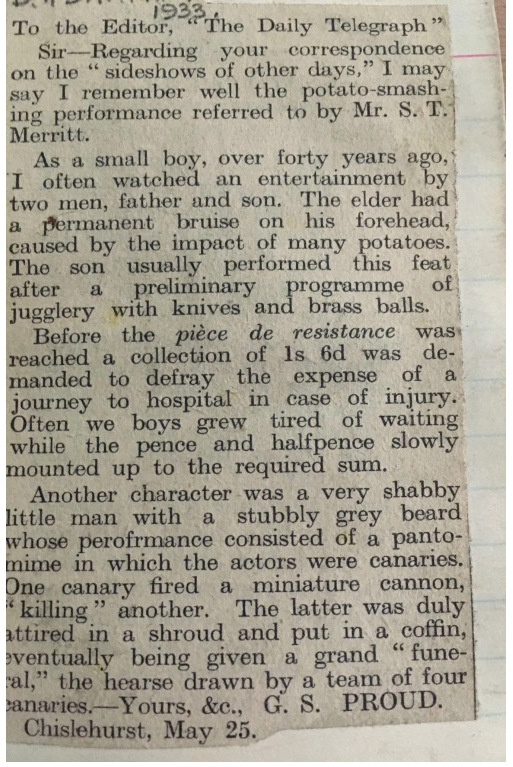 This article was first published by Peter Watts himself at The Great Wen. Peter's fine book Up In Smoke: The Failed Dreams of Battersea Power Station can be purchased via here.