An overall shift towards more "sustainable" forms of transport in London continued last year, but the rate of change has been falling and the capital faces some "significant challenges" to the maintenance of these trends, according to Transport for London's latest annual Travel In London report.
The 275-page document, the twelfth of its kind, which brings together a compendium of travel data primarily from 2018, says that "total travel demand has been flat for the last three years" at an average of 26.9 million daily trips (complete excursions), despite ongoing population growth and that "public transport growth has levelled" off in the context of a "prolonged squeeze on personal disposable incomes owing to slow wage growth and increasing housing costs" and uncertainty in some parts of the economy.
It notes that this may have affected "discretionary spending" on transport, such as for shopping or leisure activities, while commuting trip levels have stayed "relatively stable" due to strong employment growth.
"All these changes have impacted our progress towards our strategic ambitions" the report says, explaining that they "largely post-date the evidence base for the mayor's transport strategy" (MTS), published in 2018, which prioritised creating street networks that encouraged cycling, walking and public transport use and a "good public transport experience", and planning the city's spatial development around this approach.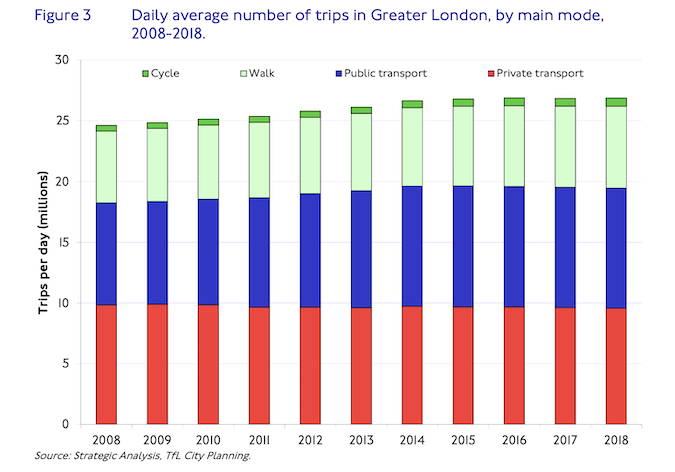 The share of travelling done using what the report calls "active, efficient and sustainable" transport modes – namely public transport, cycling and walking – was 63 per cent in 2018, representing a 0.3 per cent increase on the 2017 share and therefor a small step towards the goal of an 80 per cent share by 2041 set down in the MTS.
The overall picture of travel modes and demand contains some significant variations, including a 0.9 per cent increase in the number of London Underground journeys in 2018 compared with 2017, reversing a decline of a similar amount in 2016. There was also a "return to growth" on National Rail services operating in London and the south east, with a 2.3 per cent rise in the number of journeys reflecting demand returning to its 2016 level.
However, there was a 1.7 per cent decline in bus journeys compared with 2017, repeating what was seen in 2015 when the use of buses first began to stop growing. There had been very small increases in 2016 and 2017, but bus service demand nonetheless fell back in 2018.
The levels of car traffic across Greater London stayed the same as in 2016, though this masks an increase in Outer London and falls in Inner and, in particular, Central London. The overall lack of change was despite the growth in private hire vehicles, which the report says could now account for "around 15 per cent of car traffic" across the capital as a whole and up to 40 per cent at certain times in the centre. Early indications are that the ending of private hire vehicles' exemption from paying the congestion charge has seen a fall in the number entering the congestion charge zone, though the report says it is "too early to give a robust view" on the effects of this policy.
In 2018, 36 per cent of trips in London were made by public transport and 37 per cent by private transport. Of the public transport trips, 11 per cent were made by Underground or Docklands Light Railway, 11 percent were made by rail and 14 per cent were made by bus or tram, each showing no change from 2017. When journey stages – component parts of trips, which involve more than one transport mode – were measured, the public transport share was a significantly higher 43 per cent, with buses (or trams) accounting for nearly half of it. Walking accounted for 25 per cent of trips, according to the report.
The number of kilometres cycled increased by "almost five per cent" in 2018 from the previous year, with the greatest increases in Central London, while the number of cycling journeys, at an average of 745,000 per day, was up by 3.3 per cent. However, cycling accounted for only 2.5 per cent of all trips within London in 2018, up by 0.1 per cent, on 2017. Drawing on data gathered from the London Travel Demand Survey, the report says that "the growth in cycling observed in volumetric counts is driven by population growth and by people who already cycle making more trips". It describes this as "solid growth" but at a pace which "currently appears to fall short of the level of change required to achieve the Mayor's 2041 ambitions".
The report also shows that just 56 per cent of London households have access to a car, with the proportion much lower in Inner London (just 40 per cent) than in Outer London (68 per cent). The overall figure has shown a decline since the early 2010s. Car ownership in London tends to by higher the higher household incomes are, with households having incomes of more than £100,00 per year being the most likely to have two or more cars. Cycling too is associated with higher income groups, with cyclists tending to be "mostly male, white, in employment and with relatively higher household incomes," the report says.
Read the whole of TfL's twelfth Travel in London report via here. 
OnLondon.co.uk is dedicated to providing fair, thorough, anti-populist coverage of London's politics, development and culture. It depends on donations from readers and would like to pay its freelance contributors better. Can you spare £5 (or more) a month? Follow this link if you would like to help. Thank you.