Nothing remains of what the interesting street pictured above used to look like in olden days, except for the tiny plaque high up on a wall highlighted in the photo, which looks as though it might have been hit up there with a tennis racket. Maybe it was. The building it is mounted on, which stands on a site formerly occupied by the Duke of Monmouth's stables, used to be home to a fashionable royal tennis – or "real tennis" court – and for well over 50 years from 1780 was actually the headquarters of English tennis.
The plaque says James Street 1673, though today we know it as Orange Street, which stretches from the Haymarket to north of the National Gallery. As can be seen in the 1850 painting by T H Shepherd below (courtesy of the British Museum), the game of billiards was on offer on the same premises, which was next door to a coach manufacturing works.
The "real tennis" court, which also doubled occasionally as a theatre, was later pulled down and an office block now fills the spot, beyond which on the far left of the road is a Byron burger restaurant. Opposite it on the right is a covered market occupying what used to be a Burberry store. There is nothing in the street to indicate its role in the history of tennis.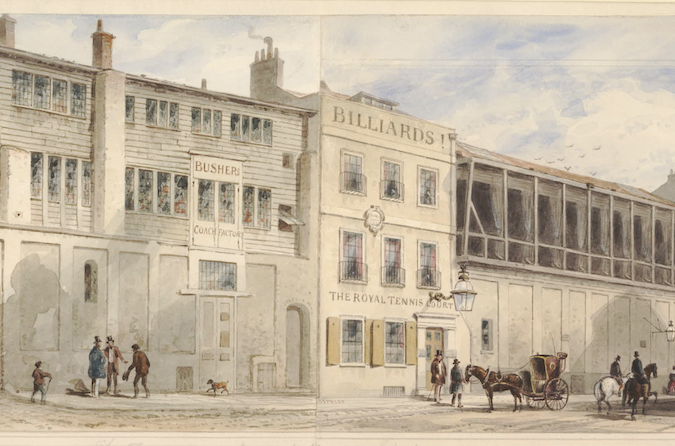 England may have invented lawn tennis, but it was based on royal tennis, an import from France. Lawn tennis has become a global success story – sadly jettisoning the lawn in many venues – but real tennis has not gone away. The oldest and most famous example of a surviving court is at Hampton Court, where Henry VIII played. It is still in use, as are two other very old courts at Merton College, Oxford and Falkland Palace at Fife in Scotland. There are other active real tennis courts in London, including at Queen's Club and Lord's.
The capital's real tennis tradition also includes the remains of the Tudor courts in Whitehall, though you will have difficulty finding them as they are not open to the public. Simon Inglis points out in his magisterial book Played in London that there have been nearly 50 real tennis courts in the area that now forms modern London, including three in Southwark – one of which is memorialised by Tennis Street, off Newcomen Street – and others at Essex House off the Strand, Blackfriars, Somerset House and Southampton House, where the legacy of the game used to be marked by an alley called Tennis Court. The only visible reminder of the game's former headquarters in what is now called Orange Street is that unreadable James Street plaque. Shame.
All previous instalments of Vic Keegan's Lost London can be found here.
OnLondon.co.uk is committed to providing the best possible coverage of London's politics, development, social issues and culture. It depends on donations from readers. Individual sums or regular monthly contributions are very welcome indeed. Click here to donate via PayPal or contact davehillonlondon@gmail.com. Thank you.