Barnet councillor Gabriel Rozenberg, who announced last Friday that he had left the Conservatives for the Liberal Democrats, says he anticipates being "the first domino on the council" to fall.
The 39-year-old investment manager put out a Rory Stewart-style video explaining his decision – "put simply, the Conservative Party is not the party I joined" [as an Oxford student in 1999] – and encouraging ward residents in Hampstead Garden Suburb to get in touch. On social media and in media quotes, he offers some punchy lines, comparing Boris Johnson and Jacob Rees-Mogg to the Dursley family from Harry Potter, and challenging Brexit Party MEP Lance Forman to a public debate.
A councillor of five years standing who became housing committee chair last year, Rozenberg has warm words for his colleagues and tells me he "enjoyed being part of a group that was moderate-minded and focused on making people's lives better". But his dismay at national Conservatives' "delusional" response to the Brexit vote is anything but moderate.
All his reading and understanding leads him to believe it is "borderline impossible" to leave the European Union, as it involves unpicking structures at cost of huge disruption, and with the goodwill of only half the country. On the calls to honour the democratic vote, he argues there was no referendum majority for any particular form of Brexit – and given the emptiness of promises that leaving could be done successfully, he doubts whether there is any meaning to the 2016 referendum process at all. He made the decision to move to the Lib Dems in just the past fortnight, but after years of feeling a fish out of water.
Rozenberg abhors how, to his mind, the Conservatives have given up on being party of business – curbing inward investment and driving firms to Frankfurt. You "cannot operate in conditions where there is no plan," he says. As someone who "adores" London's vitality, he's saddened that the new King's Cross development might be a last hurrah before a Brexit downturn.
He is withering about the Prime Minister, who was his guest speaker at the Oxford University Conservative Association termly dinner in 2000 (photo below). He thought Johnson a good Mayor, "a cheerful enthusiast for London". But now, he says, his "streak of self-centredness…vindictiveness…lack of interest in the detail of policy" have become much more obvious to him. He considers him "completely incapable" of overcoming the Brexit impasse.
Rozenberg talks about the loss of identity and cultural impoverishment Brexit entails and says he is aligned with the Lib Dems in other policy areas, like climate change and cycling. He's made the move to continue his political career rather than bowing out, and has staked this on the UK not leaving the EU next month. Eyes are now on Barnet's four other Remain-voting Tory councillors: "I expect there will be much bigger movements soon that indicate Lib Dems are serious about winning in Barnet," Rozenberg says.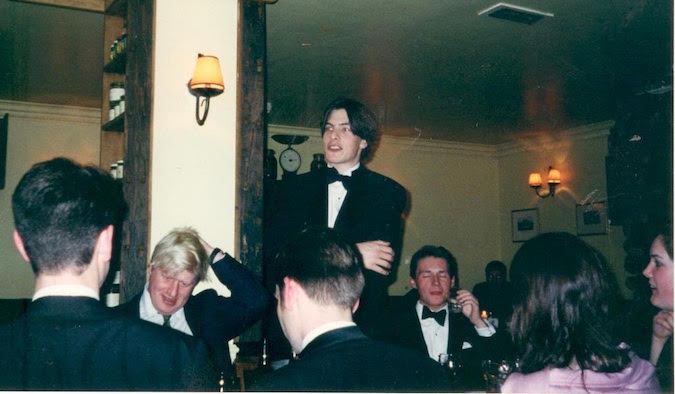 What does the wider battleground look like? Although leaning to the Conservatives, Barnet voted 62/38 Remain in the referendum and 28 per cent for the Lib Dems in May's European elections, which was comfortably the largest vote share. Reactions to the unequivocal conference position of Jo Swinson's party on Brexit, Labour's continued ambivalent stance and the PM shrugging off today's Supreme Court ruling have changed the political weather. Add concerns over Labour Party anti-semitism, which cost Labour council seats in Barnet last year, and excited speculation that Luciana Berger might stand for the Lib Dems in Finchley & Golders Green (although the party already has a candidate there), and there are high hopes of a Lib Dem breakthrough.
Yet the picture is more complicated than this. In 2017 it was Labour which ran the Conservatives close in Finchley & Golders Green (and in two other Barnet seats, Hendon and Chipping Barnet), meaning even high-profile Lib Dem candidates would have a considerable task at the next election. Anti-semitism has an electoral impact, but even in Finchley & Golders Green Jewish voters make up less than a quarter of the electorate. At the same time, we're in a period of rapid flux and conflicting polls: within the past three weeks, there have been a Conservative study suggesting that the Tories are at risk of losing all three Barnet seats to Labour, and Labour internal polling showing the possible loss of nearly 30 per cent of its 2017 support to the Lib Dems and Greens, with sorry effects for Jeremy Corbyn's party in North London.
Across London, there's been a stream of defections to cheer Lib Dems. Ben Seifert, a barrister and a friend of Rozenberg announced two weeks ago that he was standing down as Conservative candidate for the North East London Assembly constituency and leaving the party. Last Sunday, he revealed that he had joined the Lib Dems, saying he'd been drawn to the Conservatives when they were "centrist, meritocratic and globalist" under David Cameron but felt they had now been "taken over by a cult". Other recruits from the Tories include former Metropolitan Police Chief Inspector George Lee and West London entrepreneur Amir Sadjady while thinktanker Ian Kearns and former Sadiq Khan advisor and Hackney police chief Leroy Logan have joined from Labour.
Veteran London Conservative Andrew Boff warns against over-estimating Lib Dem bounces, noting that, in spite of "Cleggmania" in 2010, the party lost seats at the general election of that year. But he puts his finger on the current challenge when he says that there are five, not four UK 'nations' politically speaking, London being one, and admits "problems articulating an urban Conservative voice". Tory – and to an extent Labour – campaigners must now address this thorny question of metropolitan messaging, if they are going to stem the tide Gabriel Rozenberg anticipates.
OnLondon.co.uk is dedicated to providing fair and thorough coverage of London's politics, development and culture. It depends on donations from readers. Follow this link. Thank you.