The past week has seen the heart of Camden gradually gear up again for business. Staff members in the High Street's clothing and souvenir shops were busy restocking and snagging. At Camden Lock, outdoor market traders have set up shop and indoor stalls re-opened officially yesterday.
In Inverness Street, normally lined with food stalls, there were just two traders at lunchtime last Thursday. George at Camden Coffee Cube said, "at the moment, it's like a bad day in winter". He thinks nobody believes we're in a recession but that the economic shock will come shortly, when furloughed employees find they don't have a job to go back to. He's abandoned his other coffee pitch in Covent Garden. He's on the lookout, as always, for new opportunities, but gloomy about the bigger picture. "The poor are fucked – same situation as always".
Agatha from Poland, at the stall opposite for her friend's bakery business Saint Sugar of London, senses lasting changes in habits. "The joy of Camden is that it's full of people, all the diversity. Now I call it zombieland. You see people's faces and there's a lot of sadness, as if we're enemies." She can't understand how people can shop for food without seeing, touching and tasting it, but predicts significant numbers of shoppers have gone online and won't come back.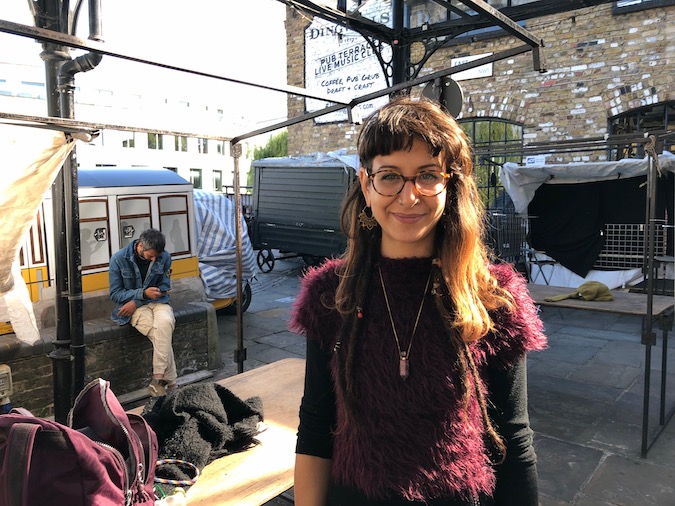 Saturday's sunshine brought a stream of visitors to the Lock, where since 2014 Camden Lock Market and the neighbouring Stables Market have been brought together under Teddy Sagi's Market Tech. "Here it's like coronavirus central" said one cynic to his friend on the canalside, where a tarot card reader was plying his trade and there was a relaxed interpretation of the two metre rule. Inside the market, the tannoy breezily announced management had improved the flow and installed hand sanitisers.

Chain food stalls seemed to be doing OK. There were queues for pitta at the Levantine Grill. The barman at The Cuban Spirit was back for his first shift – "I've been locked up for two and a half months with two small kids!" – and said business was good. But for the remaining craft stalls, which give the market its character, it's been tougher. Diane, who sells patterned summer shirts, made only £50 on Saturday and £100 on Sunday – way short of the £300 that would be a decent day's taking on a sunny June weekend. "It's lots of people, but not like we thought," she said. "I don't think they have money to spend".

I spoke to a group of traders in East Yard as they packed up on Saturday. The number of stalls has been reduced by a third to help ensure social distancing. One told me: "It's shit. Priti Patel wants to stop Europe coming here." Clem, a silver jeweller for 23 years who also imports items from India and Thailand, had made one sale all day. Jane Gorham of Ginger Jane's Jewellery had made only two.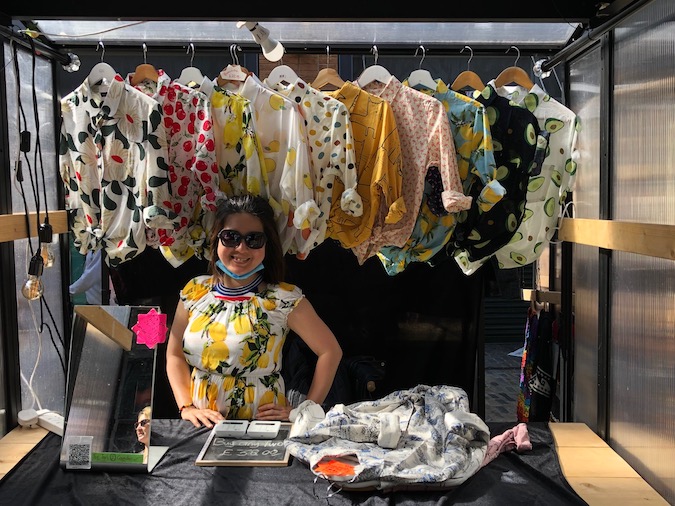 Before lockdown, market management had said they would offer stalls at half price to incentivise independent traders. Now all rent has temporarily been suspended – but traders worry how long for. Secretary of the Camden Trader Committee Odette Lynch, a 24 year veteran of the market who designs jackets and accessories, describes the free rent arrangement as a "lifesaver" but sets out the multiple pressures her colleagues face in the months ahead.
Camden traders are hugely dependent on tourists, who account for 80-90 per cent of sales. They miss out on the government's retail grant pots of £10,000 and £25,000, since only direct rate-payers are eligible and Camden stallholders' share of business rates are included in their rent. A discretionary top-up grant fund allocated to councils will be very thinly spread if it's to go around all market traders. Those with shop spaces in the market – mostly bijoux and packed with product – have to work out how to meet strict hygiene and social distancing rules. 
Bounceback loans, though soft compared to most bank loans, add to the concerns of traders who are designers, craftspeople and artists struggling to scrape a living. And, says Lynch,  "no-one can understand the discriminatory decisions which left out micro limited companies from the government's rescue packages," a particularly sore point given how many were advised to shift from being sole traders to limited companies. All in all, traders need advice on how "to survive the frightening new normal."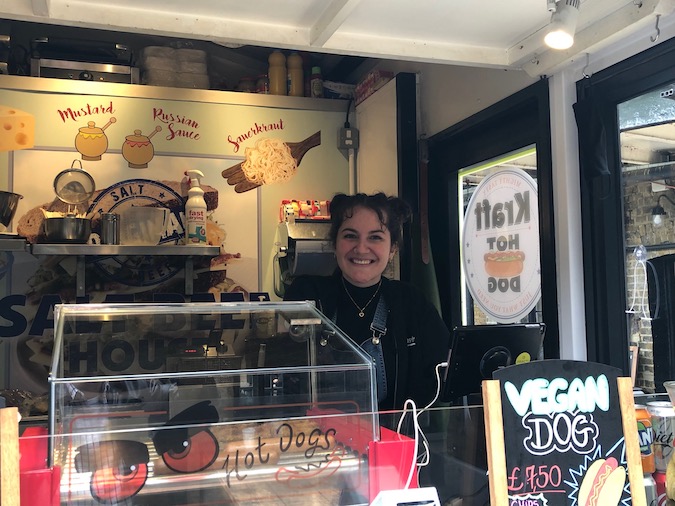 Jane Gorham's message to government is to consider relaxing quarantine so we give tourists from continental Europe "at least the choice of coming, because there [the virus] is nearly gone". The traders' worries come on the back of a rare interview with Camden Stables Market's former co-owner Richard Caring in the Mail on Sunday, warning of a volcano that's "going to explode, spewing out unemployed people" if the government doesn't wake up to reopening the hospitality sector.
Counterbalancing the loss of tourists, day-trippers and office workers, Simon Pitkeithley, CEO of Camden Town's Business Improvement District, Camden Town Unlimited, says the shift to people shopping in their local area during lockdown presents a significant economic opportunity. "There's a hinterland of people who live quite near and feel the market wasn't for them, who can rediscover it" he says. He hopes traders might be further boosted by the Camden Highline project and other proposals to promote "permeability" for pedestrians through the whole area from King's Cross to Camden.
Meanwhile, there will be new tools to help manage the capital's emergence from lockdown and potentially support high streets and markets. Data from the Alan Turing Institute's air quality project is being repurposed, along with other inputs, for Project Odysseus, which seeks to understand London's "busyness" and inform policies for leaving lockdown.
In spite of huge challenges for markets, there's an upbeat note from some of those drawn to Camden and London from far away. Aspiring Swiss musician Mia Tamisier, who abandoned her music degree when the crisis struck and now works on a Camden food stall, admits her home country might have dealt with the virus brilliantly but observes that quite a few of her young European friends here have stayed. And self-confessed optimist Agatha in Inverness Street thinks whatever else happens, "London will be OK. It's a strong city".
All photographs by Joshua Neicho.
OnLondon.co.uk is committed to providing the best possible coverage of London's politics, development, social issues and culture. It depends on donations from readers. Individual sums or regular monthly contributions are very welcome indeed. Click here to donate via PayPal or contact davehillonlondon@gmail.com. Thank you.