The City of London Corporation looks set to put the lid on the proliferation of skyscrapers across the Square Mile, judging by new proposals, prompted by Sadiq Khan's London Plan requirements, which were unveiled by a Guildhall sub-committee yesterday.
New policy for the Corporation's Local Plan, its blueprint for future development in the City, would restrict the building of new towers to just two areas deemed to be "less sensitive" to tall building development than the rest of the Square Mile – the existing City Cluster, already home to some of the tallest buildings in the capital, and the Holborn and Fleet Valley neighbourhood east and west of Farringdon Road.
The proposals follow detailed assessments plotting the likely impact of more towers on the historic area's character and heritage, including the setting and protected views of St Paul's Cathedral and the Tower of London. This is in line with City Hall's directions to boroughs to designate areas suitable for tall buildings and set out appropriate heights for new developments.
However, those hoping for an approach similar to that taken recently by councillors in Paris, who have imposed a 37-metre or 12-storey limit on new buildings in the city, or even the adoption of Mayor Khan's prescription of 18 metres, or six storeys, as the starting point for defining a building as "tall", may be disappointed.
The Guildhall planners' report says that only "small pockets" of the City as it is have building heights at or around six storeys, while much of the Square Mile already stands at 50 to 75 metres or 15 to 21 storeys.
It states that its own existing tall building definition of greater than 75 metres should be retained, being the level, given prevailing heights, "where buildings may have significant visual implications and could result in a significant change to the skyline" and makes clear that 75 metres is "not a maximum".
Individual developments should still be subject to detailed scrutiny, the report says, and even within the City Cluster and Holborn and Fleet Valley areas "the policy will recognise that tall buildings may not be suitable on all sites and that further analysis would need to be undertaken to consider local and strategic impacts of any proposed tall buildings," the report says. But with Guildhall planners recently reporting they "could not be busier", these two area are likely to see continuing high-rise development.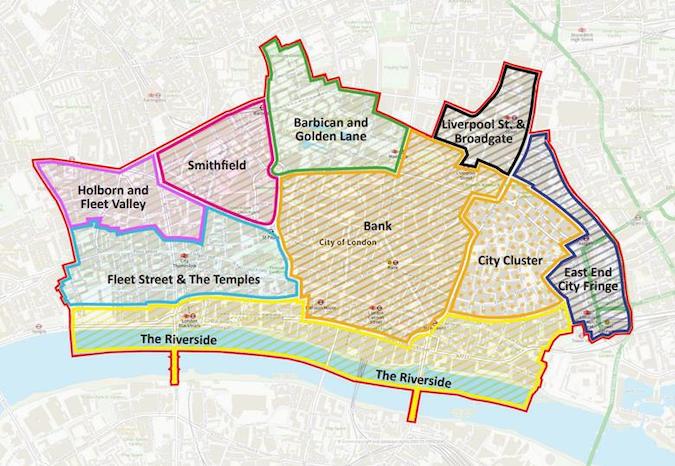 Alongside six consents granted for buildings of between 75 and 309 metres – the latter just one metre shorter than the Shard – in the past two years, two applications are pending and a further four are expected later this year, reflecting continuing demand for high-quality Grade A office space, according to the latest tall buildings survey from New London Architecture. Potential new sites have been identified by the Guildhall, but are currently being kept confidential.
A separate new policy would offer more protection from "unacceptable impact", including on daylight levels, to the Grade I listed Bevis Marks synagogue in the heart of the City Cluster behind the Gherkin tower. Opened in 1701, Bevis Marks is the oldest synagogue in the UK in continuous use.
The committee also took a first look at proposals to tackle the risk of older office space of poorer quality becoming increasingly difficult to let due to new sustainability requirements to be introduced from 2027 and a continuing demand for "Grade A+" space – the so-called "flight to quality".
Analysis for the Guildhall by consultants Arup and Knight Frank predicted continued overall growth in demand for office space in the Square Mile up to 2042, but also some "softening" as firms "right-sized" over the coming five years or so, alongside the growing challenge of "stranded assets".
"It's very much a mixed picture," Arup director Matthew Dillon told the committee. "We wouldn't want anyone to take away from this that we are saying everything is going to be great. Intervention is needed to allow for fewer obstacles for that older stock to be updated."
That would mean relaxing requirements for changing the use of poorer quality offices for which upgrading was too expensive, including what planners described as the "onerous viability assessment process required to show it isn't financially feasible to retain a building in office use". Alternative uses could include hotels, education and cultural facilities, they suggested.
Yesterday also saw the launch of a new "brand and website" designed to showcase the Square Mile's consumer and leisure offer, another sign of the Corporation's efforts to move beyond the nine-to-five and redefine itself as a "thriving, seven-day-a-week destination", according to Guildhall policy chair Chris Hayward.
A public consultation about the City's full Local Plan proposals will take place early next year.
Twitter: Charles Wright and On London.
On London and its writers need your backing. Give £5 a month or £50 a year and receive in return the weekly newsletter On London Extra and (at no additional charge) invitations to events featuring eminent Londoners. Pay using any of the "donate" buttons on the site, by becoming a paid subscriber to my Substack, or directly into the company bank account. Email davehillonlondon@gmail.com for details. Thanks, Dave Hill.