For now at least it seems that London, followed by the rest of the country, is past the very worst. The most recent figures for people in hospital with Covid-19 symptoms confirm that although London still has the highest number in Britain the figure is continuing to fall steadily and, in the word of Deputy Chief Medical Officer for England Jenny Harries yesterday, "markedly". Below is a screen grab of the slide shown at yesterday's Downing Street briefing.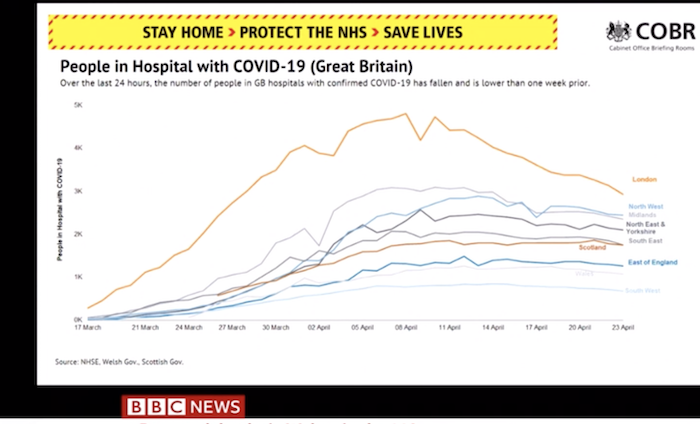 The number of deaths per day in London hospitals where the coronavirus was found to be present has also maintained a general downward trend, albeit an uneven one. This is shown by the latest graph of NHS England data published by the Greater London Authority, which covers the period up until Thursday (two days before this article was published). Note that the bars for the most recent five days are likely to grow taller. And don't forget that the total number of Covid-19 related deaths in London hospitals is still rising – as of Thursday it had reached 4,426.
What other trends are official figures showing? The GLA is also publishing (in the London Datastore) figures from the Office for National Statistics (ONS), which cover all deaths, not only those that take place in hospitals. They are not as up to date as NHS England's figures, but currently do go up to the 10 April. The chart reproduced below shows the percentages of Covid-19 related deaths in London that have happened in care homes, at home, in hospices and elsewhere as well as in hospitals. The vast majority – 84 per cent – have been in hospitals, but as of two weeks ago, care home deaths had accounted for a significant nine per cent.
And here is one other graph of ONS stats that might be very significant, given that the NHS, doctors and charities have begun urging people who need medical care for reasons other than the virus not to be deterred from seeking it. The graph shows that the total number of deaths to which Covid-19 did not contribute rose in three consecutive weeks after Covid-related deaths began in significant numbers and the lockdown was imposed.
It seems reasonable to worry that some people who might in normal times have sought and received medical help for various conditions that prevented them from dying have not been doing so since the emergency took hold. We might hear more about that before long.
OnLondon.co.uk is doing all it can to keep providing the best possible coverage of  London during the coronavirus crisis. It now depends more than ever on donations from readers. Individual sums or regular monthly contributions are very welcome indeed. Click here to donate via Donorbox or contact davehillonlondon@gmail.com. Thank you.