London could be the first UK region to be passing an initial peak of coronavirus infections, with the number of people currently being treated in the capital's hospitals having fallen steadily for seven days in a row.
The latest NHS England figures show a continuing drop from high points of just under 5,000 hospital cases earlier this month to below 3,500 in recent days. BBC London has reported that there are now more people leaving London's hospitals having recovered from the illness than are being admitted to them.
NHS England figures as published on the Greater London Authority website also show that the numbers of deaths per day recorded in London's hospitals has also been on a generally strong downward trend (graph below), with an overall fall from just under 200 on 8 April, though those for the most recent days could be revised upwards due to delays in reporting them.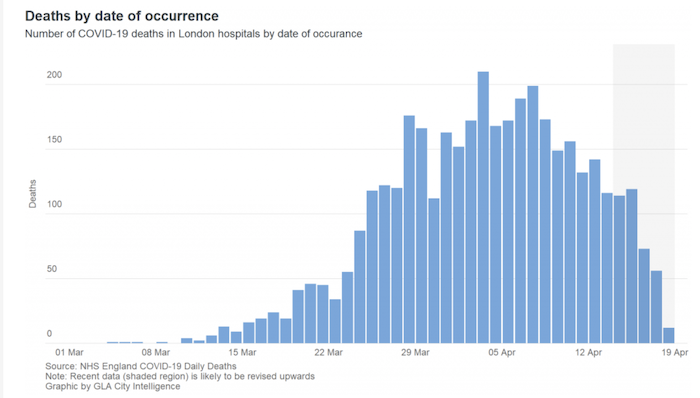 Cautious optimism about the position in London was expressed at Sunday's Downing Street press briefing by deputy chief medical officer Dr Jenny Harries and a senior doctor at a London teaching hospital writing anonymously in the Evening Standard yesterday said "in London the worst is past".
Despite the encouraging trends, London continues to have the largest number of current hospitalised Covid-19 cases of any NHS region in England and to have had the highest overall number with 21,654, followed by the Midlands (east and west figures combined) with 15,038, the north west with 14,328 and the south east with 12,878.
The London NHS region has also seen the largest number of deaths in hospitals where Covid-19 was found to be a factor, with 3,906. The next highest recorded figure is for the Midlands, which had seen 3,003 as of yesterday.
The latest figures, which do not include coronavirus-related deaths and cases in care homes or the wider community, appear to be bearing out London Mayor Sadiq Khan's view, expressed on 8 April, that the London peak was "probably a week and a half away". The Mayor also said then that he believed "we are nowhere near" being in a position to start lifting restrictions on movement and social mixing.
This week has seen the start of tighter controls on the boarding of London's buses to help protect bus drivers and the Mayor is urging the government to change its guidance on the use of non-medical face coverings by members of the public in situations where they cannot keep a safe distance from other people.
Main image screen grabbed from BBC London.
OnLondon.co.uk is doing all it can to keep providing the best possible coverage of  London during the coronavirus crisis. It now depends more than ever on donations from readers. Individual sums or regular monthly contributions are very welcome indeed. Click here to donate via Donorbox or contact davehillonlondon@gmail.com. Thank you.