Leytonstone was characterised by Daniel Defoe as a pleasant country retreat for wealthy City gents, a place of escape from the capital he described as a "great and monstrous thing". That was in 1722 when "Layton-stone" as Defoe called it was a rural village. Today it demonstrates how London's 21st Century development has been moving east, a destination to which progeny of Hackney migrate in search of homes they can (just) afford and where incoming Londoners might settle when once they've have fetched up in Islington. In between those two eras lived the Hitchcock family, including a member of it called Alfred.
Born in 1899 above his father's grocery shop at 517 Leytonstone High Road, Alfred Hitchcock was, as English Heritage sweetly puts it, "an isolated, tubby child with few school friends". Reading that brings a fresh and sympathetic dimension to the timeless brand image of the famous film director as a mountainous genius of the silver screen with a taste for the sinister and large cigars.
It seems at odds, though, with the depiction of young Alfred in a mosaic at Leytonstone Underground station sitting self-confidently on a horse outside the shop he lived above. But then you read that the mosaic in question reproduces a photograph of Hitchcock's dad with, in fact, not little Alfred but his older brother William astride a horse and your protectiveness towards the mite who would grow up to direct Psycho and The Birds returns.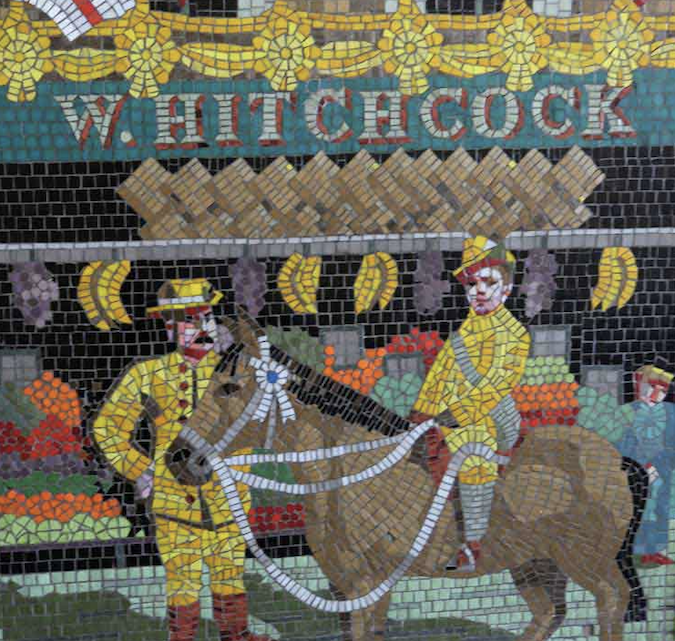 This apparent minor re-write of Leytonstone history – the plaque above the artwork unambiguously refers to "young Alfred outside his father's shop" – does not diminish the mosaic's charm or that of the 16 others that line the walls of the sloping walkway that connects the station with Church Lane and, just beyond it, the High Road where the photograph was taken. Accounts of how the mosaics came to be report that they were commissioned by Waltham Forest Council in 1999 – one hundred years after Hitchcock's birth and 19 after his death – and created by the Greenwich Mural Workshop. They were unveiled in May 2001.
In total, 80,000 tiny tiles portray three scenes from Hitchcock's life and career – including a beauty of him lounging with Marlene Dietrich – and reproduce scenes from 14 Hitchcock flicks. How did they decide which ones to pick? Hitchcock directed over 50 films. The exhaustive Hitchcock Wiki lists 10 as "set entirely or predominantly" in London but only one of these, Number 17, a comedy thriller released in 1932, is honoured by a Leytonstone mosaic. The others are:
As other have observed the narrow two-way ramp, separated by a metal rail, makes it difficult to linger by the mosaics without getting in the way of Tube passengers arriving or departing. That, in turn, makes photographing them difficult too. A good way admire them all without taking a trip along the Central Line is to view them here. A personal favourite is a half-funny scene from West By Northwest with Cary Grant fleeing a crop-spraying aircraft.
Collectively, they add uniqueness and some extra lustre to a yellowing but not unattractive station, which was built in its present form in fits and starts either side of World War II, during which it was used as an air raid shelter and, in the 1944, hit by a German bomb.
It finally opened for Central Line services in 1947, the year in which Hitchcock's courtroom drama The Paradine Case came out. It was set in a London courtroom but shot almost entirely in California with a few external shots of the Lake District. But one of Hitchcock's very earliest movies, a silent, is London through and through. Watch The Lodger: A Story of the London Fog (1927) in full below:
On London strives to provide more of the kind of  journalism the capital city needs. Become a supporter for just £5 a month. You will even get things for your money. Details here.