Two things did not surprise me the other Sunday when I tubed it to the last stop on the Hammersmith & City and spent some time in Barking: one Barking's people are (still) far more various than the town's past reputation as a heartland of seething white supremacists might unfairly (still) suggest; two, as far as I could see, Barking continues to lie beyond London's widening bicycle-and-sourdough belt, though that might not be the case for too much longer.
A lot of change is underway. Barking station's ongoing upgrade has reached a landmark stage. From the outside it looked DIY and temporary, but the project will help alter Barking for the long-term, bringing it and its residents closer to core of the capital's economy and vice versa.
On exiting, I turned right on to Station Parade and then the pedestrianised East Street, passing on my right low-rise blocks with shops at ground level and two floors of flats above, some of them very handsome, others with the makings.
At the end, at the junction with Broadway, an imposing building houses the Barking Supermarket, specialising in Afro-Caribbean and Asian foods. Round the corner children queued for a madrasah at the Islamic Centre and the Broadway Theatre drew breath between shows.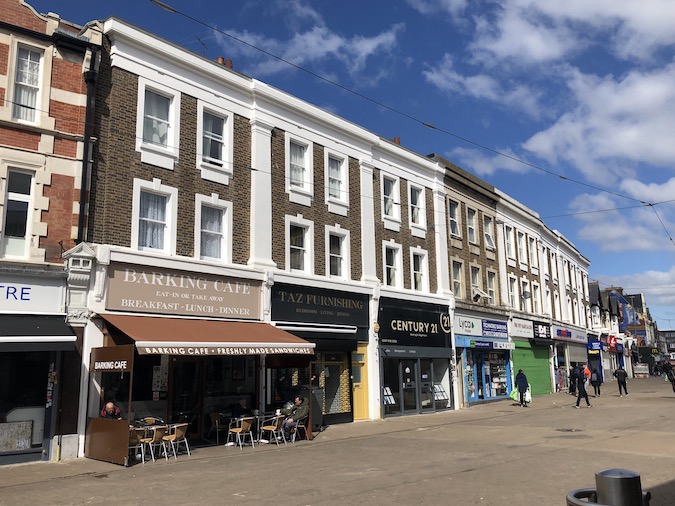 Across the street, a meeting of very old and brand new: the rectangular Abbey Green contains the ancient St Margaret's Church and what is left of Barking Abbey after Henry VIII had his way; on the south side, facing on to St Paul's Road, the border of an ambitious council-led housebuilding programme.
I crossed the green, I was then skirting the River Roding waterfront, its history, including one of the largest fishing fleets in the world, honoured by a circle of sculpted stones.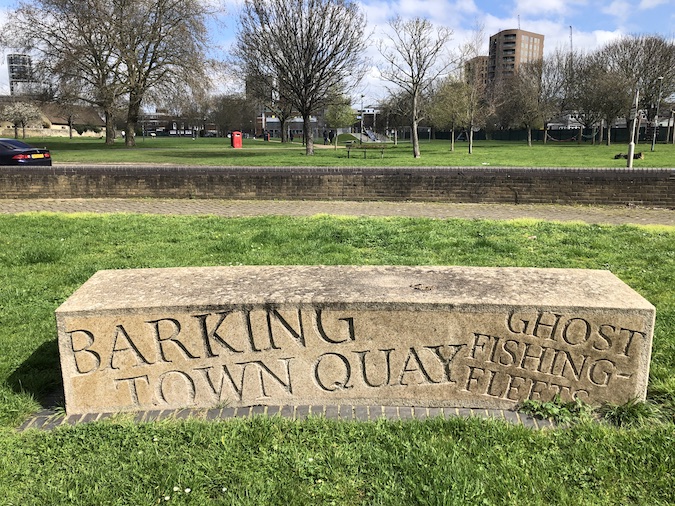 The Roding flows in from Essex and down into the Thames, forming Barking Creek as its arrives. Roding Riverside is shorthand for an area bisected by Abbey Road (no, not that one). Housing, new and newly-emerging, meets Victorian industrial survivors adapted for arts and leisure and a bespoke modern space for those same purposes within the Ice House Quarter. The name is a reference to fish storing facilities of the past.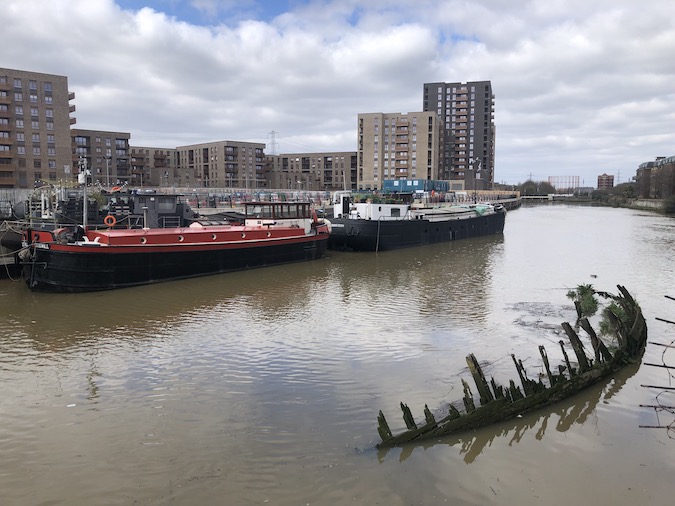 At the end of Abbey Road I came to some steps leading up to a Roding-side walkway. That was when I spotted the Bulgarians (top photograph). At least, I assume the people dining al fresco on a patch of an industrial estate outside the premises of the Bulgarian food shop were Bulgarian, or mostly so.
It wasn't a warm day, but they were game for gathering behind metal fencing and barbed wire beneath a sunshade emblazoned with the word Devin, the name of a Bulgarian spa town.
For a moment I was tempted to join them, or try to – it might have been invitation only and, in any case, I might have felt awkward and made them feel awkward too. I decided to just be pleased to see them, another tile in Barking's evolving cultural mosaic.
John Vane's novel Frightgeist – A Tall Tale of Fearful Times includes a scene set at Barking Riverside. Buy the novel HERE. Follow John on Twitter.