There is something peculiarly irritating about an abandoned Tube station. From what little I can recall of the world before the pandemic, it was generally agreed to be A Good Thing to make it as easy to use public transport as possible. Yet there are scattered across this city more than a dozen sites where you'd once have found a Tube station, yet no longer do. So why did they close, these ghost stations? And shouldn't we talk about bringing them back?
Some notes on definitions before we begin our tour. For the most part, I'm not including those stations which were immediately replaced on an adjacent site, or which are still there, served by Overground or National Rail trains. I've also skipped over the rural branches of the Metropolitan and Central lines: we probably should bring some of those back, ideally surrounded with new housing, but the knowledge that there were once stations at Blake Hall or Brill seems to me like a comfortably different thing to the experience of walking past what is clearly an abandoned station in Zone 1 or 2.
With all that said, let's have at it.
BRITISH MUSEUM
Where? Central Line, one stop east of Tottenham Court Road.
When? 1900-1933
Why closed? When the Piccadilly line opened in 1906, it sited its Holborn station at the junction with Kingsway, barely 100 metres from British Museum station. This was obviously silly and annoying, but the Piccadilly couldn't move because it would have mucked up the branch to Aldwych. So eventually the Central line gave into the inevitable, built new platforms at Holborn, and closed British Museum.
Still there? Nope. The site is now an office building next to the My Old Dutch pancake house.
Worth resurrecting? Completely and utterly pointless, and I've broken my own rules immediately. Cool name, though.
KING WILLIAM STREET
Where? Original city terminus of the Northern Line, just south of Bank junction
When? 1890-1900
Why closed? When the City & South London Railway was extended northwards, a chunk of the line was rebuilt on a new alignment, and King William Street replaced by Bank.
Still there? Nope: the site's now a Little Waitrose.
Worth resurrecting? You'd have to really hate Waitrose.
SHOREDITCH
Where? The northern terminus of the East London Line, halfway up Brick Lane.
When? 1876-2006.
Why closed? The ELL was extended and swallowed by the new London Overground network. But that meant getting it across the mainline out of Liverpool Street, which in turn meant diverting it away from Shoreditch.
Still there? Actually, yes, but you'd struggle to identify it as such, and I say this as someone who passed it every day for two years without realising that the thing behind the wall of graffiti was once a Tube station (photo from 1994 below).
Worth resurrecting? Not really: the shiny new Shoreditch High Street station is only about 300 metres away. 
MARK LANE (called Tower Hill after 1946)
Where? District and Circle, one stop east of Monument.
When? 1884-1976.
Why closed? It wasn't big enough and there wasn't any room to expand. So, a new, bigger station was built 200 metres away, on the site where the short-lived Tower of London station had stood between 1882 and 1884.
Still there? A bit: squint and you can still see the eastbound platform.
Worth resurrecting? How lazy do you imagine the people who use Tower Hill are? No.
ST MARY'S
Where? District and H&C lines, between Aldgate East and Whitechapel.
When? 1884-1938.
Why closed? Cost-cutting: when Aldgate East was relocated slightly to, well, its east, its new, eastern entrance was close enough to St Mary's to render it surplus to requirements.
Still there? Nope: destroyed during the Blitz in 1940.
Worth resurrecting? I can think of no earthly reason why. 
DOWN STREET
Where? Piccadilly line, between Green Park and Hyde Park Corner.
When? 1907-1932.
Why closed? Short version: nobody bloody used it. The surrounding streets were a) residential and b) populated by the sort of P. G. Wodehouse characters who wouldn't be seen dead on the Tube, so as early as 1909 some trains were skipping it. When the line was extended, a couple of the quieter stations were closed to cut journey times.
Still there? Yes, actually: there's a newsagent's that looks, well, like a Piccadilly line station. During World War II, Winston Churchill and his Cabinet briefly used it as a bunker.
Worth resurrecting? It's only 400 metres from the stations either side, which is a five minute walk – but it's not completely pointless.
LORDS and MARLBOROUGH ROAD
Where? Two stops this time: on the Metropolitan line, between Baker Street and its defunct platforms at Swiss Cottage.
When? 1868-1939.
Why closed? The need for speed. By the 1930s, the stretch of Metropolitan line between Finchley Road and Baker Street was extremely busy with trains to points northwest. To free up some space, the Stanmore branch was diverted through a new, deep level tunnel and joined to the Bakerloo line. Since that had stops at Swiss Cottage and St John's Wood, the stations serving the same area on the Met closed, to allow trains to move faster.
Still there? Marlborough Road now houses a power station; Lord's is simply gone.
Worth resurrecting? Marlborough Road was replaced by the nearby St John's Wood, but the site of Lord's is in a bit of a tube desert, 600 metres from the nearest station. That's probably not enough to justify building a whole new station and an extra stop on the express Metropolitan line, alas. 
ALDWYCH
Where? Southern end of a branch of the Piccadilly line from Holborn.
When? 1907-1994
Why closed? The lifts needed replacing and there weren't enough passengers to justify the cost.
Still there? Yes, you can still see it. You can even, thanks to the London Transport Museum, go on a tour, if you fancy, though there's a bit of a waiting list. 
Worth resurrecting? Not in itself – Temple is just round the corner, and frankly, if you want to nip down Kingsway, there's no shortage of buses, and it's only a five minute walk. Might make a nice stop on an oft-discussed extended shuttle from Holborn to Waterloo, mind.
SOUTH KENTISH TOWN
Where? The High Barnet branch of the Northern line, slightly north of Camden Town.
When? 1907-1924.
Why closed? A strike at a local power station. When the lights came back on, management decided that so few people used it it wasn't worth re-opening it anyway. 
Still there? Yes, it's home to a branch of Cash Converters.
Worth resurrecting? Maybe. It's under 10 minutes walk from Kentish Town or Camden Town, and half that from a couple of Overground stations – but it might help relieve pressure on Camden at busy times, so it's not completely ridiculous.
CITY ROAD
Where? The Bank branch of the Northern line, between Old Street and Angel.
When? 1901-1922.
Why closed? The tunnel on the Bank branch was widened to allow bigger Standard Stock trains to run. Not enough passengers used City Road to make it worth expanding the caverns which held platforms, so when the station closed to allow the widening to go ahead they never reopened.
Still there? Not since the 1960s, though the lift shaft remained until only a few years ago, when Islington council demolished it.
Worth resurrecting? Not enough to justify getting rid of the excellent Bunhill 2 Energy Centre which now occupies the site. In some ways this is a shame, as the immediate neighbourhood is miles from the nearest station and plays host to quite a large number of new flats.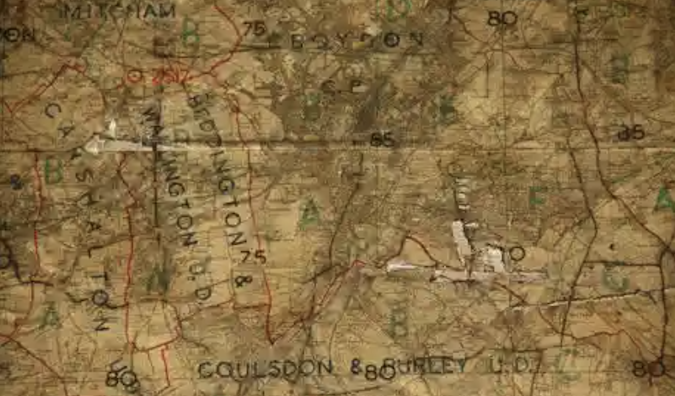 BROMPTON ROAD
Where? Piccadilly line again, between Knightsbridge and South Kensington.
When? 1906-1934.
Why closed? Another one that went because hardly anyone used it, especially after a new, southern entrance to Knightsbridge ate into its catchment area. Like Down Street – and in contrast, one suspects, to City Road – this was because the locals were far too well-heeled to consider travelling by Tube.
Still there? Yep: the London Transport Museum is also promising tours on Zoom. (Photo of old Underground map inside Brompton Road above, taken in 2012) 
Worth resurrecting? Quite possibly. The gap between Knightsbridge and South Ken remains one of the longest in zone 1, which is annoying for the rest of us, even if the neighbours are fine with it. 
YORK ROAD
Where? Piccadilly line – again! Honestly, that thing must have been like a branch of the Paris Metro once – between King's Cross and Caledonian Road.
When? 1906-1932.
Why closed? Another loss to the extension of the Piccadilly line. To be fair, York Road was basically in an industrial estate so little wonder no one used it.
Still there? Yep: you can see the building on the eastern side of what is now York Way.
Worth resurrecting? York Road has by far the strongest case for re-opening, for it now sits opposite the bustling Kings Cross Central development. It would need a lot of investment to bring the station up to modern standards – but when you get out of the Everyman cinema and find King's Cross St Pancras is closed due to overcrowding again, it's hard to shake the idea it might be worth it.
Jonn Elledge is a freelance writer. Follow him on Twitter. Main photo, London Transport Museum. Photo of Shoreditch station by Ben Brooksbank.
Editor's Footnote: In 2015, TfL tried to find a developer to make alternative use of Down Street station, but without success.
OnLondon.co.uk exists to provide fair and thorough coverage of the UK capital's politics, development and culture. It depends greatly on donations from readers. Give £5 a month or £50 a year and you will receive the On London Extra Thursday email, which rounds up London news, views and information from a wide range of sources. Click here to donate directly or contact davehillonlondon@gmail.com for bank account details. Thanks.