Tonight, the Clapham Grand is set to host is largest ever concert – live-streamed to an estimated 5,000 fans. Frank Turner, who has been energetically campaigning for Save Our Venues and performing his Independent Venue Love shows, and fellow folk singer-songwriter Beans on Toast (Jay McAllister) will be playing from the stage of the former music hall, with Billy Bragg plus a line-up of mystery guests performing by satellite link-up. Along with a 12 hour danceathon on Sunday, a circus show on Monday and a series of other online extravaganzas, it's in aid of raising £50,000 by the end of the month to sustain the Grand through the Covid crisis.
Earlier this week they hit the £20,000 mark. "I've been blown away by the response" says the SW11 venue's manager Ally Wolf, an old friend and creative collaborator with many of tonight's performers. "We're offering rewards, drinks, tickets for future gigs. The reality is, people are giving out of the goodness of their hearts because they love what we do and that's a lovely thing to see". He's also blessed with celebrity support, from a roster of pop acts he has brought to the Grand like the Vengaboys, B*Witched and Liberty X, to Brixton-born Sir John Major. The former Prime Minister appealed to "everyone who cares for Music Hall and Variety to offer any help they can to this wonderful and venerable old theatre".
"The Clapham Grand is a wonderful and important space, with over 120 years of accumulated history" Frank Turner says. "The show tonight will see a gathering of friends from the scene which birthed my career, back at [Holloway Road venue] Nambucca in the mid-2000s. We're all coming together to use our music and our friendship to help out an institution which needs to survive".
There's been no offer to waive the roughly £50,000 a month rent from the building's Russian property developer owner, meaning that even after the fundraiser more will need to be pieced together with loans and other arrangements. Wolf says he isn't angry about this: "business is business". What's needed now, he suggests, is for the government to step up on the issue of commercial rents and bail out banks to bail out landlords and tenants alike. He backs the National Time Out campaign's call to offer landlords a deferral on their loan repayments while giving tenants a rent holiday, to give businesses their chance to make up shortfalls while simultaneously meeting upcoming rent demands.
Wolf reckons there's a two-week window to pass legislation to protect the live music and nightlife side of the hospitality sector and head off crippling financial issues. He urges policymakers to think realistically. When it comes to music venues, "trading with distances is impossible" he says. "You can't expect people to stick to physical distancing of any variety". And while bars and restaurants might be able to make it work at a push with physically separated environments, he says it's financially not an option to turn a destination like the Grand from a 1,200 capacity space to one of just 200. Thus, the conditions for reopening live music venues and nightclubs need to be "all or nothing" – welcoming customers back at capacity, with excellent hygiene arrangements and structural adjustments like screens, or delaying opening until it's safe to accommodate the numbers needed.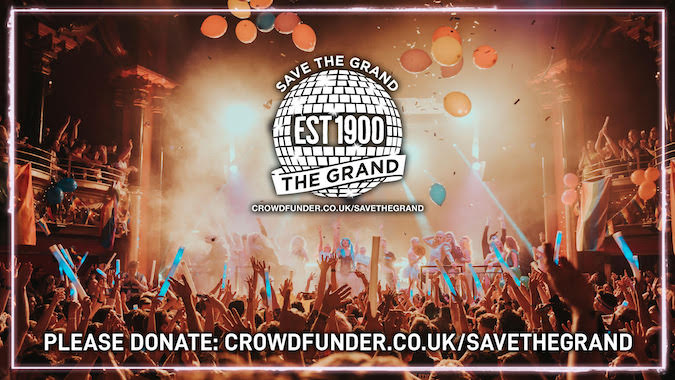 The Grand stands out as one of last venues of its size and type still in independent ownership "programming what it was meant to do" as a variety theatre: a total mix to suit all the family or raucous house-share, from club and drag nights to comedy to Disney films and bingo. The venue's versatility is a point of pride for Wolf, though he admits that sitting outside an ecosystem can make it hard to communicate to strangers what it's about.
A passionate music fan, impresario and DJ, Wolf's career has taken him from obscure Southampton nightclub Lennon's, where he booked Maximo Park, the Kooks and the Maccabees in the early 2000s, through a deal for the band he managed, SixNationState, with Snow Patrol's record label Jeepster, to acclaimed, quirky gaming/clubbing mash-up Rebel Bingo. Calling tonight's event Grand Aid consciously echoes the Van Aid fundraiser Wolf held in 2008 to replace a vehicle crashed on tour with Beans on Toast, the line-up for which included Turner, Jay Jay Pistolet, The Vaccines and Mumford & Sons. Five acts from Van Aid will be playing tonight.
Wolf got the job at the Grand in 2016, when it was on its last legs as a clubbing venue. In the past four years he's built up the variety programme and he was just turning his focus onto the live music offering when the pandemic struck. 
He thinks the Grand can emerge from the crisis "like a phoenix from the flames" as a stronger venue, albeit with major financial headaches in the years ahead. And he's guardedly optimistic about the prospects of the "robust, creative, resilient and passion-filled" live music and events industry nationally, which has seen much community-minded rallying round. "Everyone's fighting for everyone to get the best result," he says (though he adds "it would be disrespectful to businesses who won't make it through to say it's all going to be great, because it's not.").
He worries that gig venues below a certain capacity will get lost in the debate, and especially nightclubs that can be outright resented as a nuisance and a blot on the high street. "They get the least amount of support. Nightclubs built as an escapist form of socialising on a Friday and Saturday night – there's no-one holding up their cultural worth". He feels for them, since much of the Grand's programming, including its bingo and drag nights, has the same mass entertainment dynamic: "They sell thousands and thousands of tickets for me and give people an incredible experience."
Amid the fundraising and campaigning blitz, he encourages London clubbers to show their appreciation directly. "Have a think about where you've been, where you had an amazing time and why. Look them up, drop them a line, ask them how they're doing. Someone behind the scenes is doing it for the love and passion and will really appreciate it…I know that getting messages like that, I think wow: that's why we do this".
Photo by Joshua Neicho. Follow the Clapham Grand on Twitter. Donate to its crowdfunder via here.
OnLondon.co.uk is committed to providing the best possible coverage of London's politics, development, social issues and culture. It depends on donations from readers. Individual sums or regular monthly contributions are very welcome indeed. Click here to donate or contact davehillonlondon@gmail.com. Thank you.