It's coming out of the ground now in the Olympic Park, emerging as clumps of cranes, stumps and hoardings beside the Waterworks River, which flows past Zaha Hadid's curvaceous Aquatics Centre, where Ellie Simmonds and Michael Phelps made Olympic Games history in 2012.
The East Bank development, described by the London Legacy Development Corporation (LLDC) as "a new powerhouse for innovation, creativity and learning on Queen Elizabeth Olympic Park", will be the next and, arguably, the most transformative component of that core London 2012 mission of revitalising a vast stretch of the east of the capital following decades of de-industrialisation and decline.
Writing for On London last October, LLDC chief executive Lyn Garner described the East Bank as the most ambitious project of its kind for a generation, one which is already producing social and economic benefits. She also characterised it as an increasingly visible realisation of London's potential to recover from the Covid-19 crisis.
What is the story of the East Bank so far? How is it addressing big questions rightly asked about any big urban redevelopment? Questions such as: Does it have the right elements? Will the financial investment be justified? And in this case, will east Londoners who have long lived at a geographical and sometimes psychological distance from the glories and opportunities mostly found elsewhere their city really gain from East Bank's arrival?
On London will seek to follow the project's progress in the coming months and years. This article intends to serve as a basic explainer and primer. New readers, start here…
*****
The finished East Bank will have five main components. A finger of land lying along the eastern bank of the Waterworks River to the north of Hadid's creation will contain four major institutions:
a new, single campus for University of the Arts London's London College of Fashion, which is currently spread across six different sites; a new home for the BBC Music Studios, which are to move from their century-old base in Maida Vale; a new branch of Sadler's Wells dance theatre, to be called Sadler's Wells East; and a new branch of the Victoria and Albert Museum, to be called V&A East (a further, separate and extra piece of the V&A will open across the Park in Here East beside the Lea Canal – originally the Games media complex – where part of the museum's collection will be stored).
This prestigious quartet is be joined in the East Bank by a whole new campus of UCL (University College London). UCL East is vigorously taking shape on both sides of the river close by. To the south of the Aquatics Centre, a mixture of student accommodation, academic, retail and community space is being built on a site called Pool Street West.
On the other side of the river, directly opposite, a larger site called Marshgate (pictured below) will have the same components, but be predominantly for academic uses. It will emerge in stages right next to the Orbit Tower and beside the London Stadium, now the home ground of West Ham United and formerly the main Olympic Stadium, where Mo Farah and others won British athletics golds nine years ago.
That East Bank line-up indicates of itself what a huge undertaking the project is and has always been, both in its own right and as a vital part of honouring the Olympic bid commitment to provide the lasting post-Games legacy. An initial version of it went public in 2013, when the then Chancellor, George Osborne, pledged national government support for "a major new higher education and cultural district", with UCL and the V&A already on board.
The then Mayor Boris Johnson dubbed it "Olympicopolis", a name inspired by South Kensington's cluster of museums around Exhibition Road – the V&A among them – which was known as Albertopolis at the time of its creation in the 19th century, inspired by after Queen Victoria's husband Prince Albert who was a driving force behind it.
Two years on, Sadler's Wells and the College of Fashion had joined the list of project partners and the Washington DC-based Smithsonian Institution was interested too. But a lot was still to change. In June 2018, Sadiq Khan unveiled his own version of the "new powerhouse of culture, education, innovation and growth," with the BBC now joining the ranks, and V&A and Smithsonian billed as forming a partnership.
Khan's revised scheme also had a new name: East Bank was born. And that finger of land beside the Waterworks River was christened in its own right as Stratford Waterfront. By now, housing was planned for that space as well, on the section furthest from the Aquatics Centre beyond the college, BBC, V&A and and Sadler's Wells. Khan called East Bank "the most ambitious project of its kind for decades", although it was a little shorter and smaller than before due to – unlikely as it may seem – protected views of St Paul's from Richmond Park being threatened by the original plans.
So far, so good to that stage, although at the start of last year Smithsonian announced that it had scaled back its plans to open its own space with the new waterfront V&A and in September the joint endeavour was cancelled. By then, of course, Covid-19 was upon us, with inevitable implications for East Bank's construction.
Not all of the buildings are being built by the LLDC. The UCL East section is being developed by UCL's own property wing, UCL Estates, backed by £100 million from the government – two-thirds of the £151 million it committed to the East Bank as a whole in 2018. Work on the Marshgate site began in July 2019 and despite having to stop for four weeks last spring, is now back on schedule, as is progress with Pool Street West, which got underway at the beginning of last year.
But the virus and design complications have slowed progress on the sites the LLDC is developing, contributing to rising costs for the taxpayer. Financing has come mostly from the Mayor, with an initial £385 million pledged in 2018 and more since. London Assembly Members heard in December that the total cost projection has risen to £628 million while the budget at that time stood at only £513.5 million.
UCL East's Pool Street West site is due to open next October and the (very large) Marshgate in 2023. The London College of Fashion campus hopes to open at the same time and other partners follow. It all sounds extremely exciting. But how widely is that feeling shared in the emerging East Bank's near neighbourhoods? How will the East Bank work for them?
*****
The Director of UCL East is Professor Paola Lettieri. She stresses that this major new chapter in the university's history, unfolding as it approaches its 200th anniversary, is squarely in the tradition of its "very particular commitment to society". Founded as London University in 1826, it was the first such institution in the capital to be secular and to admit students of any religion, and it believes itself to be the first university in England to admit women. Inspired by radical ideas, the university's Bloomsbury location was, at that time, seen as an outlying eastern part of the city, much as Newham, the borough East Bank falls into, is today.
Lettieri describes UCL as fundamentally engaged with the "big challenges" of modern times, listing these as "public health, inequality, economic development, social justice, cultural understanding, ecological transformation and, of course, sustainability" – issues of obvious and urgent relevance to a part of east London that has been so badly hurt by the pandemic. She underlines that a desire to build links with local people is embedded in the architecture of the new campus, describing "spaces in which the community will be welcome to work with us, and also to book spaces that they can use for their own activities and meetings."
UCL East's academic offer too is being shaped with local people in mind. "We are, as we speak, developing the content of some new modules we will be launching to provide meaningful opportunities for the community to work with us, whether this is on research projects or outreach activities," the professor says. "We are using UCL East as a catalyst for positive change and developing a new approach to community engagement." Provision of training and skills and service procurement are also to be tailored to that end. "Thousands of hours" have already been spent with east London school pupils and teachers as part of a range of engagement activities, Lettieri adds.
Another part of the East Bank engagement architecture is the Foundation for Future London, a charity established in 2015 to raise and distribute funds and help weave the East Bank into the fabric of east London lives in the four boroughs – Newham, Tower Hamlets, Hackney and Waltham Forest – whose meeting point the LLDC's territory straddles.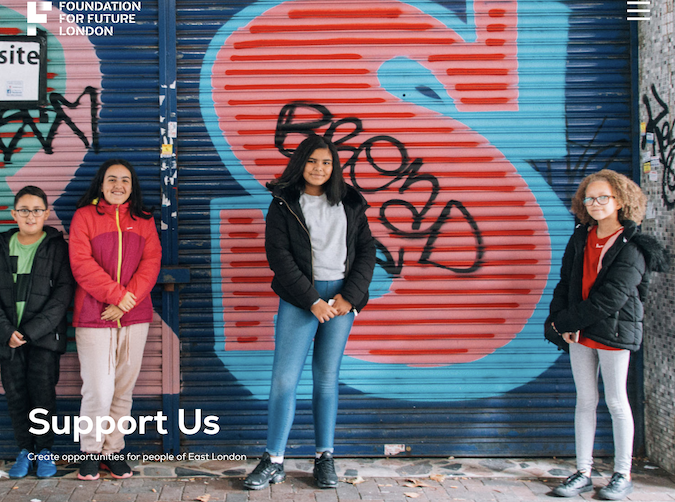 The Foundation's chief executive, Maria Adebowale-Schwarte, leaves no doubt about the potential she sees: "It's a big deal, what we're doing. I think it's incredibly exciting." Armed with £10 million from its founding partner Westfield Stratford City, the palatial shopping centre by Stratford station that grew with the Olympic Park, and a further £1 million from the City of London, she and her small team have been resourcing training, arts and business projects with an array of local schools, community groups and other organisations.
"Regeneration can be a good thing," she says, "if it is about ensuring that people get jobs and keep them and can create businesses and opportunities." She emphasises the principle of "co-designing" projects, meaning they are defined and shaped from community level upwards, rather than using the opposite "Victorian-style" approach.
But when asked to what extent local people feel the East Bank, indeed the Park as a whole, truly belongs to them Adebwale-Schwarte is frank: "I'll be honest, I think we all have more to do, all the partners in the East Bank, to make sure people feel like they belong." She recalls the amazed story a colleague told her in her early days with the Foundation of some local people believing they would have to pay to enter the Park's grounds, "just because it was so nice".
It might be that the pandemic has had the effect of eroding such misunderstandings. "Covid has led people to actually go out and go to spaces they wouldn't normally have done. It has changed how people feel about the Park. They've discovered that it's a great space to be in." Part of the art of the Foundation's task is to ensure that a new cultural quarter with the same global reach as South Kensington's museums or the South Bank is firmly rooted in its own locality too.
*****
There will be plenty of debate about the East Bank in the months and years to come, not least concerning its cost (a recent report on LLDC finances by the Assembly's Conservative-chaired budget and performance committee has issued some dire warnings). But history will forgive budget over-runs if London's newest cultural quarter ends up emulating the glories of its older ones. East Bank's progress is a reminder that the eastward growth of the capital continues and that culture, education and innovation will be vital engines of the city's and the country's post-Covid recovery. Watch that space.
OnLondon.co.uk has been providing in-depth coverage of the UK capital's politics, development and culture since February 2017. It depends greatly on donations from readers. Give £5 a month or £50 a year and you will receive the On London Extra Thursday email, which rounds up London news, views and information from a wide range of sources, plus special offers and free access to events. Click here to donate directly or contact davehillonlondon@gmail.com for bank account details.