Resplendent in a suit of midnight blue, Rory Stewart arrived 15 minutes late, explaining that what he called his "strange and sinister" attire had been donned for an event he'd just come from that entailed sharing a stage with John Bercow – it seems the former House of Commons Speaker had had a lot to say. It's safe to assume that the function to which Stewart now turned his attention was less grand and also, perhaps, more satisfying: a gathering of around 50 people at the home of the Azbuka Russian-English Bilingual School in Studland Street W6, near Ravenscourt Park Underground station. It was the former warzone diplomat's latest staging post in his uphill City Hall charm offensive.
Stewart's ten-minute opening speech reprised motifs he's been deploying since early on in his London Mayor campaign, announced last October and cementing his uncoupling from the Conservative Party and re-birth as a roving Independent. The "key thing" about London is that it is "not one single place", he said, but "700 villages, each with its own identity". The challenge for him as Mayor would be "bringing those communities to life and bringing them together". Underlying this, he continued, are "three fundamental things we need to get right for London before we can make the human city of which we dream". He stressed that those three things are "quite basic": safety, affordable housing and transport.
Elaborating, he drew on a unifying thread of his campaign pitch: a promise to bring a relentless practicality to bear on getting those "quite basic" things done. Violent crime of many kinds has become too prevalent in the capital, he said, but "we can turn this around" – as prisons minister (from January 2018 until May 2019) he had driven down the levels of violence in jails by "getting the basics right". He said a public health approach is part of the answer, as is better ground-level engagement to turn people away from crime, but "don't let anyone tell you this can be done without [more] police on the streets".
On housing, his remarks were more limited and the more intriguing for it. He stressed the need for more affordable homes, for nurses and teachers, for families, for young and for old. "And we can deliver them," he said. "The mistake that has been made is to try to deliver it exclusively through the private sector. We have huge resources: public land, and the public should be leading the programme in delivering that affordable housing." Asked later to elucidate, he declined, explaining that a large housing policy announcement will be coming soon, and that he didn't want to give too much away.
With transport, Stewart underlined that he would seek to be very hands on, especially on "basic issues of management of things like roadworks". His "hero" and model for a good mayor is New York's former boss Mike Bloomberg who, Stewart said, had "all the way around the walls, big screens" showing him what was happening on the city's roads.
He then warmed to his "700 villages" theme. "I want to think of it in terms of creating a village hall in every one of those 700 villages," he said. By that he meant "a place which can function as a youth club, or as a community centre, a place where children can go to do their homework who may find themselves unable to do it in a noisy home. A place where great local people – people that you know – that champion an area can bring it together and tap into the extraordinary desire for volunteering." To close, he spoke of "delivering with energy and grip" and "laying the foundations to build a great new city. The way we do that is with you – with every single one of you – and above all, with less politics and more action."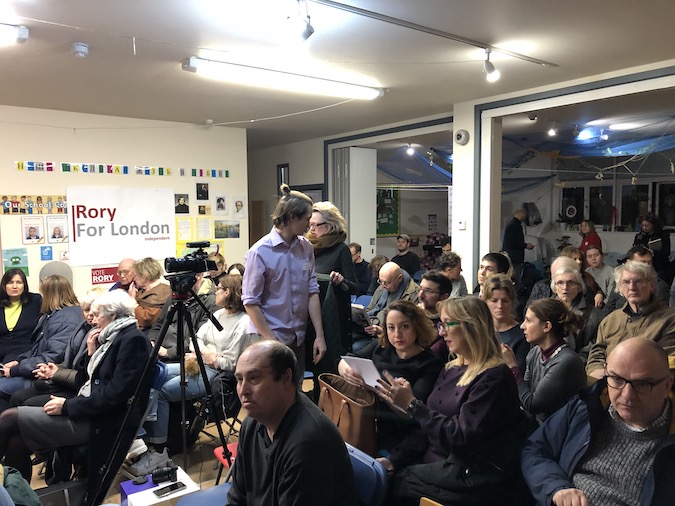 A youthful team of volunteers was on hand to recruit more to the cause – more door-knockers, leafleters, small sum donors. Stewart said he has 10,000 volunteers signed up, but he wants more and he needs them to be active. He told his audience, the bulk of it supportive, that "we are insurgents, we are underdogs," but that he really can win the election if he get his campaign "in front of enough people". The goal is to emerge as the main challenger to the incumbent, who, so far as can be told, looks to have a healthy lead: "If I come close to Sadiq Khan in the first round, the second preferences of the Conservative candidate are likely to come across to me and many of the Lib Dems' and Greens' votes. An Independent candidate is in a very strong position win in the second round".
The analysis is sound: that path to victory is steep and narrow, but it exists. In past mayoral elections, too much has been made of the importance of "second prefs" under the supplementary vote system, as too few have counted to enable a second-placed candidate to overtake the first round leader. Last time, Khan mopped up most of them, probably because Zac Goldsmith's shockingly negative Conservative campaign nauseated Liberal Democrat and Green Party first preference voters. This time, Stewart's candidacy could well split the Tory-leaning first preference vote. But if he does finish second he might indeed take the lion's share of what might be a much larger number of second preference votes in play.
His big problem, of course, is that although Tory candidate Shaun Bailey appears to be struggling and not having much fun, the Tory brand, albeit badly faded in London of late, is still a big one. The most recent opinion poll, published in November, found that Stewart, though new to the field, had made his presence felt, overtaking both Lib Dem Siobhan Benita and Green Siân Berry. Yet the gap between him and Bailey in second place was still large, with Khan bowling along way out in front. Benita and Berry will not be standing idly by either.
How far can Stewart go? The meeting in Hammersmith was both novel and familiar: novel, because Stewart himself is, with his background experience of yomping across his old parliamentary turf in Cumbria and pow-powing with all-comers in Iraq and Afghanistan; familiar, because Stewart is a professional political communicator – as polished as he is personable – and because some of the biggest and most persistent of London's problems might prove as resistant to his proposed remedies as they have been to those of every Mayor so far.
A feature of the evening was Stewart criticising Khan for continuing to allow public land owned by Transport for London and the Metropolitan Police to be sold as a means of closing those two public bodies' budget gaps (more on that here). He said he would prefer the land kept in public hands and a longer-term, perhaps less immediately lucrative approach, to developing those assets taken instead.
He also criticised London boroughs, Labour and Tory alike, of being too keen to extract "short term cash" from property deals, and was challenged about this by a clued-up audience member, who said that boroughs have become so starved of funds that they have little option about taking that route. And Mayors are dependent on government funds to help finance affordable homes themselves. Stewart replied that Mayors set down rules for housing heights, types and affordable ratios through the London Plan, but that wasn't quite answering the question. There's no escaping the dependency on high intensity private development to fund things the public purse struggles to cover – borough budgets, affordable homes, street improvements, even Tube extensions as in Nine Elms – only a debate about the terms of the trade-off.
Neither is there any avoiding the fact that London remains heavily dependent on national government for much else that it needs. Stewart bemoaned the aged state of Piccadilly Line signalling, but how will a new system be paid for if Boris Johnson doesn't fancy coughing up? Not very easily. As for rationalising the digging up of roads, let's just say Stewart wouldn't be the first to try.
Much to probe then, but also plenty to enjoy. Stewart's campaign is refreshing and his style, engaging. The patron of the school where the neighbourhood meeting took place is Chelsea & Fulham Tory MP Greg Hands, who just happens to be chair of Shaun Bailey's campaign – an indicator of how embedded Conservatism continues to be in his part of the city, despite its position being eroded in recent years. Yet it also a part of town where Stewart's pitch – localist, centre-ish, and often redolent of David Cameron's long lost Big Society ideas – could hold great appeal.
An Independent has, of course, won a London Mayor election before – the inaugural one in 2000, when Ken Livingstone, another highly individual politician who was big on "bobbies on the beat", triumphed over the big party machines. Khan is characterising the mayoral race as a two-horse one between himself and what he calls "Boris Johnson's Tory candidate". He might be right. But Rory Stewart cannot be counted out just yet.
OnLondon.co.uk is committed to providing the best possible coverage of the 2020 London Mayor and London Assembly election campaigns. The site is small but influential and it depends on donations from readers. Individual sums or regular monthly contributions are very welcome indeed. Click here to donate via PayPal or contact davehillonlondon@gmail.com. Thank you.