It was a remarkable scene, both strikingly symbolic and slightly odd. When Sadiq Khan was formally sworn in for his first term as London Mayor in May 2016, the ceremony took place before the packed pews of Southwark Cathedral. This time, after an election contest delayed for a year by the pandemic, the location was the open-roofed Shakespeare's Globe theatre before a Covid-sparse audience composed of press photographers, camera crews, City Hall officials and a handful of distinguished journalists.
The changeable weather rose to the occasion with a parting of rainclouds to allow a shaft of sunlight to fall upon the victor as he took the stage. London Mayors have limited powers, but perhaps there's more to them than meets the eye.
Khan had arrived earlier accompanied by his wife Saadiya Ahmed for a photocall outside on New Globe Walk beside the Thames. Then, following introductory words by Gloria Musso who has just returned to work at the Globe's Swan bar and restaurant post-furlough, and from actor Adrian Lester, he made a short speech.
After thanking Londoners for again entrusting him with the privilege of power and promising to continue striving to create "a fairer, more equal, more prosperous city" for us all, Khan touched upon the venue's mordant suitability. He noted that the original Globe had often closed for long periods to prevent the spread of plague. "But London's theatres always opened their doors and stages again," he said, "and they always went on to bigger and better things – just like today's Globe will do this summer."
Reopening and recovering was the central theme of the speech. He'd spoken before of a promotional push in concert with West End business groups, its cultural sector and others to tempt visitors back to the capital's heart and encourage Londoners themselves to safely enjoy its pleasures too. He now announced what he called "the biggest domestic tourism campaign London has ever seen" – a year-long "call to action" beneath the banner "let's do London" with the aim of spreading the word "that our capital city stands ready to entertain, inspire and enthral once again".
Events at famous destinations, outdoor film screenings, "exciting new public art installations" and late-night openings of museums and galleries were promised. Already, David Hockney has produced a special version of Transport for London's famous roundel for Piccadilly Circus. Designer Yinka Ilori is to lead a streetscape project called "Asphalt Art". The Mayor has previously committed £6 million to the marketing campaign.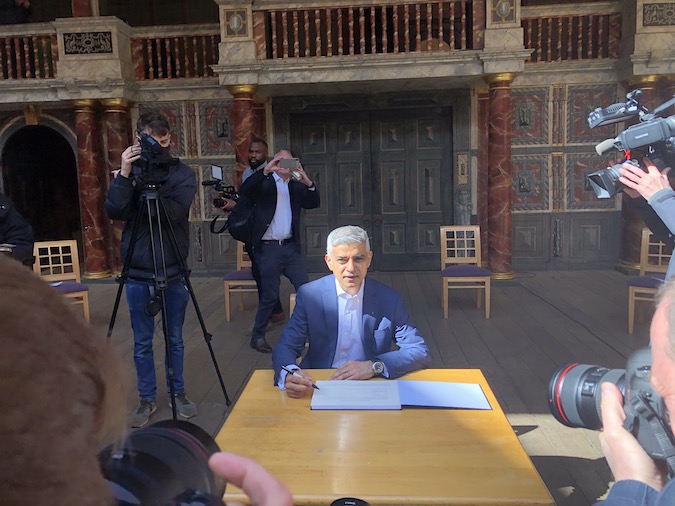 On the bedrock mayoral matters of crime and policing, affordable homes and air quality, he said he would keep on keeping on as before (though there was no specific mention of transport, where the future lies in the hands of Grant Shapps and the government, following their effective nationalisation of TfL after the pandemic wrecked its finances a year ago). And he revisited a foreground theme of his acceptance speech of Saturday night:
"I pledge to use this second term to do everything I can to build the bridges that bring us closer together, rather than the walls that drive us further apart. Because as we recover and rebuild from this pandemic, we simply must use this moment of national recovery to strive for a moment of national healing too."        
The 2021 election campaign was markedly different from the 2016 one, in that the Conservative approach was to spread falsehoods about road pricing plans, Council Tax, TfL's money troubles and powers Mayors do not possess rather than insinuating that Khan, a Muslim former civil rights lawyer, has a history of being an apologist for extremists. Five years later, only the most far-gone social media fantasists are still peddling those fake goods and the latest vanquished Tory candidate could only attract a 0.3 per cent greater first preference vote share than his predecessor.
So now, with three more years in the job before him, the second-term Mayor Khan used a Shakespearian platform to make his overarching statement of intent: "This is my mission: to put the dark days of the past year behind us, and to deliver a better and brighter future for everyone who calls this amazing, diverse city home."
OnLondon.co.uk provides in-depth coverage of the UK capital's politics, development and culture. It depends greatly on donations from readers. Give £5 a month or £50 a year and you will receive the On London Extra Thursday email, which rounds up London news, views and information from a wide range of sources, plus special offers and free entry to events. Click here to donate directly or contact davehillonlondon@gmail.com for bank account details.