Michael Caine, born Rotherhithe, 1933, has announced his retirement from acting, and this time he really means it. Caine's decision means there is really no excuse for not watching and re-watching The Ipcress File, one of the best films ever made that stars a Londoner and London itself.
The movie, released in 1965 – and not to be confused with the very recent TV series also based on Len Deighton's 1962 novel of the same name – cemented Caine's fame, which had come to him after more than a dozen years in his trade thanks to his portrayal as a posh army officer in the previous year's Zulu. The Ipcress File showcased a very different Caine: a disgraced army sergeant and working-class anti-hero called Harry Palmer working for British intelligence in the British capital.
The Ipcress File was a deliberately downbeat, home turf alternative to the early, jet-set Bond flicks, and the London it shows us could not be more different from the clean and ship-shape fantasy post-war version that has only ever existed in the imaginations of Brexit ideologues and other fantasists.
The classy opening scene of Palmer – a bachelor who, in the words of the film's trailer, is "never far from a girl" in spite of wearing glasses – getting up in the morning and ready for work is followed by footage of him walking down Hamilton Terrace in St John's Wood and letting himself into number 139, a large, shabby townhouse in the process of falling apart.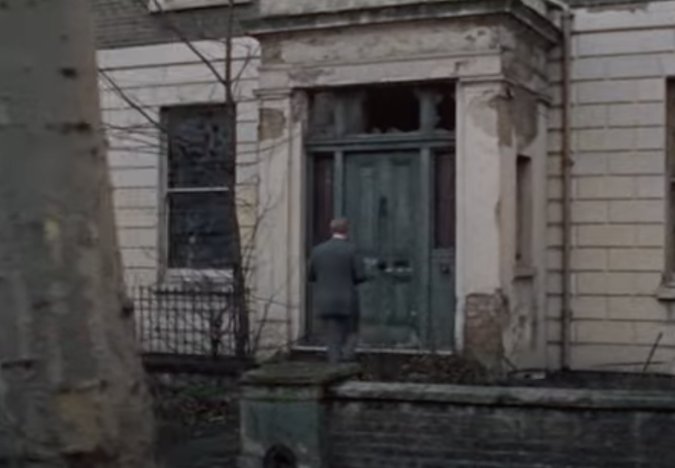 Last year, writer and filmmaker Adam Scovell visited the site of that scene in an excellent piece for the British Film Institute about Ipcress File locations. The tree Caine walks past is still there, but the property has been replaced by something bigger and far better kept. A smart house in Hamilton Terrace these days will set you back at least £5 million.
The film shows how no part of London at that time was free of grime and decay, even its grandest places: the steps leading up to the Royal Albert Hall; the cobbles of St Katharine Docks; the entrance to what is now called the Old Admiralty Building in Whitehall's Admiralty Place. The nascent Swinging London was still scarred and smogged by the Blitz. The film's drama is, in Scovell's words, "focused intensely on London, which director Sidney J. Furie mines for mood and paranoid atmosphere".
With his portrayal of Palmer, Caine established a cockney cultural archetype of his time: insubordinate, independent and also aspiring and up-to-date, a man who likes to cook and shops for choice ingredients in a supermarket. There, he bumps into one of his bowler-hatted bosses who takes a dim view of what he sees as new-fangled American shopping habits. Caine's next film was the title role in Alfie, a different kind of cockney rogue.
The Ipcress File combines charismatic acting, good writing, shrewd directing and vivid social history. It is a true London movie.
X/Twitter: On London and Dave Hill. If you value On London and its writers, become a supporter or a paid subscriber to Dave Hill's Substack for just £5 a month or £50 a year.
PS: Michael Caine was part of a social set which included Terence Stamp, from Stepney. In later life, Stamp would star in Song for Marion, in which my daughter Orla Hill played a supporting role. As a child, Caine went to Hackney Downs school for boys, since replaced by Mossbourne Academy, which Orla attended. Big city. Small world.