London's public transport services are to be sharply scaled back from tomorrow and most Londoners asked not to use them in an attempt to slow the spread of coronavirus and maintain a reliable service for health and other essential workers, as expectations rise that the government will order a major shutdown of London business and social activity in the coming days.
Transport for London has announced that, following government advice to stop non-essential contact, Sadiq Khan has asked it to make substantial changes, including the closure of the Waterloo and City Line from Friday, cutting a major public transport link to the City of London financial centre, and the shutting down of "up to" 40 London Underground stations that don't serve as interchanges between different Tube lines "until further notice". Khan had already warned that daily services would soon shrink to weekend levels.
The Friday and Saturday Night Tube and East London Line Night Underground services will also end from tomorrow for an indeterminate period, although regular late services will be maintained. Bus services too will be cut back, although night bus services will continue so that "critical workers" can move around the city.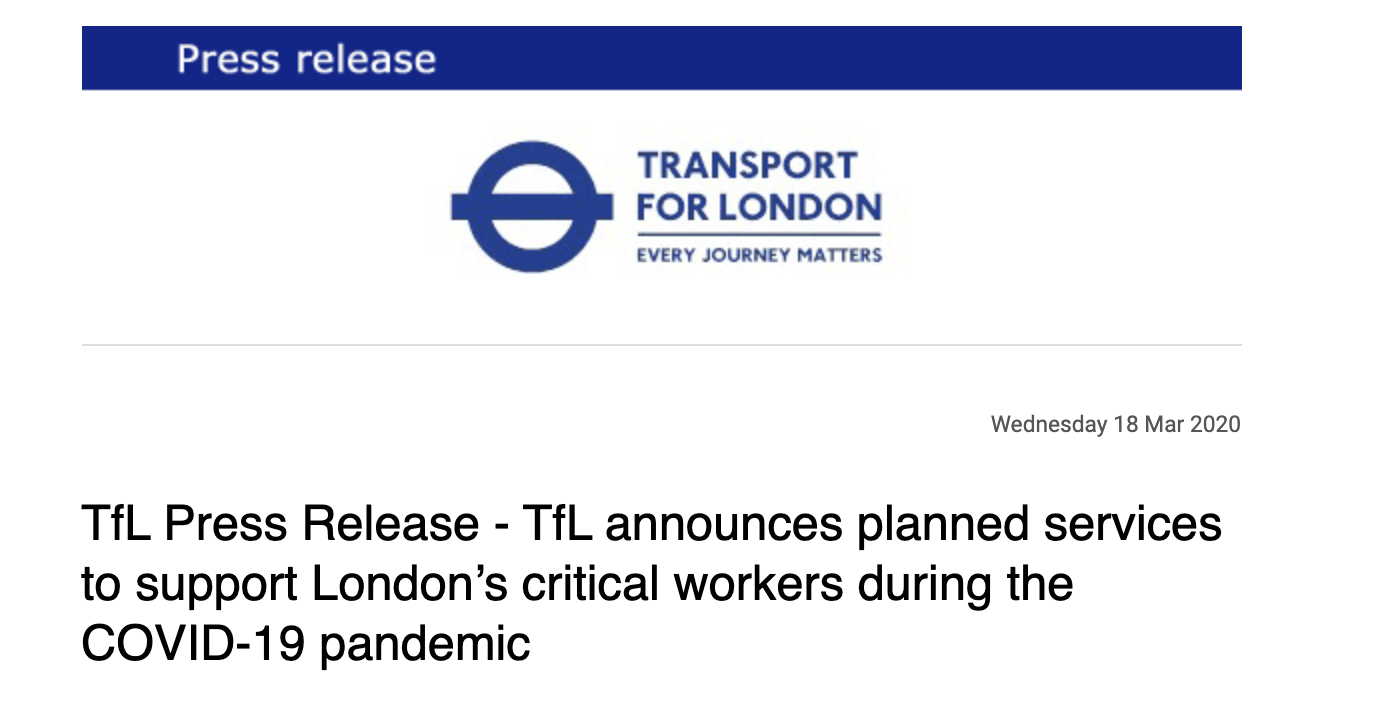 TfL says that from Monday, it will "gradually reduce the frequency of all other services across the TfL network," while ensuring that these are not overcrowded. It presently intends to run Tube trains every four minutes in Zone 1, though this could be further reduced. Service frequency will also fall on the Overground, TfL Rail, the Docklands Light Railway and London Trams.
TfL commissioner Mike Brown said: "The advice from Government is clear – people should now only be making journeys that are absolutely essential. We and our staff are doing everything we can to ensure that people who need to make essential journeys can continue to do so."
The likelihood of significant numbers of transport staff being unable to work due to contracting the virus or having to self-isolate or care for others is a further consideration behind the measures. In light of this, the option of further service reductions remains open.
Following yesterday's government decision that all UK schools will close from tomorrow, TfL says it will review which school buses will still run as it becomes clear how many students in need of special protections or are the children of key workers will continue to attend.
Asked directly at his daily press conference yesterday about the failure of many Londoners to follow his social distancing advice and when he would "shut down London properly", the Prime Minister failed to answer but later said that "further and faster action" against transmission of the virus would be taken if necessary.
City AM is reporting that "restrictions around travelling in and out of the capital" are being considered, "with both public transport and private hire vehicles earmarked for potential limitations".
Local government bodies in London are expecting many business premises to be told by Monday at the latest to cease activity, with food outlets and chemists exempted, and are executing plans to keep their own most important public services going.
OnLondon.co.uk is committed to providing the best possible coverage of London's politics, development, social issues and culture. It depends on donations from readers. Individual sums or regular monthly contributions are very welcome indeed. Click here to donate via Donorbox or contact davehillonlondon@gmail.com. Thank you.