Quailyn Gayadeen, Quai for short, slaloms around a pair of hooped barriers at the entrance to a riverside path on her e-pedal assist foldable tricycle. "The only reason I can do that is I use the ramp going up to church," she says, cheerily. 
The barriers are a bugbear of Mark Browne, Operations Manager of inclusive cycling charity Wheels for Wellbeing, who leads our expedition on a conventional bike. "It's a perfect route, but they put this in. It's pretty much a design norm to stop vehicular access, but it's not accessible if you're cycling anything but a two-wheeler".
I certainly can't get through, as I struggle to keep up with Quai and Mark on a bright red single gear trike I've picked at Wheels for Wellbeing's local base in Ladywell.
We're on National Cycle Route 21 near Beckenham. Quai, a Herne Hill resident who has been cycling since January and has had her trike on loan for three months, is taking me on a ride, to be followed by a journey by tram, train and Tube to show me the accessibility of different parts of the transport system to three-wheelers. 
Our cycle trip takes in the idyllic Linear Park along the Ravensbourne and Pool Rivers, followed by a road on the edge of an industrial estate, some back streets, some segregated cycleway on a main road, and finally to South Norwood Country Park, finishing at Croydon Sports Arena.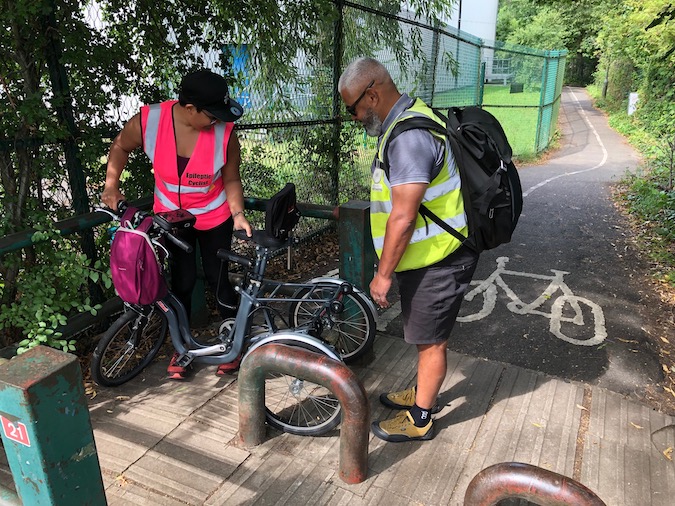 Quai skilfully handles other pathway barriers, plus roadway cambers and awkward gradients. But there is a pinch-point that defeats her, with two pipe-like metal obstacles Mark describes as "nautical". The turn around these is impossibly tight for Quai's trike and she has to lift it over instead.
The nature of her disability – damage to her pelvis and epilepsy – means she can walk on level ground but not on stairs. Many mobility-impaired people would get stuck here, and have to divert to a busy multi-lane road.
On the untarmaced, stony private roads of Beckenham's Cator Estate and the rough gravel paths of South Norwood Country Park, Quai winces inwardly, each shudder causing her pelvic pain. A Cator Estate local tells Quai that cyclists are actually grateful for the surface, as it causes cars to slow down. But for Quai, at the end of almost two hours riding, the sensation is different: "I feel very, very shaken, like I've been put through a blender."

There are other impediments that might not occur to non-disabled riders. At Fambridge Close, there's no way around a step down from a crossing to the roadway. "That tiny bit that's not a dropped kerb becomes quite problematic," Quai explains. It's similar at Kent House station – no dropped kerb as you come out of the pathway running underneath the platforms, and the one 20 metres to the left is imperfectly designed. 
One perilous stretch, marked half for cyclists, half for pedestrians, is too narrow even for two-wheelers and the tarmac is ridged with tree roots. Along a main road are old-style segregated cycle lanes, with priority markings for vehicles crossing the lane from driveways. 
The custodian of the National Cycle Network is walking and cycling charity Sustrans, although landowners are ultimately responsible for their own stretch. Sustrans has nine design principles for the network, including accessibility for cycles 2.8 metres long and 1.2 metres wide, and Sustrans volunteers and staff help landlords maintain and develop their routes.
There's work still to be done to ensure all parts of the network can be used by every cyclist regardless of disability or cycle design, to meet the heightened expectations of 2021.
*****
Leaving Mark, Quai and I take a convoluted route to Brixton on public transport. The tram from Croydon Arena is a dream, apart from Quai having to steer wide around a pole to reach the wheelchair area. She tells me about recent journeys: long waits for elevators, no cycle rack with enough space for a trike at the Young Vic, her gratitude to a train driver who personally helped her alight.
"What's quite special about this station is that everything is ramped," she says as we walk down one of the gentle slopes to the platform at East Croydon. However, the train doors aren't level with the platforms. Quai asks station staff which coach to board, and they get a ramp ready for her. Then a man on a mobility scooter and a woman on a wheeled walking frame arrive, meaning we quickly move as there's only one wheelchair space per carriage vestibule. "The wheelchair takes priority over me and I take priority over the pushchair – that's the way I see it," says Quai.
It's 20 or 30 minutes between entering the station and the train arriving, but the extra time means we get into the right position without a mad panic, while juggling hot drinks. I ask Quai if she's ultra-organised by nature or if she's had to learn it. She replies: "I've raised three children!"
She was diagnosed with epilepsy aged 20, following a seizure when giving birth to her first son. Doctors advised that the seizures were caused by stress, with lack of sleep and alcohol key factors – Quai, a keen performer at Carnival, adjusted her behaviour accordingly. But following the birth in 2005 of her daughter Rhiannon, she developed endometriosis, adenomyosis (in which the lining of the uterus grows into the muscular walls) and menorrhagia (constant menstrual bleeding).
"That resulted in blood transfusions, and the physical stress of this, and insomnia, triggered the epilepsy. So it's been a domino effect," she explains. "Rhiannon was the only child in her year allowed a mobile phone, because the Principal acknowledged these were extenuating circumstances. We'd role play: we'd be walking and I'd say, stop, I've just had a seizure. What are you going to do? She was miraculous: you should have heard her pronounce the medication I was on".
Doctors finally consented to give Quai a hysterectomy after she turned 40 in 2017. The impact of her conditions has, however, left her pelvis permanently inflamed, while unexpected seizures still have a significant impact on her life. She works now as a tutor of children of all ages, which has been "wonderful" though it was "very difficult trying to get everyone to engage" during lockdown. She swims, which she finds highly therapeutic, is a passionate community advocate and campaigner, and gets strength from her devout Catholic faith.
Quai got into cycling after doing laps at Herne Hill Velodrome and taking part in "led rides" with Wheels for Wellbeing. "Before the trike, public transport was everything. I would often have to have someone accompany me as well. My epilepsy was far worse. Now I jump on a cycle and go. It's very, very liberating. I can do a lot of reflecting and problem-solving. Also I'm not in a rush. I'm not racing anyone to get to any destination".
To estimate the time journeys will take, she adds 50 per cent to the time apps estimate journeys will take, or doubles it. This doesn't bother her. She also loves "gallivanting, cycling adventures" beyond London, planning meticulously to make sure the stations are accessible. But she has to put up with misunderstandings and long explanations on public transport as her disability isn't visible.

Having alighted at London Bridge, we descend in a lift roomy enough for both Quai and the passenger on the mobility scooter to fit in. Quai walks and wheels her trike along the arcade to the Tube. She puts her pain levels at seven-and-a-half out of 10 but says, "I'm OK for now. But only because I have a really, really high pain threshold".
On the London Bridge Tube concourse is a sign saying there is no step-free access to the platform, confusingly sited above a wheelchair ramp. When Quai checks with a station assistant, his first reaction is to state that only folding cycles are allowed on (Quai can laboriously fold the trike, but not when the backrest is fitted). Quai tells him, "it's a mobility tricycle. It's the equivalent of a walking stick," and his tone immediately changes, directing her to the Borough Market entrance. At the next ticket gates, we go through the same routine.
Boarding a southbound Northern Line train, which is helpfully flush with a raised section of platform, Quai goes to the wheelchair-users spot and assertively but pleasantly asks a man on the tip-up seats if he would kindly move. She repeats this request to two women as we get on the Victoria Line at Stockwell (she has to say it to one of them twice). "You have to remember to be polite. Sir and Madam – it takes you a very long way," she says.
The lift from platform to concourse at Brixton is narrow and slow. We wait for a passenger with lots of shopping bags to use it first. Then, for the separate lift to street level, we again wait again for it to complete a journey. On its return, even though Quai is now at the front of the queue, the lift doors start to close before she's fully inside. "If you're only going to have one [elevator], it should be twice that size" Quai says.
*****
Quai can cycle home from Brixton station in five minutes, but she reckons it could take her ten after the exertions of the journey. She lives within the Railton Road Low Traffic Neighbourhood, near disabled campaigner Sofia Sheakh, whose application for judicial review of the LTN was rejected by the High Court in June. Quai is dispirited by the polarisation over LTNs, where "you are only permitted to agree or disagree. I am pro-cycle, but we can't ban cars, because they have their place."
She would like all wheelchair users, and others with mobility problems who might not be Blue Badge holders, to be exempt from LTNs. For the benefit of the council, she is taking photos of barriers in Lambeth, which are causing difficulties for users of adapted cycles.

When I ring Quai the week following our outing, she tells me she crashed out after the long ride ("I will do that, I will switch my mobile off, unplug the intercom"), but adds that she's just returned from a wonderful day trip to Stratford-upon-Avon – Quai loves being around water.
She's starting a blog about her cycling experiences, at the urging of a Wheels for Wellbeing campaigner. She hopes other disabled people will read her warts and all account "and say 'Oh well, I could go on the road too'".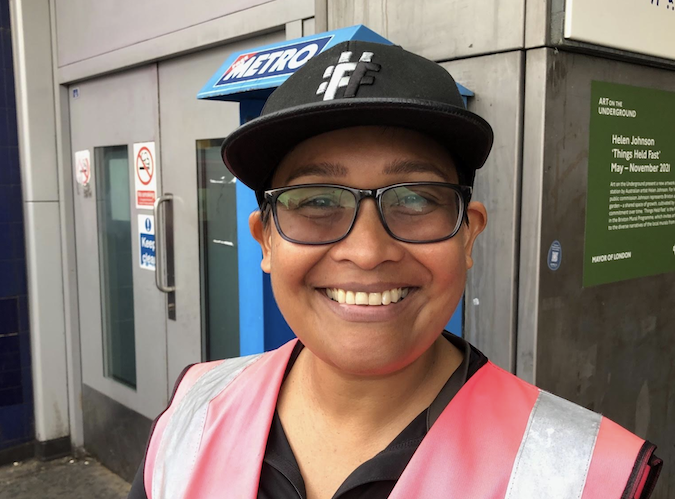 Wheels for Wellbeing's Mark Browne says: "What I find inspiring about Quai is that access to inclusive transport has given her freedom, but not through the car. She's proving wrong the concept that as a disabled person you're limited in opportunity. Once the perception is 'I can get 25 miles away using a cycle and the integrated transport network,' it opens things up". 
But while Quai has been joyfully expanding her horizons, some people worry that there have been rushed decisions and narrow thinking about transport in response to Covid, which have left most disabled Londoners worse off. As Quai says: "We're often ignored – we don't have a voice, because no-one ever asks our opinions".
All photographs by Joshua Neicho. In his next piece about the transport challenges facing disabled people in London, Joshua will examine the arguments about the impacts of Covid-related street design changes.