King William IV only reigned from 1830 to 1837 but he was honoured in the streets of London in several significant ways. Some of that legacy endures. Some has been lost. And some of it never happened at all.
One tribute to William that has lasted to this day is King William Street, built in the City of London between 1829 and 1835 linking Lombard Street with what was then a brand new London Bridge. Designed by the great Scottish architect John Rennie and completed by his son of the same name, the bridge was formally opened in 1831 by William and his wife Adelaide of Saxe-Meiningen. They sailed down the Thames together to perform the ceremony, never suspecting that in 1968 the Rennies' creation would be bought and moved to Arizona to become a tourist attraction.
Adelaide was celebrated during her time as Queen by having a new hotel named after her. In the 1850s it was converted into offices, but retained Adelaide's name. The new block that replaced them in 1925 was called Adelaide House and stands on King William Street next to London Bridge to this day, having been listed Grade II since 1972.
A monument to William himself appeared on the street named after him in 1844, seven years after his death – a large granite statue erected at the point where King William Street crosses Cannon Street (photo above). But William was later remembered with a far more substantial tribute – a railway station. And no ordinary one.
Opened in December 1890, the King William Street station was the northern terminus of the capital's first functioning deep-level underground railway. The City and South London Railway connected the City with Stockwell via Borough, Elephant and Castle, Kennington and Oval, eventually forming part of the future Northern Line. However, ground-breaking though the station was, in didn't last. It was closed in 1900 when the line's new Moorgate station was opened.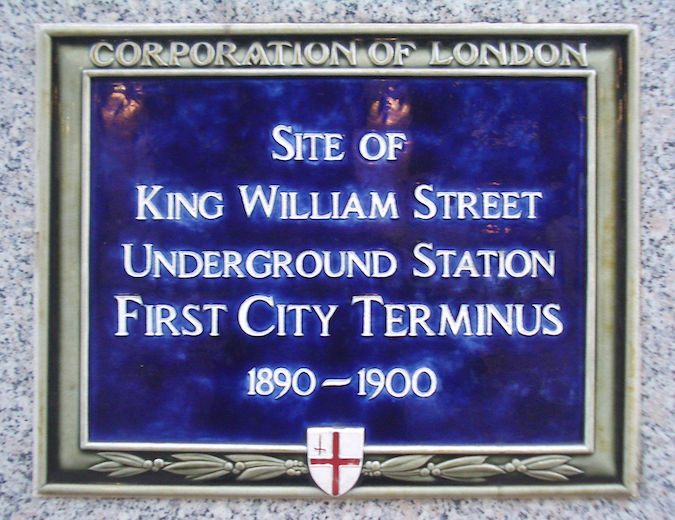 William's memory suffered a further indignity in 1936 when the statue of him was moved to Greenwich Park to help relieve traffic congestion. Yet this was not the greatest misfortune to befall the late King's heritage.
Trafalgar Square's Fourth Plinth has been famous throughout this century as the stage for a series of modern artworks, but it was originally intended to form the base for a statue of William astride a horse. Indeed, the entire square was initially to be named after him. But, oh dear, the money for the equestrian tribute was not forthcoming and the project was abandoned.
There has, though, been a more recent recognition of William brief tenure as monarch. Today, a building called Regis House stands at 45 King William Street on the site where the underground station used to be. Constructed in 1994, its name alludes to the link with William – "regis" is Latin for "of the king".
Extensive pre-construction excavations by Museum of London archaeologists revealed a wealth of London history on and around the site. They found evidence of a Roman-period well and oven, waterside quays and, amazingly, a street front wall which they say probably supported the side of a causeway leading to the original London bridge, built by the Romans across low lying water between Southwark the Forum and Basilica in the Roman walled city. Several timbers were dated by dendrochronological analysis to AD 52.
To this mixed collection of William IV imprints on London could be added one little known fact – the City and South London Railway was probably the first "subway" in the world. A map from 1885 refers to it as the "City of London and Southwark Subway". That was 12 years before the word was first used in America to describe the new underground railway in Boston.
Photo of King William Street and statue by Francis Firth. Photo of plaque by Justinc.
This is the twelfth article in a series of 20 by Vic Keegan about locations of historical interest in the Eastern City part of the City of London, kindly supported by EC BID, which serves that area. The previous nine articles are here. On London's policy on "supported content" can be read here.