A national conversation is brewing about who should be commemorated with statues other than white males with dubious military histories. In London, there is one rather special candidate with a unique qualification. Eleanor Coade was an extremely successful business person in the late 18th and early 19th centuries, when female entrepreneurs were extremely rare. Her products, 250 years on, can still be seen all over the capital and elsewhere in England and indeed around the world in almost pristine condition.
Coade made artificial stone for statues and artefacts to what was then a secret formula. Among her clients were the great architects of the day, Sir John Soane, Robert Adam, Sir William Chambers, Sir John Nash and James Wyatt. Once you see a few and get used to their appearance (clue: they last much better and longer than real stone) you come across them all over London. So what better memorial for Eleanor Coade than a statue of her made from her own Coade stone?
There is only one place where it should be erected: the Royal Festival Hall. It was on this very site that the Coade "manufactory" was located (map below), a timely reminder of how London's manufacturing base has been significantly replaced by the creative industries, now in deep trouble because of the Covid-19 virus.
Until a few years ago, one of the original stone mill wheels of the Coade factory (see photo below) was given pride of place on the terrace outside the Festival Hall, but was removed. I suggested to them that they put it back, but nothing was done.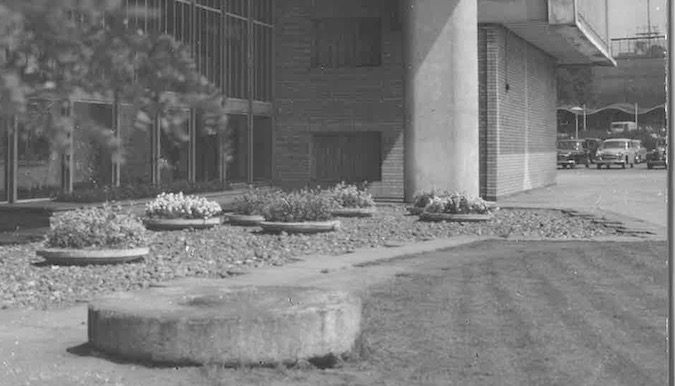 If you want to see a Coade statue, there is one only a few hundred yards from the original factory site – the huge lion standing on the south side of Westminster Bridge, which I wrote about here. It was made for the Lion brewery, which was situated between Westminster Bridge and the Coade works. Observe how well-preserved it is. Another lion made for the brewery is now at Twickenham rugby football ground.
Recently, a lot more interest has been shown in Coade stone, not least by the National Trust and English Heritage. It is amazing how so many of her artworks – many fashioned by the distinguished sculptor of the day John Bacon – have survived two-and-a-half centuries of inclement weather, including one of the biggest, a statue of Rowland Hill, who served under the Duke of Wellington. He stands 17 feet high on top of a column in Shrewsbury that is even higher and wider than that of Lord Nelson in Trafalgar Square.
The Landmark Trust has compiled a list of some of the more notable examples of Coade stone works, but there are plenty to be seen just by strolling through the streets of Georgian London. The most dramatic product of the manufactory was a very impressive ceramic relief of Nelson, measuring 40 feet long and ten feet high, for the Royal Naval Hospital at Greenwich, designed by Benjamin West, President of the Royal Academy (main photograph).
Eleanor Coade died in 1821 aged 88 (and was succeeded by her daughter, also called Eleanor). She is buried in an unknown grave in Bunhill Fields with no Coade stone to memorialise her. However, she is not far from her heritage. John Wesley, the preacher, who lived opposite, chose Coade stone in preference to Portland stone for a frieze above his door, running the width of the house.
All previous instalments of Vic Keegan's Lost London can be found here.
OnLondon.co.uk exists to provide fair and thorough coverage of the UK capital's politics, development and culture. It depends greatly on donations from readers. Give £5 a month or £50 a year and you will receive the On London Extra Thursday email, which rounds up London news, views and information from a wide range of sources. Click here to donate directly or contact davehillonlondon@gmail.com for bank account details. Thanks.