The Old Bailey is known the world over as Britain's top criminal court. What is less well-known it is that it is built on the exact site of the notorious Newgate prison, which dates back to medieval times – and that parts of the old prison are still visible. 
In its time Newgate held within its mawkish walls a wide variety of inmates, from notorious murderers to literary giants. Its alumni include Daniel Defoe, John Milton, Oscar Wilde and Jack Sheppard, the inspiration for the highwayman Captain Macheath in John Gay's The Beggar's Opera. 
One of its most distinguished inmates was the Quaker William Penn, the future founder of the US state of Pennsylvania who was a drafter of an early version of the US constitution. In 1670 Penn, charge with unlawful assembly, was acquitted by a jury, only for the judge to order it to return a guilty verdict instead. When the jury refused, its members were promptly imprisoned by the judge, who also happened to be Lord Mayor of the City. However, the Chief Justice later overturned this decision, thereby enshrining in law a jury's right to judge by its own convictions and not be over-ruled. It is ironic that this basic principle of English law – which has been strictly implemented at the Bailey ever since – was triggered by the actions of a man who was incarcerated in the jail that used to stand in the same location.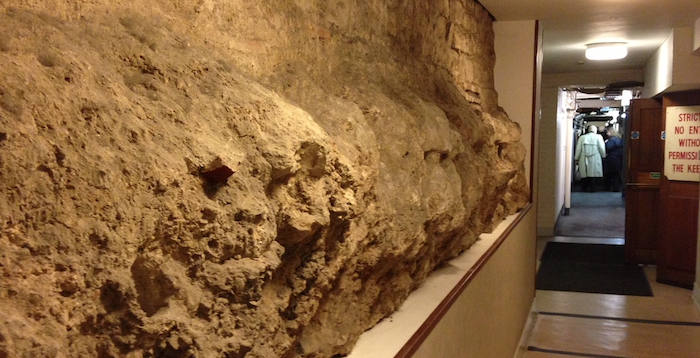 Many of the stones of Newgate were recycled in the new building. One of the walls in the courtyard is just as it was when it was a prison. An underground tunnel linking the Bailey with St Sepulchre's church opposite is claimed to have been built so priests could administer to the prisoners without having to weave their way through thousands of ghoulish spectators awaiting an execution. The atmospheric Viaduct Tavern opposite (formerly a gin palace) claims to contain cells from the old prison, though historians are not agreed on this. 
What is not in dispute is that the bowels of the Old Bailey also contain a large chunk of London Wall, built by the Romans to enclose the city they built. Convicted murderers would pass it en route to Dead Man's Walk. And the gallows.
The previous 63 instalments of Vic Keegan's Lost London are archived here.