I recently found myself at lunch with three seasoned architects. Our host's flat commanded a view of central London's fast-changing skyline, which naturally stimulated a conversation about the state of the capital. Comments made included:
"It's complete anarchy. The developers can do whatever they want."
"I could not agree more. London is finished as any sort of model for urban development."
"There is just no understanding of the character or the history of the city."
My companions had practiced in the city since the early 1960s and as I looked at the prospect before us, I understood their disillusion. I suspect we will regret many of skyscrapers that have gone up in Battersea and Nine Elms and elsewhere, especially along the river. Tall buildings have their place in any modern metropolis – they are part of what makes a big city exciting. But their impact on the skyline and local streetscapes, together with the demands they tend to place on natural resources and the lives of their inhabitants, mean that they need to be planned, designed and managed to the highest standards – standards that have evidently not always been met.
But I also wanted to stand up for the generations now in charge of our capital. For there are, whisper it, good grounds for arguing that overall standards of planning and design in London have gone from strength to strength and are certainly higher than anywhere else in the country. It's widely known that London's schools have improved dramatically over the last few decades, with the capital having the best GSCE results of any part of the country, especially for free school meal children. A similar story can be told about local government and health services. London might be a very unequal city with more than its fair share of poverty, but its public services are better than most. What if this is also true for design and architecture?
Of course "good design" is a subjective quality. But the judgement of professionals working in London and other regions seems clear. I am chair of the charity Design South East. We support public engagement in the planning process and provide design review services and training for developers and planning authorities across London and the south east of England.
The charity's long-time chief executive, Chris Lamb, is unequivocal: "People might complain about what they see in London, but the city just has higher standards than anywhere else. You leave London and you enter a different world, which is why we focus so much on places outside London." His views are echoed by the architects and designers who sit on our design panels – panels that review and strengthen schemes before they seek formal planning approval. Things get build in Essex, Kent, Sussex, Surrey and beyond that wouldn't see the light of day in the capital.
And in fact there are ways of measuring design. In the 2000s the New Labour-created Commission for Architecture and Design (CABE) developed a framework for assessing the quality of new housing drawing on 20 design indicators and used it for a national housing design audit.
In 2019 Professor Matthew Carmona of UCL produced an update. The findings made for grim reading: he found that three-quarters of the 142 large-scale housing-led projects he reviewed were "poor" or "mediocre", a fifth should have been denied planning permission outright and the remainder badly required improvement. However, design standards as a whole had improved moderately from the CABE audit a decade before, with London, by far the best performing region, improving most. Fifty per cent of the London schemes were found to be good or very good, compared to 38 per cent for the south east and only six per cent for the east of England.
Moreover, we don't have to rely on expert opinion and academic surveys to get the point. Anyone who has lived in London for more than a decade will have seen evidence of improvement. The regeneration of King's Cross is surely better than anything that would have been achieved 25 years ago. Development surrounding the Olympic Park is a bit uneven – I'd rather not have to walk through a shopping centre to get to it. But the park itself is a handsome and welcoming new part of our city, and likely to become more so as the V&A, Sadlers Wells and other East Bank institutions open their doors (main photo). Future generations will no doubt appreciate the way it provides a showcase for some of the leading architectural practices of our time – the likes of Zaha Hadid, Hopkins and Partners, Allies and Morrison and O'Donnell and Tuomey. It's certainly way ahead of what most other Olympic cities have achieved by way of "legacy".
Almost everyone now understands the drawbacks of segregating activities into different zones and recognises the value of urban mix. My sense too is that you see fewer of the really banal office and housing developments than you did in the past. More generally, public space has been reclaimed across the city. Pavements have been widened, squares redesigned and pedestrianised, and cars somewhat contained. This is true in central London, most obviously in places like Trafalgar Square or the splendid recent Aldwych-Strand pedestrianisation, but also in outlying and less glamorous parts of the city.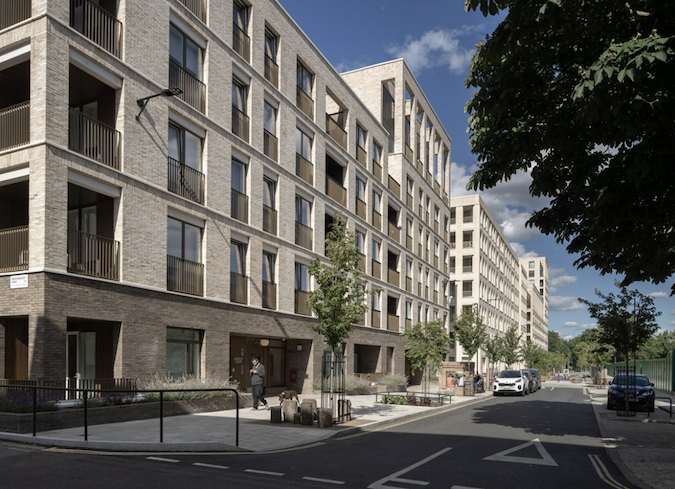 Last week I visited the offices of Karacusevic Carson Architects – responsible for Hackney's King's Crescent regeneration (above) – which has grown to employ 80 people. They belong, with practices like Peter Barber and MAE, to a new generation of London-based architects reviving the lost art of designing innovative and dignified public housing for councils and housing associations. No other UK region sustains practices like these and neither do many cities elsewhere outside some of the bigger European capitals.
What explains this relatively good story? I suspect various factors are at play. Buying and developing land in London is expensive, so investment in good design can look reasonable as a proportion of overall development costs. And London's wealthy businesses and residents can and will pay more for well-designed homes and offices.
But these sorts of explanations only get you so far. You might expect the expense of developing in London to squeeze out standards, just as it squeezes in density. And by no means all of those occupying new buildings have money to burn. We also need to consider the nature of London civil society. The public, after all, are given a voice in determining what gets built and the London public seem particularly adept at exercising that voice. The capital's density means that new developments impinge on far more people than those elsewhere. And London, with its rich networks and highly educated population, finds it relatively easy to mobilise a large and expert public to challenge poor development and demand better – including, increasing the preservation and rehabilitation of decent buildings from the past (though poorer London localities struggle)
London local government also makes a difference. As already suggested, the capital's councils seem to be among the best performing in the country, in part perhaps because they attract more skilled and ambitious officers, in part because their physical proximity allows skills and innovation to spread quickly.  The benefits of agglomeration are not limited to the business sector. A survey of design skills in local authorities, by Matthew Carmona and Valentina Giordano, reveals that use of design codes is higher and use of design review much higher in London than in other regions.
And then is there is the Mayor of London. From the beginning, planning was seen as the keystone of the strategic powers of the office and the London Plan – the strategic spatial plan for the capital – and associated policies have emerged as influential documents. The current London Plan includes a prominent 50-page chapter devoted to design, setting out policies for the design process (including public engagement, use of design codes and design review), sustainability, local character, space standards, density, tall buildings, activity mix and public realm. No doubt the chapter could be improved. But I defy anyone to read it and say design standards are neglected.
In addition, all three Mayors so far have sought to strengthen planning and design through their power as developers and funders and, in the case of Mayoral Development Corporations, as planning authorities. The design of new Transport for London stations has been widely praised. Each Mayor has channeled funding into local schemes – for example through Ken Livingstone's 100 public spaces – and financed capacity building and quality assurance efforts in local authorities and other public sector organisations.
They have also set up vehicles such as the Architecture and Urbanism Unit, Design for London and the Mayor's Design Advisory Group, and supported Urban Design London (originally funded through TfL, growing from a London wide remit to a national one), Public Practice (which places urban design professionals in local authorities and other public bodies) and Future of London (a not-for-profit supporting the professional development of local planning officers).
Sadiq Khan has, if anything, expanded on the work of his predecessors through his Good Growth by Design programme. He has strengthened London Plan policies and appointed a series of design ambassadors.  Late last month he published the latest iteration of his Architecture and Urbanism Framework – a list of built environment practices, including engagement specialists, planners, designers and public realm consultants who have been given a mayoral quality kite mark. Of the 273 practices that applied for pre-approval, only 65 made it to the shortlist. Of course, London could do better. But credit where credit is due.
Ben Rogers is chair of Design South East, Professor of Practice, University of London, and Distinguished Fellow at LSE Cities. Follow Ben on Twitter.
On London strives to provide more of the kind of  journalism the capital city needs. Become a supporter for just £5 a month. You will even get things for your money. Learn more here.